Home > Movies > Bollywood News

Tina Turner is Shakti

Syed Firdaus Ashraf in Mumbai | February 16, 2004 18:18 IST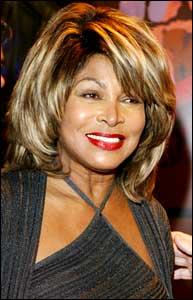 Pop diva Tina Turner has signed up with Merchant Ivory Productions for the film, The Goddess.
Well-known filmmaker Ismail Merchant and partner of Merchant Ivory Productions confirmed, "No other pop singer in the world has as much appeal as Tina Turner. So we felt she was the best choice to do this role. The film is based on a mythological subject."
Though cagey about her role, Merchant confirmed she would be playing Shakti, the source of energy, in the film.
Turner is in India and has travelled across New Delhi, Benares and will soon be in Mumbai. She is well-known for her songs like What's love got to do with it?, Private dancer, Better be good to me, and has also sung for the James Bond movie Golden Eye. This 60-plus singer's last album wasTwenty Four Seven in 2000.
The other well-known actor in The Goddess is Matthew Modine. Modine had earlier acted in Merchant's latest film Le Divorce, released in the first week of February in India. He has also worked in Married To The Mob, Full Metal Jacket and Birdy.
Two weeks ago, Merchant had flown Modine to Mumbai to discuss the project with him. Merchant said about Modine, "When I met him before doing Le Divorce, I decided immediately that I should do another film with him."
He will not be casting any Hindi film actors in the film. "I won't take any established actors except newcomers and fresh faces. But I am taking Ustad Zakir Hussain to compose the music of the film."
Photo: Mark Mainz/ Getty Images