Home > Movies > Bollywood News

Indie heaven at Oscars

Arthur J Pais | February 03, 2004 15:55 IST


When 13-year-old Keisha Castle-Hughes was announced an Oscar nominee for her work in the arthouse hit Whale Rider and the likes of Nicole Kidman were ignored, the news surprised many.

The film about a Maori girl who must prove her credentials to be the leader of her tribe following the death of her twin brother, had received excellent reviews. The actress received glowing notices. Atlanta Journal-Constitution's Eleanor Ringel Gillespie had called the film, 'a whale of a tale.'
In the Chicago Sun-Times, Roger Ebert wrote: 'So many films by and about teenagers are mired in vulgarity and stupidity; this one, like its heroine, dares to dream.' Yet, hardly anyone had expected her to be singled out in the New Zealand film.

Whether Castle-Hughes wins or not, she made history as the youngest person ever nominated for acting. Sofia Coppola has become the first American woman ever nominated for Best Director (Lost In Translation). Jane Campion, who was nominated for The Piano, is from New Zealand. Coppola is also the third woman to be ever nominated.
| | |
| --- | --- |
| | More on rediff.com! |
| | |
'It's encouraging that other points of views are valued and that different types of movies can get seen,' Sofia Coppola, whose Lost In Translation won four nominations, told reporters. Nominated for Best Director and Original Screenplay, the film won a Best Film nomination as well as a Best Actor mention for Bill Murray.

Whale Rider was among half a dozen small budget films that won Oscar nominations this year. I do not remember any other year in which so many small budget films were nominated. Over the years, smaller films like Tender Mercies, Dead Man Walking, Leaving Las Vegas and Monster's Ball have received a handful of nominations in different years, and have won a few.

But the volume of smaller films nominated this year is significant. What makes the phenomenon more interesting is that several of these films, including Monster, which received a nod for Charlize Theron in the acting category, was released by small and independent distributors like New Market Films.

'So often, small movies like ours don't get the chance to be seen,' British actress Samantha Morton told Reuters. She is a Best Actress nominee for In America, a film about an Irish family's determined struggle to make a home in New York. The film also received nominations for Best Supporting Actor Djimon Hounsou and Screenplay for director Jim Sheridan.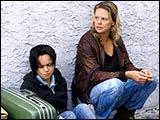 Another Oscar nomination that stunned many was that of Brazilian director Fernando Meirelles for the disturbing slum drama City Of God, a Portuguese film that grossed about $5 million in North America. He won the nomination while heavyweights like Anthony Minghella (Cold Mountain) were ignored.
Iranian actress Shohreh Aghdashloo was nominated in the supporting actress category for her riveting performance as a suffering wife of an Iranian exile who leads a double life in House Of Sand And Fog. Oscar winner Ben Kingsley was also nominated for playing her troubled husband.

Holly Hunter who played the troubled mother in Thirteen, and Patricia Clarkson, playing a mother who finds it difficult to accept her free-spirited daughter in Pieces Of April, were also nominated in the Supporting Actress categories. Renee Zellweger picked up her third Oscar nomination with Cold Mountain.

While the nomination pack was led by Return Of The King budgeted at $90-$100 million (11 nominations) and was followed by Master And Commander ($130 million, 10 nominations), the majority of nominees cost very little.
Even Mystic River, which received six nominations including Best Picture, Director (Clint Eastwood), Actor (Sean Penn), Supporting Actors (Tim Robbins and Marcia Gay Harden), cost about $35 million.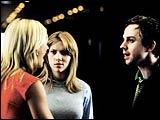 Other films, including Lost In Translation, cost less than $20 million each. What is even more interesting is that films like Monster and The Cooler (which got a nomination for Alec Baldwin in the supporting actor category for playing a nasty casino boss) have each been seen only by less than million fans when the votes were cast.

Even the much acclaimed but gritty 21 Grams (nominations in the best supporting actor category for Naomi Watts and Benicio Del Toro) had grossed just about $10 million. On the other hand, Return Of The King had grossed about $340 million and Master And Commander $85 million on the eve of the nominations announcement. The $80 million Civil War drama Cold Mountain that fetched seven nominations including one for Jude Law (best actor) grossed about $70 million.

Hollywood observers will remember the year 2004 for recognising a raft of gritty and slow-moving films over the ones that were at once glitzy. Surely the fact that many voters are below 40 and are less beholden to the studio culture unlike the older voters is a significant factor in change of the voting pattern.

It is also significant that the smaller films won out despite the temporary ban last year in sending out videos of films to Academy voters. The so-called "screener ban" had aroused strong opposition by the makers of low-budget films who rightly complained that did not have big advertising budgets to promote their films and hold special screenings for the voters.

Many mighty Hollywood stars were also ignored: Russell Crowe (Master And Commander) and Tom Cruise whose The Last Samurai nevertheless fetched a best supporting actor nomination for Ken Watanabe.
Click here for More Features