Home > Movies > Bollywood News

Starring Shah Rukh Khan and me!

Malishka Mendonsa | December 17, 2004 14:15 IST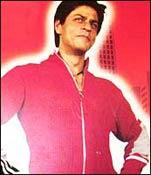 Dear Diary,
I am very nervous today. I break into a cold sweat every few minutes. My head reels, my palms sweat, my career looms large (or small) before my eyes.
I suddenly feel like I know what Kareena Kapoor or Aamir Khan must go through the day before their film releases.
Or rather, I feel like I know exactly what Gayatri Joshi -- the heroine of the much-awaited Swades -- must be going through because just like her, today is my big debut on screen opposite none other than the betaaj baadshah of Bollywood, Shah Rukh Khan!
While Gayatri plays the heroine in her film, I play a sexy, classy, straight-haired, deep-voiced vamp in mine. And yes, SRK flirts with me, has dinner with me and even gives me a melt-in-his-arms hug! How many girls would give their right arm to be in my shoes? And to think all I had to give was…my voice!
| | |
| --- | --- |
| | More on rediff.com! |
| | |
Yes, my voice was among those in the Hindi version of the Disney-Pixar animation film, The Incredibles, called Hum Hai Laajawab.

About two months ago, in the busy city of Mumbai, I received a call from a dubbing director, Eliza Lewis, who thought my deep, husky voice would suit one of the characters in the film.

When I entered the dubbing studio to audition for Hum Hai Laajawab, I had a premonition that the film would be a starry affair.

As my sexy character, Mirage, turned to Mona to catch the fancy of the Indian audience, Jaaved Jaafrey instructed me to say 'mera naam hai Mona' the way James Bond would say his name.

Several attempts later, I came out wondering if I had got it right and asked JJ if he would be the voice for Mr Laajawab, the Hindi version of Mr Incredible, the hero, rather superhero of the film.

A rather mysterious, 'No, not me,' followed. I did not probe further though I wondered who better than the talented JJ would play the role.

My dubbing started from the first week of October. I had to get into the skin of my character, Mona, who befriends Mr Laajawab with her satin-smooth tone in the guise of an agent with a mission for the retired superhero -- a mission he can't resist. Of course, being a vamp, she leads him to perils and woes unforeseen, on behalf of the villain Sankimaan (JJ's voice).

It was on the second day of my dubbing that I discovered that Shah Rukh Khan would dub for Mr Laajawab!

My words spluttered out: "SRK? You mean Shah Rukh Khan? He's playing Mr Laajawab? Does my voice get to seduce Shah Rukh khan and invite him to dinner and hold him (I mean his character ) in my arms? Wait till I tell my die-hard Shah Rukh fan friends!"

The news of Shah Rukh's inclusion in Hum Hai Laajawab could not be revealed yet, so I could not announce it on Rediff Radio. But while the secret stayed within me until the press announcement by Disney, the excitement didn't!

No, I did not get to dub alongside King Khan. Nobody did. The studio in Bandra, a Mumbai suburb, was reserved for him and his son Aryan exclusively for their dub period. For those who do not know, Aryan makes his celluloid debut as Tez, the desi version of Dash.

Rakshanda Khan voiced for the character of Mrs Laajawab, and it was her first time too. She fell ill during the dub and during a press conference, jokingly remarked that she was hoping little Aryan would give her company by finishing his dubbing along with her. But she was the last to finish, after all!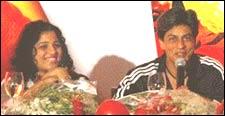 That brings me, dear diary, to the press conference. Of course, I was invited with the rest of the cast.
After work, really late for the conference, I dashed into the media room where I saw the dais swarming with photographers. I was rushed to the dais and before I knew it, I was seated next to Asif Ali Beg (the voice of Edna's character). And, gosh, those camera lights were blinding, but was Shah Rukh Khan seated five inches away from me?
HE WAS! I was close enough to notice that he has a beauty spot about an inch below the base of his right hand index finger. Now, how many people know that, huh?
For the next 20 minutes or so, I saw a lot of media people, and for once, I was on the other side of it. Camera flashes, bouquets, and tons of media questions to Shah Rukh later, the emcee directed his questions to me.
With SRK by my side and the media listening, I spoke for two long minutes. I spoke confidently about how I had hoped to meet Shah Rukh during the dubbing but it didn't happen.
"Today, when I least expected it, and even turned up late – after all the other stars -- I'm sitting right by his side!" I exclaimed. I went on to ask him the first question my character Mona asks him in the film: Hello Mr Laajawab, kaise hain aap?
Shah Rukh grinned mischievously, bent towards the mike I was holding, and said huskily, "Not now darling. Later," with the media hanging on to his every word, and then laughing loudly.
Shah Rukh spoke of the future of animation films, his son's dubbing and Jaaved Jaafri -- who he thought was one of the most talented performers in the country. But the media still could not get enough of him and whisked him off for more interviews.
But before he left, Shah Rukh gave me a little note that said: 'Dear Malishka. It was great working with you even though we did not meet. Shah Rukh.'
So, dear diary, ye laajawab baat hai that I can boast of working with Shah Rukh, even if it was just my voice in the film. It made me feel like a super star. And though I don't carry the weight of the film on my frail shoulders, I hope (like a debutante) that it does laajawab business at the box-office!
Malishka Mendonsa, one of Mumbai's bestknown radio jockeys, hosts a popular show on rediff radio.


What do you think about the story?








Read what others have to say:





Number of User Comments: 6








Sub: wow

I am so jealous...i\\\'ve been in awe of shahrukh ever since i was 3 yrs old! Every guy likes him cuz he\\\'s cool, every girl ...


Posted by s.k.









Sub: i envy you so much.

i envy you so much yet must congratulate you on your assignment. i hope you had a great time.will look out fr your voice when ...


Posted by alpana









Sub: just a sweet mail

hi, he is an idol 4 me.he has done a great performance in MAIN HUIN NA.he is a great actor. he looks perfect with BIG ...


Posted by parijat









Sub: he is a really KING KHAN of bollywood.

what i say about him,cause brief description is not possible 4 him.I love to watch his acting on screen since from begining of his career.he ...


Posted by Sandip N. Zaveri









Sub: *GOOD LUCK*

Hi malishka!good to know ur experience.Thanks for sharing it with us & wish u a very GOOD LUCK!


Posted by vamshi






Disclaimer