Home > Movies > First Look

Bipasha opposite Tamil star Vijay!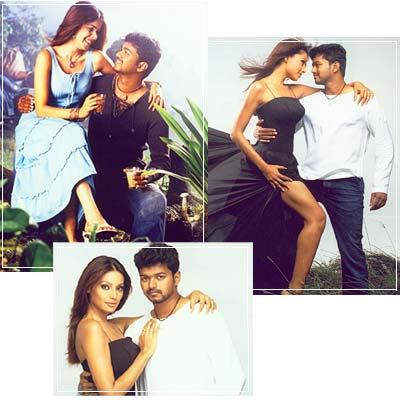 With a title like Sachin, a film doesn't need much publicity. And this is what producer Kalaipuli S Thanu, director Jhoan and actor Vijay want to capitalise on.
No, Sachin has nothing to do with the story of the cricketer; it is just that Vijay's name in the Tamil film is Sachin.
Other than enjoying life as a college student, Sachin also plays cricket. And there ends the similarity between Tendulkar and the fictional Sachin.
Sachin's happy-go-lucky life undergoes a transformation with his predictably falling in love with a girl, played by Genelia of Boys fame.
Genelia was credited as Harini in Shankar's Boys as the director felt her name would not go down well with the Tamil audience. After Boys, Genelia became busy with a large number of Telugu films, where she used her own name.
So what is Bipasha Basu doing in Sachin? Of late, Tamil filmmakers have invited Bollywood stars to add glamour to their films. Mandira Bedi and Yana Gupta were roped in Manmadan. Pictures of Bipasha Basu in a flowing dress have been put up all over Chennai, and have piqued the public's curiosity.
Jhoan will make his directorial debut in Sachin. He's the son of director Mahendran, whose Uthiri Pookal is still considered to be one of the most sensitive Tamil films ever made.
Sachin is pitted against Rajnikant's Chandramukhi and Kamal Haasan's Mumbai Express, on April 14.
Text: Shobha Warrier


What do you think about the story?








Read what others have to say:





Number of User Comments: 30








Sub: hi

hi vijay, hw r u hw is ur up coming flim best wishes for ur next flim.


Posted by shankar









Sub: hai vijay

hai vijay ,i am gowri. i am from kerala .i am a greatfan of you and i do not miss any films of you. my ...


Posted by gowri









Sub: want talk to Vijay

Dear Vijay Bhayyaa, I am a great fan of yours.I love u as my elder brother.I want to talk to u.If any one knows his ...


Posted by asha









Sub: hi vijay anna

some like mondaay some like tuesday some like wednasday but i like oneday that is your birthday


Posted by gayathrinagabushana









Sub: hai vijay anna

hai anna i am your great fan .i am from cochin


Posted by laktha






Disclaimer