Home > Movies > Bollywood News

Salman-SRK patch up!

Subhash K Jha | December 10, 2004 00:37 IST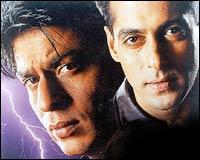 It happened on December 8.
Shah Rukh Khan and Salman Khan, who were warring for almost a year, buried the hatchet at the sangeet ceremony of mutual friend Farha Khan.
Most of the Hindi film industry had turned up for the occasion and the festivities were in full swing.
When the deejay played the chartbuster Bheege hoonth tere from the film Murder, Salman suddenly went up to SRK and embraced him. Some say the hug lasted a good three minutes, and when the two parted they had tears in their eyes.
Onlookers gasped and cheered. Says a mutual friend, "It was long due, really. How long could they go on with their cold war? So uncalled-for and so unrealistic, considering they both have so much feelings for each other."
The Salman-SRK war reached a flashpoint when two years ago the former apparently barged on to the sets of Aziz Mirza's Chalte Chalte to meet Aishwarya Rai.
The two Khans got into a heated exchange that culminated in Ash being fired from the movie and being replaced by Rani Mukerji.
Prior to this incident Salman and SRK were so close that the latter even went to Ash's parents with a marriage proposal from Salman.
The latest developments can only mean bad news for Ash. If the two Khans are friends again her hopes of a patch-up with SRK have receded.


What do you think about the story?








Read what others have to say:





Number of User Comments: 44








Sub: freinds

knowing everything about salman ,srk hugged sl and both became friends. they should work togehther once again.it is a good news for the industry when ...


Posted by ravi









Sub: srk ur my heartbeatttttttttttttttttt

hello i am ramya here. srk and sk both make up a best look on the screen. ij just hope both again work 2gether make ...


Posted by ramya









Sub: frinds again

good to see both become frinds again


Posted by jassan thomas









Sub: good

that was a fantastic news for thw whole industry but bad news for proudy aish


Posted by hafeez









Sub: good that karan arjun met again

now we will see one more film from these two king khan's " karan-arjun part two" i wish both of them the very best in ...


Posted by vijay






Disclaimer