Home > Movies > First Look

'Lagaan is Lagaan and Kisna is Kisna!'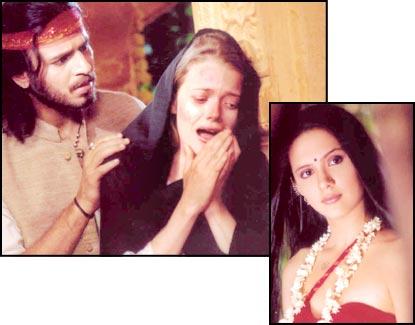 S
ubhash Ghai has brought two doyens of Bollywood music – A R Rahman and Ismail Darbar (Devdas) -- together in his forthcoming film, Kisna: The Warrior Poet.
The cross-cultural, period film set in the foothills of the Himalayas is a love story featuring Vivek Oberoi and debutantes Isha Sharvani and British actress Antonia Bernath.
At Kisna's music launch in New Delhi on December 6, Ghai said he was 'in love with the lyrics,' written by Javed Akhtar.
To prove his point, Ghai played only the audio of the songs. "When we look at the girl dancing on the screen, we miss the beautiful lyrics," he said.
Truly, the lyrics complement the fusion of Western classical and Indian folk music.
The film revolves around Kisna, a villager played by Vivek Oberoi, and the two women in his life. Isha plays a villager, and Bernath a British girl living in India. The film is set in the 1930s, when the independence struggle was gaining momentum.
The story unfolds through Bernath's eyes, who is in love with India's beauty, magic and music.
But Kisna cannot be confused with Ashutosh Gowariker's Lagaan, says Ghai. "Lagaan is Lagaan and Kisna is Kisna," he emphasises. "Lagaan's characters were basic, but Kisna is intellectually higher. That's why I have written songs like Main Brahma hoon, Main Mahesh… Kisna is aware of Indian tradition, philosophy and ethos at a conscious level."
There are eight songs in the movie, including a classical track, Kahe uradi mori neend, sung by renowned classical singer Ustad Rashid Khan.
Mumbai-based Sunitha Sarthy has sung the English song, My wish comes true, written by Blaaze. Vijay Prakash has chanted Sanskrit hymns. Udit Narayan, Sukhwinder Singh, Hariharan and Alka Yagnik are the other artists featured.
Isha does a rope dance on Aham Brahmasmi and Kahe uradi mori neend. Her performance, coupled with the beauty of the Himalayas, is reminiscent of Aishwarya Rai in Ghai's Taal.
Ghai says that an overbooked Rahman could not give enough time to Kisna. "I needed at least a 100 days from Rahman, but he was already committed to an international project. I think Darbar is the only person who has a command over both Western and Indian classical music. He was the only option.
"Both of them agreed to work together and the result is Kisna. You will not be able to distinguish who has composed which song. Both have taken notes from each other," says the director.


What do you think about the story?








Read what others have to say:





Number of User Comments: 8








Sub: kisna awwww its a lovely movie

after five years i liked first time in my life indian movie just becoz of kisna movie. ghai you made wonderful film this time and ...


Posted by jatin









Sub: Vivek is a bad choice !!!

For such a so called epic,,, didn't Subhash havae some better option than Vivek Oberoi ??? Bad choice Mr. Ghai,,, bollywood still had better options.


Posted by Aadil









Sub: Kisna is Awesome!!!!!!!!!!!!!!!!!!!!!!!

Subhash Ghai has done it again after a long time..... Both the new heroines are mind blowing. 3 Cheers to Subhash Ghai's choice. All 3 ...


Posted by Abhinav









Sub: kisna songs

Songs of kisna is lovely.I am very eager to see kisna.kisna will be my first firstday firstshow in my life.I wish great success to kisna.If ...


Posted by kanan mehta









Sub: UnIntellectual

Subhash Ghai has been making one pathetic movie after another. Basically he is always under a 'successful' movie hangover. For e.g. he made Pardes after ...


Posted by Ruchi B






Disclaimer