Home > Movies > Box Office

National Treasure: Cage's biggest hit?

Arthur J Pais | December 06, 2004 14:23 IST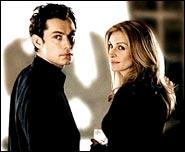 Grim adultery drama Closer was the surprise winner of the weekend, opening at sixth spot, and grossing an impressive $7.7 million though it played in just about 476 screens.  

Though National Treasure dominated the box-office for the third successive week, Closer drew more attention. Despite the far-from-happy ending and lack of redemptive qualities of its four brazenly adulterous characters, the Mike Nichols directed film drew sophisticated audiences, lured by mostly positive reviews. And the presence of new-mom Julia Roberts gave the film quite a boost. Whether the film is capable of creating a strong word of mouth to sustain it, as it adds a few hundred theatres each week, remains to be seen.
| | |
| --- | --- |
| | More on rediff.com! |
| | |
Though it didn't open among the top 10, the new film from the creator of Hero had a strong run in a platform bow in New York and Los Angeles. Sony Pictures Classics released the Zhang Yimou-helmed rousing martial art drama House Of Flying Daggers in about a dozen theatres, grossing a highly promising $415,000.

Also doing promising business is Finding Neverland, which spent yet another weekend on the charts, taking its four-week gross to $17.8 million. Unlike most other films playing in more than 2500 theatres, Finding Neverland, while generating quite a bit of Oscar buzz, is screened in just about 526 theatres.

As Closer and Neverland get ready to add hundreds of theatres in the next three weeks, Nicolas Cage-starrer National Treasure, which has grossed an impressive $110 million in three weeks, could overtake the star's biggest hit yet, The Rock ($130 million gross in North America), in about three weeks.
Following a bountiful Thanksgiving weekend run, National Treasure came down, like many films on the list, by about 46 percent.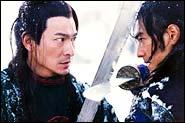 The second highest grossing film of the week Christmas With The Kranks proved that it can laugh at critics who gave it overwhelmingly negative reviews. It has grossed an impressive $45 million in two weeks.

Another family-oriented film The Polar Express is running on plenty of fuel, having grossed about $98 million in a month. With an expected bumper run in the last week of the year, the movie, which was third on the charts, is headed for a strong $150 million run. But for its huge $165 million cost, this could have been a hit.
 
Like Polar Express, the next two films on the charts are oriented towards families. While The Incredibles hit a cumulative of $226 million in its fifth week, The SpongeBob SquarePants Movie reached $68 million in three weeks.
Box-office estimates for North America, December 3-5
| | | | | |
| --- | --- | --- | --- | --- |
| Rank | Film | Weekend gross | Total gross | Number of weeks |
| 1 | National Treasure | $17 million (down by 46%) | $110m | 3 |
| 2 | Christmas With The Kranks | $11.7 million (down 46%)  | $45m | 2  |
| 3 | Polar Express | $11 million (down 43%) | $96m | 4 |
| 4 | The Incredibles | $9 million (down 61%) | $226m | 5 |
| 5 | The SpongeBob SquarePants Movie | $7.8 million (down 56%) | $68m | 3 |
| 6 | Closer | $7.7 million | $7.7m | New  |
| 7 | Alexander | $4.7 million (down 65%) | $29.6m | 2  |
| 8 | Finding Neverland | $2.8 million (down 39%) | $11.7m | 4  |
| 9 | Bridget Jones: The Edge of Reason | $2.6 million (down 55 %) | $36m | 4 |
| 10 | Ray | $1.9 million (down 52%) | $67.8m | 6  |