Home > Movies > Message Board

April 14, 2004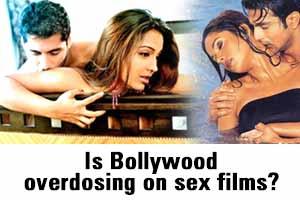 Jism took the first bold steps.
With its success, an emboldened Bollywood marched on.
Sex seems to have taken a new turn in the film industry and movies on the same are pouring out to the marquee -- from Danger, Khwahish, Hawas and Murder to unreleased films like Julie.
The skin show nowadays makes Govinda and Karisma Kapoor's hidden insinuations in Sarkailo khatiya seem childish.
Do you think Bollywood overdosing on sex films and skin show? Tell us. We would love to hear from you!


What do you think about the story?








Read what others have to say:





Number of User Comments: 312








Sub: sex in bollywood films

i knew that they were going to have to introduce sex in there films because were all livin in the modern age where sex is ...


Posted by waris









Sub: i like sexy kareena

hi everybudy i want sexy bollywood movies and then kareena is best of bolly


Posted by raj









Sub: hi

heloo


Posted by sandeep pal









Sub: bollywood and sex

there is a marked rise in obscenity and vulgarity in films now.this is deploring the growth of quality cinema and trying to be a market ...


Posted by aparna









Sub: Skin Show

Hey Guys If you really don't except sex then why the population is on the rise. just look at the Population of India. Why there ...


Posted by Akki






Disclaimer