Home > Movies > Interviews

The Rediff Interview / Mandira Bedi

'Don't slot me as a bhabhi!'

Syed Firdaus Ashraf | April 14, 2004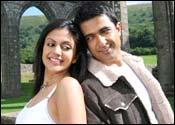 She got her first big break in the television serial Shanti.
Next, she was noticed in Aditya Chopra's Dilwale Dulhania Le Jayenge, where she played a girl smitten by Shah Rukh Khan's character.
But Mandira Bedi was still another actress among the multitudes in India.
Then, in 2003, she hosted Extraa Innings for the SET Max television channel during the cricket World Cup wearing mostly noodle-strap blouses. That was when she got mass recognition.
| | |
| --- | --- |
| | More on rediff.com! |
| | |
"Life has not been the same for me since," Bedi told Senior Assistant Editor Syed Firdaus Ashraf. "The cricket World Cup opened a lot of doors for me. People invite me to host shows and events."

Now, she hopes that her latest film, Shaadi Ka Laddoo, directed by husband Raj Kaushal, will click in a big way. "After DDLJ, the film industry slotted me into sister and bhabhi roles. I hope things change after Shaadi Ka Laddoo," she said.

What is Shaadi Ka Laddoo all about?

Shaadi Ka Laddoo is a metaphor. One who eats pachtayega [will regret it] and the one who does not eat also pachtayega. The film is about two men — one married and the other single. Each envies the other. Sanjay Suri plays the married man, and he is married to Divya Dutta. Ashish Chaudhry is unmarried.

What is your role in the film?

I play an urban Indian woman. She will not give up her career for a man. She believes in marriage, but she wants to marry the right man. For her, marriage is a meeting of minds.

She has a lot of shades to her character. She can be the best buddy and married men can give up everything for her. She is practical, but at the same time very gullible too.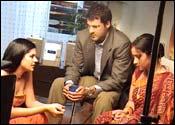 Shaadi Ka Laddoo will be your first major film release. Do you expect more roles to come your way?
I have never planned my acting career and was never ambitious. I never plan what I would do five years from now. I just take life as it comes.
How did you meet Raj Kaushal? How was the experience of working with your husband?
Raj was assisting [the late filmmaker] Mukul Anand and I was doing a project for him [Anand]. That was when we first met.
His strongest point is that he is a good human being. He is not pseudo-intellectual. He asked me if he should keep a French beard or change his hairstyle. I told him to be himself, and not change just for the heck of it. Raj is very gentle, supportive and helpful.
When we started shooting, I was uncomfortable. Later, everything was okay. He told me if he shouts at me while shooting, I should take it professionally, not personally. He stood behind the camera and told me to have good chemistry with Sanjay [Suri]. I told him you are my husband and you are telling me to be close and have 'chemistry'! [laughs]
Why you didn't do films after

DDLJ?
I never got the right kind of roles. Even after the World Cup, I got 10-12 offers. They were not interesting. The scripts were not appealing or inspiring. I don't want to do films that I am not interested in. I cannot do films for the sake of doing films.
I am doing Shaadi Ka Laddoo because I believe in this film and my role. I did DDLJ because of Yash Chopra. I thought my role would be important. Unfortunately, it was not.
After that, I started getting roles of sisters or bhabhis. I don't mind doing character roles, but I should get good ones. After Shaadi Ka Laddoo, the film industry will know where to slot Mandira Bedi.
Do you regret your small role in DDLJ?
I have no regrets. My life took that turn and I took it. I got a lot of hype after my first serial, Shanti. After that, there was a lull.
My husband told me that waqt se pehle aur bhagya se zyada kisiko kuch nahi milta [one does not get anything before one's time or more than one's destiny]. I could have done five films and faded into oblivion. So if your time has to come, it will come. You cannot advance or force your time to come.
How has Extraa Innings changed your life?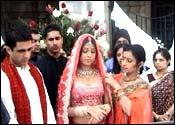 That was a huge turning point! I never thought I would be associated with cricket the way I am today. If you see any television channel today, there is place for women in cricket. Imitation is the best form of flattery.

Now I am dying to come back for the Champions Trophy [in September]. I always had love and passion for cricket. I think my love for the game got me this job. The more you watch cricket, the better you understand the game and enrich your knowledge. So I watch a lot of cricket. After the World Cup a lot of doors have opened for me.

The World Cup gave me recognition. The best part about it is that women are also showing an interest in cricket now.

Does your involvement with cricket affect your other television assignments?

Television is my priority. I will never give it up. Cricket just takes a month of my time.

Why did you go to Pakistan during the India-Pakistan one-dayers?

I went to see the matches as a fan. Everywhere I went in Pakistan, people told me that they missed seeing me on television. I told them I would be back during the Champions Trophy.

The people of Pakistan are very good. I went alone and my parents and husband were worried. But Pakistanis are just like Indians. I told them to cheer for India and they did! It was one of the best experiences of my life.

Why do you think other women have not clicked in cricket the way you did?

I don't know. I don't know why I clicked with the audiences. I just thank God.

Wherever I went, people told me I did a wonderful job. There was criticism for me too and the World Cup taught me how to handle it. Critics called me an airhead and silly, but at the end of the World Cup everybody felt good about me. Some people did not like me in the beginning, but later they started liking me. That mattered.

Has any political party approached you with any offers?

No.

Do you think a person of foreign origin should rule the country?

There are more Indians who can rule the country. We have a population of a billion people. We can get an Indian to rule our country surely?

Are you doing any other film?

Yes, I am doing Divorce with Jackie Shroff. I play a working mother. It is about how parents do not have time for their children — not because they don't love them, but circumstances force them to be away.

Click here for More Interviews





What do you think about the story?








Read what others have to say:





Number of User Comments: 2








Sub: mandira as a host

well its not just her clothes , she does not look good as host also , she is just not the type , its just ...


Posted by niky









Sub: cricket or scanty clothes

the journo did not ask mandira one imp question (or probably was too embarrassed). that she got attention during the world cup not because she ...


Posted by schubert






Disclaimer