Home > Movies > Message Board

September 05, 2003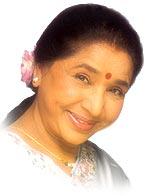 Asha Bhosle has stolen the hearts of millions of music lovers for more than five decades.
Hers is a voice that hasn't aged with time, a voice that has endured over the years, singing for actresses ranging from Nutan, Asha Parekh and Rekha to Urmila Matondkar, Kajol and Kareena Kapoor.
On September 8, the singer turns 70.
It is time to celebrate the person, the voice.
As part of its celebrations, rediff.com would like YOU to list your Top 5 Asha Bhosle numbers, and tell us why you love them. We would love to hear from you!


What do you think about the story?








Read what others have to say:





Number of User Comments: 33








Sub: mazza namaskar

u are a legend. i dont know what to say. sagale shabdah kami padath. they were ur songs which made me popular in my school ...


Posted by beena malankar









Sub: Asha Bhosle - My all time favorites

After Lataji, Asha is the second most popular singer in the Indian Subcontinent. She has, just like her sister, given many talented hit songs with ...


Posted by Divya Kapadia









Sub: Asha Bhosle - 70

Respected Ashaji, Many many happy returns of the day. My most favariout songs from your voice are: Jaiye aap kahan jayenge, Dil chiz kya hai, ...


Posted by Naresh Kapadia









Sub: Belated Happy Birthday Asha Bhosle!

Asha is not one of my favorite singers but there is no doubt that she has given some musical gems to the industry......the popular Top ...


Posted by Krithika









Sub: what can i say?

What can I say about Ashaji? How can I choose only 5 from all of her songs? It is absolutely impossible to choose only 5 ...


Posted by ATANU MUKHERJEE






Disclaimer