Home > Movies > Message Board

October 14, 2003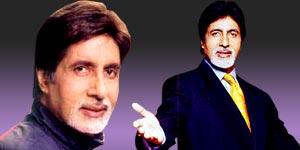 Even at 61, Amitabh Bachchan rocks!
The superstar celebrated his birthday in style, and almost the entire film industry was there to wish him.
Bachchan relaunched his production house ABCL as AB Corp with a film, Ranveer, starring him and his son Abhishek. The film will be directed by Rajkumar Santoshi.
Tell us what you think of this slide show. We'd love to hear from you!
Click here for more Message Boards


What do you think about the story?








Read what others have to say:





Number of User Comments: 5








Sub: happy birthday god of bollywood

Happy birthaday god of bollywood dr amitabh bachchan i like you so much god bless to my god ...


Posted by Amol









Sub: Your Biases

I am often appalled by the pieces on your website that reflect your biased feelings towards certain actors. In the Amitabh at 61 slideshow, you ...


Posted by Farhana









Sub: Happy Birthday.

Respected Sir, Wishing you a very Happy Birthday and many more years to come. I am sorry that I am a bit late in wishing ...


Posted by SAUMYAJIT SARKER









Sub: Happy Birthday to Amitabh Bachchan.

I have been the greatest fan of Amitabh Bachchan.I see his movies not less than 20 to 25 times.I even know the dialogue.May we have ...


Posted by Godha Jayaram









Sub: All the best

Dear Sir, Iam your fan since childhood, all the best for your future , and all the best. srinivas


Posted by Srinivas






Disclaimer