Home > Movies > Reviews

Clooney, Zeta-Jones sizzle

Arthur J Pais | October 10, 2003 19:47 IST



Any movie based on a screenplay by four writers sends radioactive signals. Since two of those writers happen to be the Coen brothers, Ethan and Joel, one had hoped Intolerable Cruelty would not be insufferable.
| | |
| --- | --- |
| | More on Rediff! |
| | |
Though the film has been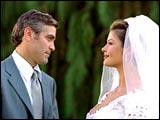 directed by Joel Coen and features a talented cast, it doesn't really soar. It is not biting enough. For many Coen brothers' admirers, it may not be dark enough, but it does packs in plenty of glamour, a gorgeous lead pair, several solid performances and a handful of jokes that offer offer guilty pleasure.

The Coen brothers are best known for the dark thriller Fargo, which also had splendid comic moments. A few years ago, they went mainstream with O Brother Where Art Thou? For them, it was quite a light movie, but it was still enjoyable, with gorgeous visuals and pulsating music. O Brother Where Art Thou? was a considerable success, grossing about $100 million worldwide.

In their newest film, the brothers try to pack in too many things into a thin story, often with unsatisfactory results, especially in the last quarter. Yet, many will find it difficult to resist the movie's charm, enhanced considerably by the terrific chemistry between George Clooney and Catherine Zeta-Jones.

The movie also proves that many directors who are masters of quirky cinema can still make a decent transition to the mainstream. Steven Soderbergh, maker of such dark films as Out Of Sight, made the excellent, breezy Ocean's Eleven (which also starred Clooney) and saw it gross an astounding $450 million worldwide.

Intolerable Cruelty may not reach anywhere near that figure, but the box office would be more than kind to it. The film, whose original story was not conceived by the Coens, has been looking for a good cast and interesting director for over eight years. It is a mystery why mainstream material like this should have remained unproduced for so long.

Divorce lawyer Miles Massey (Clooney) seems to have no conscience when he makes sure Marylin Rexroth (Zeta-Jones) gets no alimony despite evidence that her husband Rex (Edward Herrmann) is a philanderer. Marylin is also a gold digger.

Soon, you wonder who is more avaricious and manipulative: Miles or Marilyn.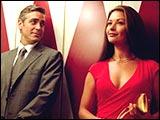 Not a quitter, she marries another  rich man (Billy Bob Thornton). While Miles has started longing for her, she wants to teach him a lesson. The self-assured, dashing Miles is now a hopeless mess.
Yet, Clooney plays the role with such mastery that you can't really hate him.
The glamorous Zeta-Jones, more attractive and dynamic in this film than in Chicago, offers an interesting interpretation of a gold-digger who can still exude some innocence. You cannot but help wish the two would fall for each other.
Among the film's many interesting characters are Geoffrey Rush as a television producer; Cedric the Entertainer as a sleazy detective, Billy Bob Thornton as the glib Texas millionaire and Jonathan Hadary as the talkative concierge.
The Coen brothers certainly know how to write good parts for minor characters, and Joel directs them with an assured hand. 
In one of the more wittier sequences in the film, Cedric the Entertainer's character makes a declaration to the effect: 'My job is to nail asses, I'm an ass nailer.'
'Hmm,' replies Marylin with a sly grin, 'an aphorist.'
Some viewers might wish the Coen brothers were more cynical and misanthropic, and that Miles and Rex should have ended in a dark mess. But the film had not promised anything like that.
CREDITS
Cast: George Clooney, Catherine Zeta-Jones, Geoffrey Rush, Edward Hermann, Billy Bob Thornton, Cedric the Entertainer
Director: Joel Coen
Screenplay: Robert Ramsey, Matthew Stone, Ethan Coen, Joel Coen
Running time: 1 hour 45 minutes
Rating: PG 13 for adult language, situations
Want to see this movie? Check out Rediff Movie Tickets!



What do you think about the story?








Read what others have to say:





Number of User Comments: 1








Sub: review on intolerable cruelty

Please mind your language sir. The use of phrases like 'more wittier' is a sacrilege. Other than such nuances, the review is brilliant just like ...


Posted by s






Disclaimer