Home > Movies > Message Board

October 08, 2003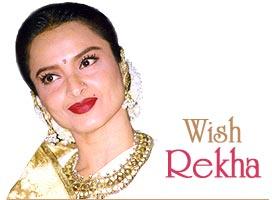 Mysterious. Seductive. Gorgeous.
Such adjectives spring easily to mind when you are thinking of the ever beautiful Rekha.
A terrific performer as well, Rekha is what they call a complete actress.
October 10 is when it all began. Celebrate the glamour of Rekha on her birthday by posting your wishes below. Tell us what you like most about her. Tell us about your favourite Rekha movies. We would love to hear from you.

You can also SMS your wishes to Rekha.


What do you think about the story?








Read what others have to say:





Number of User Comments: 469








Sub: Hi There,

Hi Rekha ji, Wish u many happy returns of day. Luckly my birthday is on same day too. Thank you, Java ...


Posted by Java









Sub: God Bless You Rekhaji !!! Happy Birthday

Dear Rekhaji, Many Mnay Happy Returns of the Day. May god Fulfill all the wishes of ur heart. We know u r the best and ...


Posted by Prakash









Sub: happy birth day

oh rekhaji a very very very happy birth day to the most beautiful &youngest girl of india.i am chinmay .i am 18 years oid& yourfirst ...


Posted by chinmay barve









Sub: Keep me as Ur Servant please!!!!!

Derest Rekhaji, WISH YOU A VERY VERY HAPPY BIRTHDAY!!! I am your ardent fan and I have only loved one actress of Bollywood or any ...


Posted by parul kant









Sub: wishing

wish you many many returns of the day. wishing by C.N.Venkastesh


Posted by C.N.Venkatesh






Disclaimer