Home > Movies > Message Board

November 12, 2003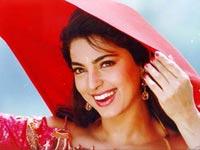 She wowed the audiences with her sweet smile from the moment she won her Miss India crown in 1984.
Juhi Chawla went right on to capture hearts from Qayamat Se Qayamat Tak (1988) to her recent musical hit Jhankaar Beats (2003).
Mother of two doting daughters, Juhi was last seen in a sedate performance in Teen Deewarein.
The chirpy actress celebrates her birthday on November 13.
Join rediff.com in wishing this star a Very Happy Birthday!


What do you think about the story?








Read what others have to say:





Number of User Comments: 219








Sub: lovely dimples

hi juhi, i m from delhi,i lov those dimples of yours. hav u inherited them from ur mom n dad ????????????? or GOD JUS GIFTED ...


Posted by komal









Sub: Happy Birthday

Dear Juhi wish u a great happy birthday may u have a blessed years a head. i am a great fan of urs i hope ...


Posted by tommy pereira









Sub: wish a very happy day of your birthday

May you get every joy & happiness because you keeps all peoples happy I like you most in bollywood actresses and you are more different ...


Posted by savi









Sub: Happy Birthday

Wish u a very happy birthday.Keep entertaining us with ur great acting and charming screen personality. Wish u a lot of successful movies.U still look ...


Posted by Kaushik









Sub: HAPPY BIRTHDAY Dear Juhi ! ! !

Dear Juhi , Many Many Many Many Many Many................. Happy returns of the day 13 th Nov. Wish U a VERY HAPPY BIRTHDAY ,May GOD ...


Posted by Shweta






Disclaimer