Home > Movies > Message Board

November 06, 2003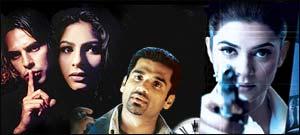 Which is your favourite suspense film?
Suspense seems to be Bollywood's latest trend.
Whether it is the regular killer-on-the-lose scenario or an intelligent cop putting together the pieces of a jigsaw puzzle, suspense films are being doled out by the dozen in Bollywood these days. Samay, Sssshhh!, Inteha, Khel, to name just a few.
The question, though, is, do YOU like suspense films? What are the qualities of a good suspense film?
More important, which is your favourite suspense film, and why?
Tell us, we would love to hear from you!


What do you think about the story?








Read what others have to say:





Number of User Comments: 125








Sub: Shhhhhh the great movie.... with suspense

After a long period people get a really good suspense movie....Shhhhhhh. there was too many suspense movies released in bollywood, but could not get good ...


Posted by brijesh









Sub: Samay

Movies like Sssshh... r nothing but a copy or english movies... Samay is a movie which is original... with juss 1 song n has PURE ...


Posted by Devkey









Sub: suspenceeeeeeeee

hey!! i recently watched ssshhhhh but i missed the ending! can any1 tell me who was the killer and wot happnes at the end???


Posted by raj









Sub: suspenseeeeeeeeeeeeeeeeee

my favoriate suspense film was ssshhhhhh.in this film hero was the original villion. he has done very well in this film. i liked his work. ...


Posted by vikassingh









Sub: Suspense movies

Kaun Gumnaam the best suspense movies from the Bollywood Library.


Posted by Sriram Venkitachalam






Disclaimer