The Khan with the biggest clout at the box office has a hard act to follow.
Devdas was not just the biggest success of 2002, it also placed a huge responsibility on Shah Rukh Khan's shoulders: what next?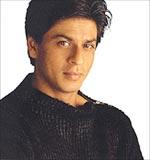 "I'm tired of playing larger-than-life characters. What would I play after Devdas? Hitler? Mussolini?" Khan laughs. "I don't want fall into the image trap. Funnily enough, a lot of people think Devdas is a historical character, ke aisa aadmi kahin rehta tha [that there once lived such a man]. My doctor in London [where Shah Rukh Khan recently underwent back surgery] didn't know about Devdas. I gifted him a DVD. It has done wonders for all of us abroad. Like Lagaan, Devdas does ring a bell among foreigners."
Shah Rukh says he plays just a regular character in his new film Chalte Chalte. "Devdas was a hard act to follow. Films like [Aditya Chopra's] Dilwale Dulhania Le Jayenge and [Karan Johar's] Kuch Kuch Hota Hai gave me a larger-than-life image. In each film, I was expected to make an 'entry', the way heroes did in the 1970s with the camera panning the shoes first. Now it is time for me to behave like that character in mythology who decided to become a mosquito to fight the rakshasa [demon].
"I play an ordinary character in Chalte Chalte. It's a simple character. It is a very Hrishikesh Mukherjee kind of film. It is really about people who are normal. I don't even want to be noticed in Chalte Chalte. Adaaon se mein maar khaa gaya nahin to main bahut achcha actor hota [Gimmickry got the better of me, otherwise I would have been a great actor]."
The actor, who is currently holidaying with his wife and two children in London, is all praise for his co-star Rani Mukerji, who replaced Aishwarya Rai in Chalte Chalte after she had shot for the film for two days.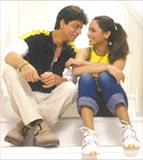 Says Shah Rukh, "Right from the start, director Aziz Mirza wanted Rani. She heard a full narration of the script before me. But she was doing what she thought was a similar film [Saathiya]. Though I had worked with her in Kuch Kuch Hota Hai and Kabhi Khushi Kabhie Gham, I had never done a full-fledged role with her. She began her career with me in Kuch Kuch Hota Hai. She was supposed to do Dil Se with me as well. Chalte Chalte has given her a role worthy of her talent."
The question is, will audiences accept their superhero as a workday guy who woos, and almost loses, the girl?