Home > Movies > Bollywood News

Archana Masih | July 31, 2003 17:23 IST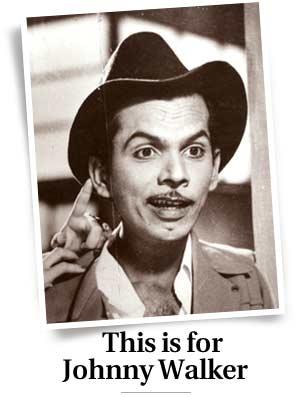 I think I knew Johnny Walker. Why else do I feel as if I have lost someone I know?
I never met him or saw him in person and don't even remember when I saw him on screen for the first time. The earliest memory I have of him was when my father spoke so fondly of the cinema of the 1950s and 1960s. I marveled how effortlessly Papa could move from verse to verse, singing Johnny Walker's songs in full.
Those melodious songs picturised on Johnny Walker reminded me of Papa while watching Chitrahaar in boarding school. Sitting in front of the school's black and white television, I could imagine my dad's face lighting up as the bars of the opening sequence began.
Boarding school kids have their own ways of connecting with home -- Johnny Walker was mine.
I did not know he shared his name with a brand of Scotch. Papa didn't drink Scotch. In fact, I never saw him drink at home and as little girls we were more interested in exchanging Enid Blytons than discussing booze.
Four years ago, when looking for a house to rent, the estate agent took me to a building at the end of a nondescript lane. A lane like so many other lanes and bylanes in suburban Mumbai. The rain that Sunday morning had left the street a slushy mess and I wasn't too impressed. The building had all the trappings that newly constructed residential complexes in Mumbai have -- smart elevators, tastefully done apartments -- and as the agent told us very good people living in the building and around it.
He did not identify these people. I don't think he knew any, barring Johnny Walker.
He pointed to the bungalow across the lane and said that was where the legend lived. I don't remember what it looked like. I think it was covered by a thicket of trees, I am not sure.
Anxious to check other prospective apartments so that I could extract the maximum from my only day off in the week, I did not give the information much thought. I don't think I even turned back to glance at the bungalow a second time. Once I left that lane, that house meant nothing at all.
I did not even think it important to mention it to Papa.
I soon moved to an apartment in a lane not too far from where Johnny Walker lived. But it was only on the day he died that I thought of that bungalow again. I haven't been to that lane since that rainy Sunday morning, but I want to go there now.
I just want to walk that street and make up for not giving him his due the last time I was there.
Last afternoon when Mumbai went silent during the bandh I did not rent a DVD. Instead, I plugged a VCD of Guru Dutt's Pyasaa just to see Johnny Walker as Sattar Bhai, the mystical masseur and loyal friend.
Somehow I feel Johnny Walker was just like that -- a loyal friend and a good human being. He touched people's hearts with his comedy. He made them laugh and became a part of so many lives.
I will return to that lane this weekend to place some flowers at his door. I owe it to Johnnysaab.
Papa would like it if I did so too.


What do you think about the story?








Read what others have to say:





Number of User Comments: 28








Sub: johnny walker ko salam

though i have not known or seen his films, the response that people have given makes me think very high of him. cheers to all.


Posted by mithun raj









Sub: Johney Walkar was great actor

johney walker was a great actor. His every fan is missing him.


Posted by Nitin E. Phanse









Sub: I completely identify with your sentiments:-)

Archana, your article moved me almost to the extent that Johny Walker's death did! I am a die-hard fan of Johny. I think clean humour ...


Posted by Chintu









Sub: Homage to a good actor

He is the last persons, where actors gave life to their screen characters and did not overwhelm the.


Posted by Anand









Sub: Tribute

Very nice tribute Ms.Masih. I experienced a similar feeling everytime I would go to Prithvi Theatre. Even though I was child in the 70's and ...


Posted by Rahul Razdan






Disclaimer