Home > Movies > Interviews

The Rediff Interview / Aftab Shivdasani

'The recent Hindi comedies have been Hollywood rip-offs'

Subhash K Jha | July 31, 2003



From the chubby baby in the Farex (baby food) ads to the adorable moppet in Chaalbaaz and Mr India to the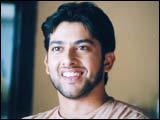 lovelorn hero in Mast and now the bizarre frozen man in Prawaal Raman's Darna Mana Hai, Aftab Shivdasani's growth as an actor has been steady. With as many as four releases lined up for release in the next couple of months, the affable Aftab tells Subhash K Jha he has a lot to look forward to.
Darna Mana Hai sees you in a rather remarkable role.
Yes, I loved playing the guy who acquires the power to freeze people around him. When Ramu [Ram Gopal Varma] narrated the story to me he had an amused smile on his face, as though to challenge me about how I'd do it. It's such an amusing story. I promised I won't let Ramu down and I didn't. He's incredible. He doesn't give a damn about conventions and formulas and does exactly what he wants.
But you seem to have moved away from Ram Gopal Varma.
Nothing of the sort. There's a myth in the industry that we've fallen out. But we're very much together
So when is the marriage?
It's very much on the cards. He's looking out for a script for me [laughs]. Actually, I love a good laugh. I love it when people praise me for my performance in Darna Mana Hai. I'm comfortable with comedy. I've been appreciated for my comedy in Love Ke Liye Kuch Bhi Karega and now Darna Mana Hai. I want every fifth film of mine to be a comic role, so I can make people laugh. In fact, the film that should have released after my debut in Mast was a comedy. Unfortunately, Suno Sasurjee [costarring Amisha Patel and Kader Khan] got stuck.
Your new release Hungama [costarring Paresh Rawal, Akshaye Khanna, Rimi Sen] is also a comedy.
Yes, it is a complete comedy. The producer, director and co-stars are all new to me. I've worked with Paresh Rawal earlier in Awaara Pagal Deewana. Unfortunately, in Hungama, I don't have a single scene with him. With Akshaye Khanna, I just have two scenes. He has a good comic sense. In Awaara Pagal Deewaana, I was responding to all of Paresh's comedy. If it wasn't for my character, people wouldn't have laughed at Paresh's jokes.
When Priyadarshan narrated Hungama to me, I was immediately hooked. The film is aptly titled because there's a major confusion in the plot. It's an out-and-out situational comedy. The audience knows what's happening, but the characters have no clue. I love Priyadarshan's style of filmmaking. He's so low-profile in person. He just does his work and lets it speak for him. Other recent Hindi comedies have been Hollywood rip-offs. This one is an original. There're a hundred jokes in Hungama and all are original.
You're growing as an actor.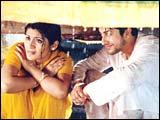 To be honest, after Mast didn't do well, Vikram Bhatt's Kasoor proved that I could act. I still don't have the hit tag. But no one wants to write me off. In my forthcoming films, you'll see that I have grown as an actor.
It isn't as though I wasn't taking my career seriously. But there wasn't that much scope for improvement. Since I wasn't from the industry, I didn't have an avalanche of opportunities falling into my lap.
I'm a very introverted kind of guy. I can't walk that extra mile just to be in the good books of filmmakers. Maybe they misconstrue my reserved nature for arrogance. Actually I've just been busy completing my pending assignments. Coincidentally, they're all ready at the same time and now Darna Mana Hai [which released July 25], Hungama, Footpath, Muskaan and Jaane Hoga Kya are being released one after the other.
Does that scare you?
Should I be? I feel it can work both ways. All of them can be hits and no one will question why they came together. But if they don't do well, I'll be told they should've been spaced out. For the first time, I've five releases within a short timespan. I don't know what will happen. I'm just happy doing quality work. I know I need to establish myself. I know there're people who love me and wish me well. So I don't think I need to be apprehensive. No one says I'm a bad actor. That's comforting to me.
After Hungama, you've Vikram Bhatt's Footpath coming up for release.
I've already had two hits, Kasoor and Awaara Paagal Deewana, with Vikram. We're hoping for a hat trick. In fact we were supposed to do an epic period love story, a sort of Titanic on a train. I've been after Vikram to make that film. He's really got the best out of me in Footpath [costarring Bipasha Basu]. I play a cop who rescues his friends from drugs. My character is trapped between duty and friendship. Unlike Hungama, there're no light moments in Footpath. My two releases this month are chalk and cheese. I know the success of these films is important. But even if I get critical acclaim, my boat will stay afloat.
Vikram didn't allow you to dub your own lines in Kasoor.
This time, he's been very kind. Those who've seen Footpath have praised me more for the dubbing than my performance. I've worked really hard on both Hungama and Footpath. Actually I bank on all my assignments to further my career. After these two releases, there's Muskaan [costarring Gracy Singh, who was last seen in Honey Irani's Armaan], a murder mystery directed by Rohit Nayyar and Manish Sharma. I'm the main suspect. Coincidentally I'm being directed by another duo Glen-Ankush in a sci-fi drama called Jaane Hoga Kya [costarring Bipasha Basu]. I've a double role of a scientist and his invention in that film. I'm lucky to be in such an exciting project so early in my career.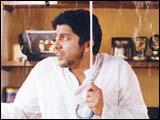 But you've been facing the camera since you were a baby!
Yeah, but as a leading man it's just been four years. Usually it takes a lot longer for an actor to do a double role. I guess I still have a long way to go. I must confess… at one time I felt I was an outsider in the industry. But that didn't bother me. I knew success was all that mattered. And I worked in set-ups that made me happy.
Are you hopeful about the future?
Very much so. For the first time in my career, I am looking at so many releases and all of them are critical for me. Maybe now the Mumbai press will stop talking about my personal life and start talking about my work.
Are all the reports of your romantic liaisons true?
Completely untrue. I've shouted from rooftops that the Don Juan image isn't right for me. I don't want to give interviews contradicting these concocted stories. Why should I waste my time? I do get flustered by all this loose talk at times. I'm human. I need my space. The bottomline is people will love you if they like your work. I'm very much single and very happy being this way. I had a girlfriend. We broke up a couple of years ago.


What do you think about the story?








Read what others have to say:





Number of User Comments: 14








Sub: I`m finding no words to appreciate U.

Hello Sir Aftab! I `m little embarrassed how to commence my remarks about U.I really like U & ur all movies .Again & again I ...


Posted by Aarzu









Sub: Hungama

Hungama is such a laugh riot, I rate it even better than Hera Pheri, which was a terrific comedy. While Hera Pheri was dependent on ...


Posted by kailashdas









Sub: hello

hello,actually i don't know what i doing,but all i can say that i'am egyption and i'am miss egyot universe'03 and i'am in actress in my ...


Posted by nour









Sub: Aftab is great

Aftab i juss wanted to say that u r great u r the beat actor ever!!!!!!!!!u have a millon dollar smile u r the most ...


Posted by Jyoti









Sub: im crazy about you

Dear Aftab, I cannot claim that i am your greatest fan but im crazy about you since Mast. You have an amazing smile with which ...


Posted by Priyanka






Disclaimer