Home > Movies > Interviews

The Rediff Interview

Chori Chori is sensitive and funny: Milan Luthria

July 30, 2003

Director Milan Luthria made his debut four years ago with Kachche Dhaage; the film starred Ajay Devgan, Saif Ali Khan, Manisha Koirala and Namrata Shirodkar.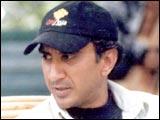 Kachche Dhaage did decent business and Luthria began work on his next film Chori Chori, with Devgan and Rani Mukerji in the lead. The film was ready in June 2002, but its release was delayed because of its producer's sudden demise. But Luthria did not give up; Chori Chori will finally hit the marquee on August 1.
The filmmaker spoke to Syed Firdaus Ashraf about his much-delayed film. Excerpts:

How did the idea of Chori Chori come about?

I was reading about the cultural singers in north India and wondering what kind of lives they lead. Then I saw [the Hollywood romantic comedy] While You Were Sleeping. The film revolves around a lonely New Yorker [Sandra Bullock] who wants to spend Christmas with a family. It is a beautiful film. I mixed shades of Bullock's character with that of a folk singer, Khushi [Rani Mukerji], in Chori Chori. Khushi wants to get married and settle down and she finds the perfect man and the perfect family. What happens next forms rest of the story.
Is Chori Chori on the same lines as Pyaar To Hona Hi Tha starring Ajay Devgan and Kajol?

It falls in the same genre, but it stands out by itself. It is a sensitive and funny film.
Why did you decide to name your film Chori Chori?

Circumstances force two strangers to come into close proximity. They start caring for each other without realising it. That's why the film is called Chori Chori. Ajay's family also tries to bring these lovers together. They realise that these two people are in love. All this happens chori chori [secrectly].
Tell us about Devgan's role.

Ajay is playing an architect who is disillusioned with life. He dreams of a world full of peace and happiness. But he finds that not too many people think like him. Then he finds this girl [Rani]...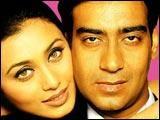 When Devgan made his debut in Phool Aur Kaante, critics said he wouldn't last with such an ordinary face. Why, in your opinion, has he done so well in Bollywood?
This was label given to him by a section of the media, which wants to slot actors. Just like they are now calling Hrithik Roshan the next Kumar Gaurav.
Ajay has always been a fine actor. Things started looking up for him with Naajayaz. Then Thakshak and Hum Dil De Chuke Sanam happened. The first change came with Naajayaz, then with Zakhm and HDDCS and finally with Company. Now people accept him as an all rounder. 
Why do you take him in all your films?

I cast him because he is a good friend. But he is not there in my next film Deewar -- Let's Bring Our Heroes Home.
What is Deewar all about?

Deewar has Amitabh Bachchan and Sanjay Dutt. I have completed 30 per cent of the film. It will release by May 2004. I have written the story.
Was it very frustrating when the release of Chori Chori was delayed, even though the film was completed a year ago?

Yes. Today, though, I think it was a right decision. The film got delayed when our producer Raju Narula died. We were, however, confident of our product. We took the decision of stopping the promos that were already on air. When we were ready to release it, we repackaged the film's the publicity and hoardings. We introduced animated versions of Ajay and Rani in the film's promos. The animation has been expensive but, as a filmmaker, I will never release a film half-heartedly.
You must be pleased that Chori Chori is releasing at a time when both Rani Mukerji and Ajay Devgan are doing well.

Their success is definitely helping us [smiles]. It is just good fortune. Everyone wants to check out how they [Ajay and Rani] look together in a film.
Is it true that Sonali Bendre is also there in the film?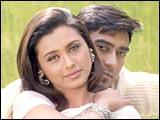 Yes. She has a small but pivotal role. But I don't want the audience to think that this is a love triangle. She is making a special appearance in the film.
How different are you feeling compared to release of Kachche Dhaage?

I am nervous. But I've held many screenings with test audiences. All of them reacted very favourably. The response has been very good.
What is the USP of the film?

The script. The story and treatment is fresh. Today's generation will appreciate this kind of a film.


What do you think about the story?








Read what others have to say:





Number of User Comments: 3








Sub: Hollywood remake

The story is not "fresh" at all. This is an indianized version of Holywood film "Housesitter" (1992) starring Goldie Hawn and Steve Martin


Posted by Naina Pandita









Sub: Hi

I watched chori Chori, its a wicked film. Rani looks Gorgeos. Hope Rani makes more films with Ajay


Posted by Yasmin









Sub: Chori chori looks promising!

I saw the rushes of this movie a year back.I wanted to see it then.It looks very promising.I think it will be a good movie.Regarding ...


Posted by Shilpa






Disclaimer