Home > Movies > Columns

Tic tac toe...which filmy trend shall I choose?

Deepa Gahlot | July 23, 2003 19:52 IST



The Hindi film industry entered the second half of the year feeling triumphant. Without any extra effort on their part (with the usual mediocre-to-terrible releases), they have managed to get the audiences back into the halls. The uncertainty and depression of the past few months has been lifted.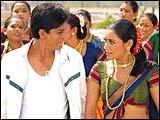 But the audiences are still unpredictable. They reject Main Prem Ki Diwani Hoon with its big-budget, starry gloss and patronise a run-of-the-mill thriller like Bhoot. Just when people claim 'stars are out, offbeat is in', they make Chalte Chalte and an awful romantic triangle like Andaaz hits. Just when the idea gains ground that emotions are in and action is out, Qayamat takes a good opening. And somewhere in between, Jism, Ishq Vishk and Jhankaar Beats also make money.

So one can see another problem rising. The Hindi mainstream industry, notorious for following trends blindly, do not know which trend to follow... since there isn't any! After the success of Raaz, producers rushed to make thrillers by the dozen. Saaya and Hawa crashed with loud thuds! Now, producers may start making 'youth' oriented films and find the next few falling at the box-office.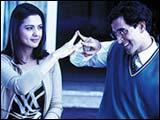 Unfortunately, a lot of big-money corporates who are getting into film production are only looking at huge projects with stars. So it is left to a few like Pritish Nandy Communications, iDream Productions, Crossover Films and Metalight Productions Private Limited, plus some enterprising individuals, to fund smaller films, apart from the old trouper National Film Development Corporation (NFDC). Though the offbeat film is no longer the NFDC's prerogative, one of the talked-about films -- and deservedly so -- in recent months is Manish Jha's Matrubhoomi: A Nation Without Women, produced by star secretary Punkej Kharbanda.

It is unfortunate, again, that a lot of small budget offbeat films turn out to be unwatchable. There is still a crisis of content, which, in this current self-congratulatory phase, the industry is not addressing.

Rakesh Roshan has attempted the first major sci-fi film in Hindi commercial cinema Koi Mil Gaya, which is generating a lot of curiosity. (Incidentally, Bengali sci-fi film Patalghar was a hit, so Hindi audiences are not the only ones instrumental in setting trends!)

One hears of a little blip of change here and there. Subhash Ghai has set up a script workshop and is looking at new ideas; iDream already has a script bank; UTV is getting scripts developed; NFDC is planning something on the lines of a script bank too. Everyone complains of the shortage of good writers but no one seems to do anything about it.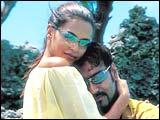 Besides, the herd mentality is still in place. Over the next few months, there will be half a dozen sex-oriented films coming out, then half a dozen cop movies, followed by an equal number of war films.

Now that action films have got another lease of life, more of those -- which are easily plagiarized from Hollywood -- will be made. And if a romance or family drama hits the box-office bull's eye, matters will get really confusing for the followers of trends!

The moral of this current 'high' phase is that it is not the genre of film that matters but some novelty value of the film itself, though nobody can come up with an explanation for the success of a film as bad as Andaaz. So let a thousand genres bloom! The next few months will be worth looking forward to.



What do you think about the story?








Read what others have to say:





Number of User Comments: 17








Sub: chalte chalte was better than mphdh

chalte chalte was far better than mpkdh in every aspect.shah rukh is better than hrithik and rani is better than kareena.there is no way in ...


Posted by ahmed









Sub: MPKDH is indeed a flop

In response to Ramz, MPKDH is a flop. If you are one of those *blind* Hrithik clans, hence such comment. The movie was one of ...


Posted by Jerry









Sub: Can't tell reasons for success?

A good discerning critic has an ability to not only see beyond obvious but also has the ability to recognize finer patterns. Your article on ...


Posted by G Krishna









Sub: Box Office

Junta's reaction has always been unpredictable. It used to be Big B whose movies were sure success. Though I had no doubt about the failures ...


Posted by VK









Sub: trends...

The problem with indian filmakers are that if 1 theme clicks a whole bunch of people jump on to make almost simialr movies and end ...


Posted by Anzer






Disclaimer