Home > Movies > Message Board

July 14, 2003



Suchitra Sen made Devdas' Paro immortal in Bimal Roy's 1955 classic.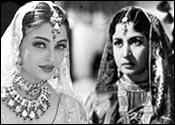 When Aishwarya Rai relived her role in Sanjay Leela Bhansali's version, she had to fight expectations and comparisons made between her and Sen. She then proceeded to land most of the Best Actress Awards.
She also put Paro on the international map by taking the film to the Cannes International Film Festival.
Now, the actress will be seen in another Bengali period film, Guru Dutt's classic, Sahib Biwi Aur Ghulam (starring Dutt, Meena Kumari and Waheeda Rahman). Ash will play Meena Kumari's Choti Malkin.
Will Ash live up to the huge expectations yet again? Will she match up to Kumari's haunting act of a lonely, alcoholic wife, who longs for her husband's attention? Will she make a good Meena Kumari or do you think comparisons are unfair? Should Rai's performance be judged on its own merit?
What do you think? We would love to hear from you.


What do you think about the story?








Read what others have to say:





Number of User Comments: 77








Sub: reply to swapneel's message posted on 1.08.2003

My dear friend Swapneel,please do not jump to conclusions without knowing half facts.Here are some facts which will convince you that Meena Kumari is undoubtedly ...


Posted by pranesh iyer









Sub: hi

well..........the fact of the matter is today's actresses baring a few are all superficial beauty queens they lack hunanity and intelligence to play complicated and ...


Posted by manoranjan









Sub: answer to debate

i think both meena kumari and aishwarya rai are entities in the film industry you cannot compare them on the basis of any common character ...


Posted by bhaskar moitra









Sub: NOPE!!!!!!

hey hey....how can anyone make a comparision between meena n ash...meena kumari was a beauty with a touch of awsome acting talent...i'm not sayin that ...


Posted by Siddharth









Sub: will ash match Meena Kumari

its an insult to Meena kumari Yet again Ash will paly Ashwarya Rai in that role as she does always. its a bad choice


Posted by palki malhotra






Disclaimer