HOME | MOVIES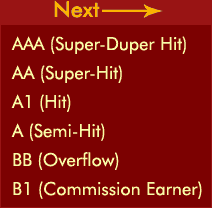 Six months. One hundred and seventeen releases. Eight hits. One hundred and nine flops.
Going by these statistics, Bollywood hasn't had a dream run in the first half of 2003.
Biggies like Dil Ka Rishta, Khushi, Armaan, The Hero and Ek Aur Ek Gyarah proved that stars and big budgets don't guarantee an initial anymore.
The failure of Sooraj R Barjatya's Main Prem Ki Diwani Hoon has left the industry in a state of shock. The industry expected the film to be a huge success, considering Barjatya's track record of only delivering hits. A week after its release, the film does not even look like an average grosser.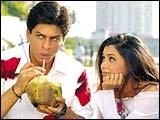 Oddly enough, the Hrithik Roshan-Kareena Kapoor starrer figures in the Top 15 list in the US and UK box office charts. Box Office's assistant editor Indu Mirani explains the phenomenon by saying, "I think they look for only gloss and stars abroad."
While India seeks inspiration from Hollywood for innovation and technique, Indians residing abroad prefer illogical multistarrers. At the same time, Mirani says, "Audiences in India have started appreciating a good plot and good acting."
That perhaps explains how Ram Gopal Varma's Bhoot became a hit. With its urban backdrop, the film raked in the moolah predominantly in Mumbai and the other metros of the country.
According to the trade magazine Film Information, the industry has lost about Rs 110 crores (approximately US $23 million) in 109 of the 117 films released in 2003.
The year's biggest money-spinner so far is Shah Rukh Khan's Chalte Chalte. Andaaz and Jism are successes as well, though none of the three are universal hits.
Bhoot and other surprise semi-hits like Tujhe Meri Kasam, Ishq Vishk, Chhota Jadugar and Jajantaram Mamantaram had a profitable run only in the cities, thanks to the rapidly growing multiplex culture. They were more or less a losing proposition in rural territories.
Here is a closer look at the hits of 2003:
Source: Film Information