Home > Movies > Message Board

December 30, 2003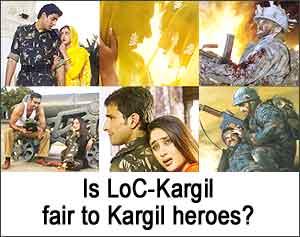 The biggest USP of J P Dutta's war drama LoC-Kargil was its 'reality'.
The film opened to mixed responses.
A section of the audience feels LoC-Kargil is an unreal depiction of the war and jawans. The favourable lot found the film extremely poignant and hard-hitting.
What do you think? Is LoC-Kargil fair to the Kargil heroes?
Tell us what you think. We would love to hear from you!


What do you think about the story?








Read what others have to say:





Number of User Comments: 152








Sub: Its a real dedication of work

I like J.P Dutta's inspiration towards the country, better then other stupid type of movies......


Posted by Syed Ali Ahmed









Sub: is LOC fair to kargil heroes

i think its a good attempt to show the reality but the typical "hindi picture masala" touch spoiled the show. the way it is shown ...


Posted by amol m vaidya









Sub: LOC - 'Let Off Criticism' people - Kudos Mr.Dutta

There have been a lot of reviews about LOC, some good some bad. Here I am giving my personal opinion not biased by what the ...


Posted by Puja Vats









Sub: yup

loc-kargil is a tribute to soldiers.J.P.DUTTA has captured the viewers .


Posted by aparna









Sub: not in reality

Frankly saying, it does not shown in reality. It is not at the expectation level. Director failed to consolidate capturing all hills in the movie.


Posted by Prashanth






Disclaimer