Home > Movies > Message Board

December 11, 2003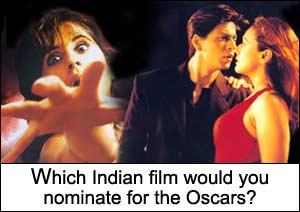 2001 was a lucky year for Bollywood.
Ashutosh Gowariker's Lagaan made it to the prestigious Oscars by bagging a nomination in the Best Foreign Film catergory. Though it lost to Bosnia's No Man's Land, Lagaan brought India on the map of international cinema.
Sanjay Leela Bhansali's Devdas was expected to follow suit in 2002. The Shah Rukh Khan-Madhuri Dixit-Aishwarya Rai period drama failed to garner any takers at the Academy.
This year, too, none of the Indian films succeeded in qualifying for the sought after Oscar nomination.
If you could, which Indian film would you nominate for the Oscars this year? And why? Do tell us. We would love to hear from you!
Note: The nominated film should have been released before November 15, 2003.


What do you think about the story?








Read what others have to say:





Number of User Comments: 89








Sub: LOC is the best

Hi all, LOC is the best film that I liked this year. The most interesting thing that I liked in this film is sacrifice of ...


Posted by Sachin









Sub: BAGHBAN

Its the film worth for any Award Nomination


Posted by Manish









Sub: re: Which Indian film for Oscars?

Do Americans bother about sending their films for our National Awards / Filmfare Awards? When not,why do we crib about Oscars? Instead of making films ...


Posted by aumlan









Sub: Oscar

As far as my own view is concerned, it is ANAHAT, staring Sonali Bendre. MILIND


Posted by Kanitkar Milind B.









Sub: email replay

i am likis is film is khno this film is best


Posted by sameer






Disclaimer