Home > Movies > News Bytes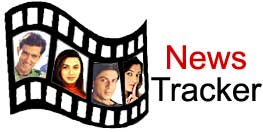 The woman Sunjay met before Karisma

Rediff Entertainment Bureau | August 27, 2003 17:53 IST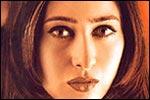 Without meaning to do so, Nandita Mahtani, owner of the trendy Mumbai designer store Ananya, with clients ranging from Elizabeth Hurley to Preity Zinta, has found herself in the news.
She is the ex-wife of Delhi-based industrialist, Sunjay Kapur, who will marry actress Karisma Kapoor on September 29.
Nandita told a local newspaper that their divorce came through two weeks ago, though they have been separated for two years.
According to the grapevine, Nandita too has a new man in her life, actor Dino Morea. She told the newspaper that Morea was a close friend who had stood by her through her difficult times.
| | |
| --- | --- |
| | More on rediff.com! |
| | |
Is Bipasha getting too big for her boots?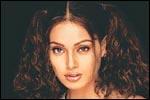 Bipasha Basu's sultry act in Raaz and Jism may have won her fame among her fans.
But the Bong babe is rubbing a lot of filmmakers the wrong way with her newly accquired 'pricey attitude'.
Elaan's war call!
Venus Films -- the production house behind several hits like Khiladi, Baazigar, Main Khiladi Tu Anari, Baadshah, Humraaz and the recent comedy Hungama -- will now make a multi-starrer, Elaan.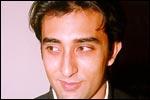 Directed by Vikram Bhatt, the action flick stars Arjun Rampal, Rahul Khanna, John Abraham, Amisha Patel and Lara Dutta.
Elaan, which is a completely commercial film, will be a big change for Khanna, who has so far worked only in crossover films like 1947 -- Earth and Bollywood/Hollywood.
Click here for More Features


What do you think about the story?








Read what others have to say:





Number of User Comments: 7








Sub: how does this guy even look?

everywhere I just see karishma's pics but I have still not seen a single pic of how the guy looks!


Posted by Ashita









Sub: Karishma's wedding

She's marrying the guy not for his looks but for his money. He's loaded. Smart and practical Girl!


Posted by nisha









Sub: karishma's marriage

Dear editor can you carry out a poll on net that how many net users liked this coverage on rediff.Please do so fast as that ...


Posted by sher









Sub: hi

dear have a nice day for your married I hope your married life will be very successful. govind


Posted by govind gupta









Sub: Karishma, Nandita and Sanjay

Sanjay Kapur was married to Nandita and that they are now divorced is news to me. What a shame. Karishma is such a live-wire beauty ...


Posted by Ponneth Nair






Disclaimer