Home > Movies > Bollywood News

Bhaichung to act in Bengali film

M Chhaya in Kolkata | August 09, 2003 11:51 IST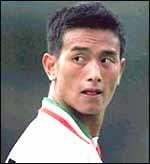 Quite a few cricket stars have done it, but not many footballers donned the greasepaint.

Indian soccer star Bhaichung Bhutia will soon make his celluloid debut in a Bengali film.

The 27-year-old will play himself in Kuasa (fog). Directed by Milan Bhowmick, the film will also star East Bengal coach Shubash Bhowmick.

"This is my first attempt in films. It is a small role," Bhutia said. He said he had done advertisements, "but this [films] is a totally different ball game."

Bhutia agreed to act in the film after coach Bhowmick requested him to do so. Bhaichung has so far shot in the city hotel for a party scene with his coach.

Noted Bengali Rabindra sangeet singer Indranil Sen also makes a brief appearance in the movie.

The film's producer, Arupayan Dutta, a die-hard East Bengal fan, said the idea of including Bhutia and coach Bhowmick in the film came after the club won the ASEAN Club Cup in Jakarta last month.

"I asked Subash Bhowmick to make a small appearance with Bhutia to add value to the film. I said they could play their own real life character. They agreed," Dutta said.
Click here for More Features


What do you think about the story?








Read what others have to say:





Number of User Comments: 2








Sub: compliment

Mr. Bhutia, We are very eager to watch a spectacular goal from your side. Best of luck Mr. East Bengal. one who love you Masoom ...


Posted by md. masoom Ali









Sub: This is reminds of a story

the news of Baichung Bhutia's new role as movie star reminds me of story.Once a very poor person got some money. It was nothing huge, ...


Posted by prosenjit chowdhury






Disclaimer