Home > Movies > Bollywood News

'Hrithik is the jaadoo of the industry'

Priyanka Nair | August 07, 2003 17:44 IST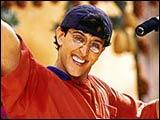 Filmmaker Rakesh Roshan has been holding screenings of his latest film, Koi... Mil Gaya, starring Hrithik Roshan, Preity Zinta and Rekha in Mumbai and New Delhi.
One of the special screenings was held on August 2 in New Delhi. Prime Minister Atal Bihari Vajpayee, Deputy Prime Minister L K Advani, Information and Broadcasting Minister Ravi Shankar Prasad and many other government dignitaries were present at the show. All were impressed by Hrithik's performance in the film.
Hrithik says, "He [Vajpayee] is a man of few words. He just came to me and said, 'Bahut bade ho gaye ho [you have become very big]. That was enough for me."
Roshan Sr said the PM complimented him too, saying, 'Aapne bahut achchi film banayi hain [you have made a very good film].'
One more person who calls herself Hrithik's greatest fan was also present at the screening: Vajpayee's granddaughter. "She is a sweet girl," Hrithik says.
| | |
| --- | --- |
| | Koi... Mil Gaya on Rediff! |
| | |
Akshaye Khanna, whose latest film Hungama opened to warm response, says, "Hrithik Roshan is simply superb in the film. KMG is a sureshot hit. There are no two opinions on it."

Rishi Kapoor, a close friend of the Roshans, says, "Hrithik is simply superb in the movie. With this film, I am sure he is going to win the hearts of people once again like he did in Kaho Naa... Pyaar Hai."

Lagaan director Ashutosh Gowariker claims Hrithik's performance in KMG will go down in history as a reference point for a long time to come.

Sridevi, who attended one of the screenings with husband Boney Kapoor, told Hrithik he was the jaadoo [magic] of the film industry. Boney went a step further to say Hrithik could only be compared to legends.

Trade pundit Taran Adarsh claims, "KMG has the golden combination of Hrithik, Rakesh and Rajesh Roshan. It has a bumper opening but there are two extremes to it: if it works with kids, it will be a blockbuster. The concept of an alien is alien to Indian cinegoers. Yet, the idea is novel. That is the USP and mainstay of KMG. As for Hrithik's performance, it is outstanding. He gets 10 on 10 for his role as Rohit in the film."

Click here for More Features





What do you think about the story?








Read what others have to say:





Number of User Comments: 7








Sub: Hirthik is soo cool in the movie

I think hrithik has done an excellent job in the movie it 's a must watch film. I don't think any of current actors would ...


Posted by malabika









Sub: Hrithik is breathtakingly unbelieveable and surreal!

I always knew Hrithik was outstanding but as usual people wagged their tongues bout him jus 'coz he didn't deliver a hit after kaho na. ...


Posted by sravya









Sub: hritik

as was said some time ago hritik is a byproduct of the media publicity.He absolutely has nothing special. his first film KNPH did well not ...


Posted by s.nayyar









Sub: Fed up of media hype

Dont forget what big names said before yaadein and mpkdh,still directors and media are making fool to audience.One film wonder is compared to legenderies like ...


Posted by A.Mubeen









Sub: Jadoo??? what nonsense.

Hrithik's been a bad actor all his life (aka his short career). How can he suddenly become great? This is media hogwash to get people ...


Posted by Sri






Disclaimer