May 19, 2017
Why banks will have fewer branches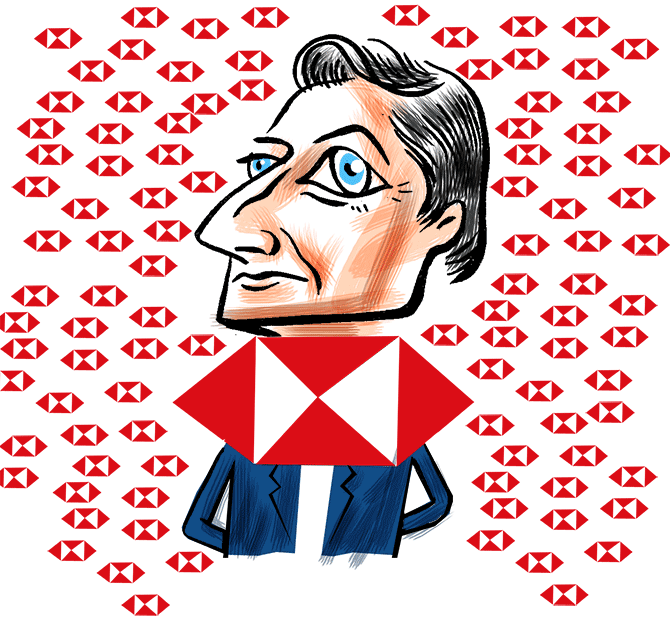 'With technology advancing rapidly, the need for branches is declining.'
May 16, 2017
Not just Modi, even Manmohan Sigh has something to cheer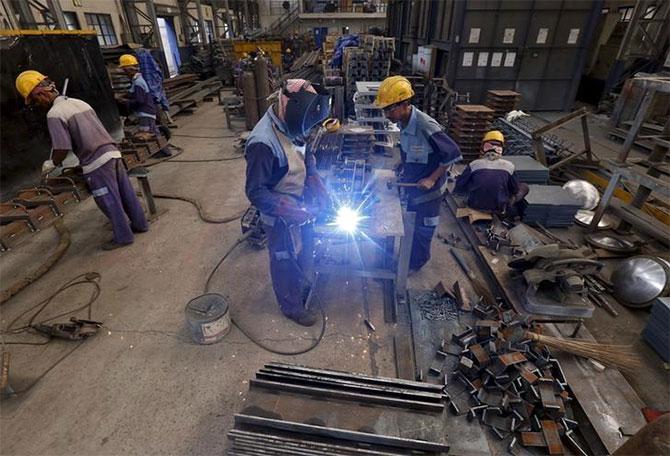 The new IIP numbers should spread cheer among those who were part of the Manmohan Singh-led United Progressive Alliance, earlier accused of having presided over a steady deterioration in industrial performance, particularly in the last two years of its tenure, says A K Bhattacharya.
May 15, 2017
How your 'Awfis' might change in future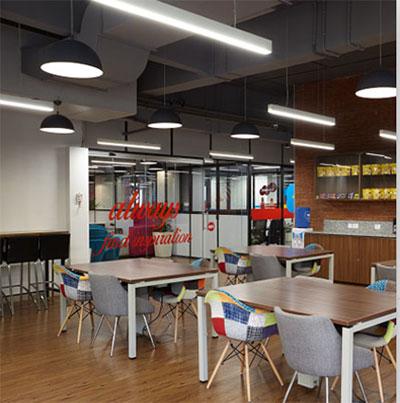 Awfis stands out for its 'ambience' and 'ease of doing business'.
If the financial year changes...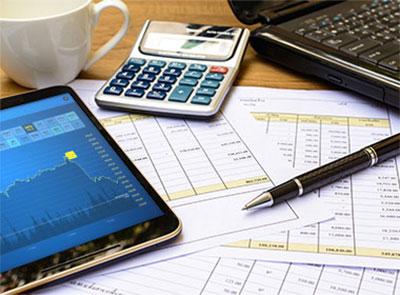 Businesses coming to terms with Ind-AS (Indian Accounting Standards) implementation, GST can do without further uncertainty and costs, say N Sundaresha Subramanian & Sudipto Dey.
May 12, 2017
Watch out for this business star!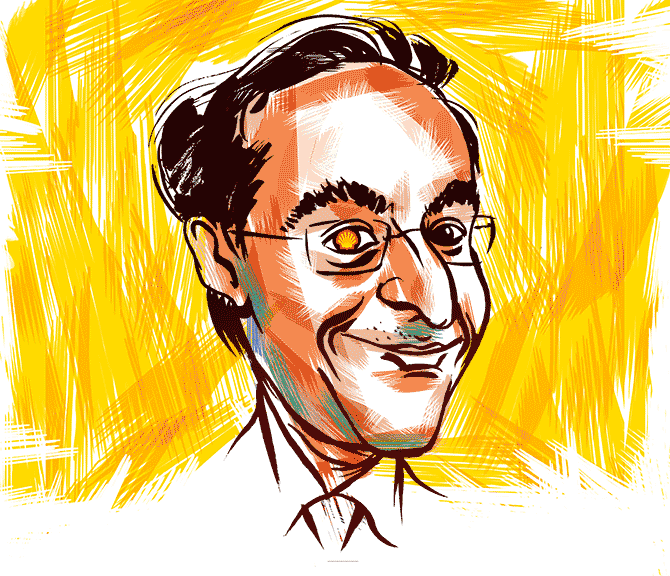 'I have been managing people since I was very young. I really enjoy it.'
May 09, 2017
'You can't fault this government for what it's done...'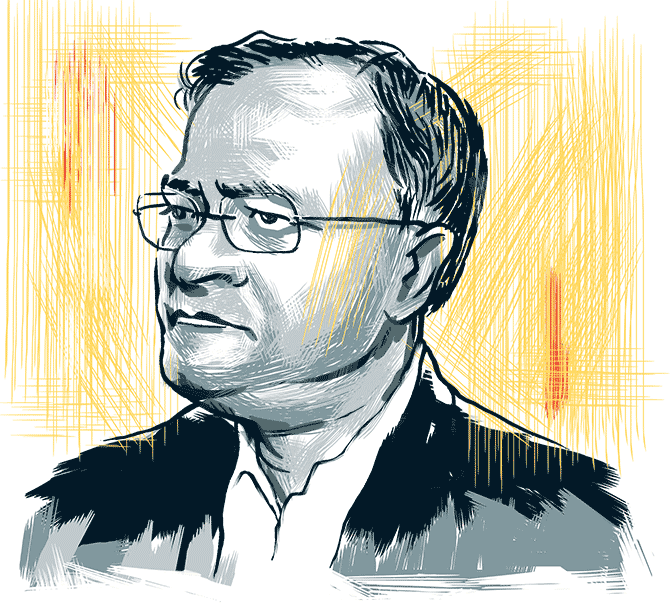 Srei Infrastructure's vice-chairman -- and former Assocham president -- Sunil Kanoria discusses the Kanoria businesses and his impression of the Modi government with Ishita Ayan Dutt and Namrata Acharya.
May 08, 2017
Celebrity brand wagons go digital!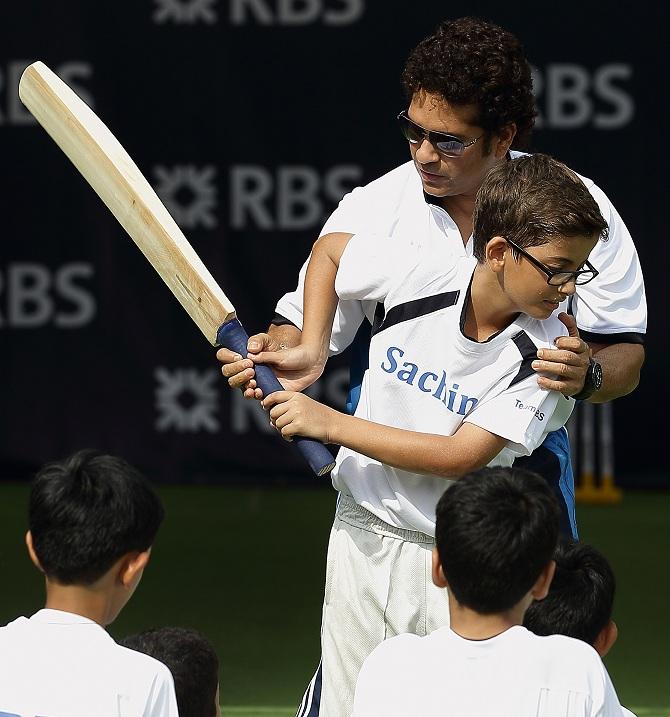 The 100MB app casts the cricketer in a digital avatar that can be used in a variety of ways. Celebrities, Urvi Malvania reports, are increasingly leveraging their fan following in the real world to build virtual empires.
May 05, 2017
The hotelier who broke the mould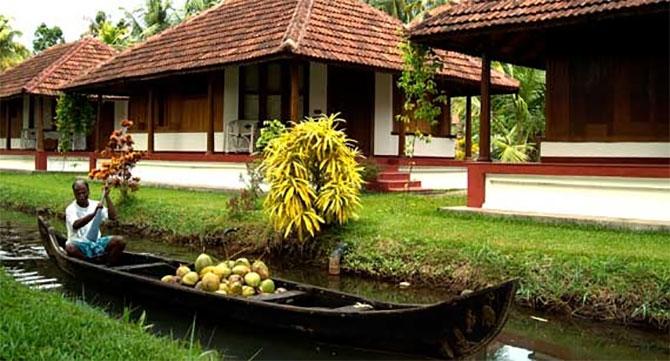 Dominic Jose understood that luxury has a new definition.
May 04, 2017
How to build a business in the Himalayas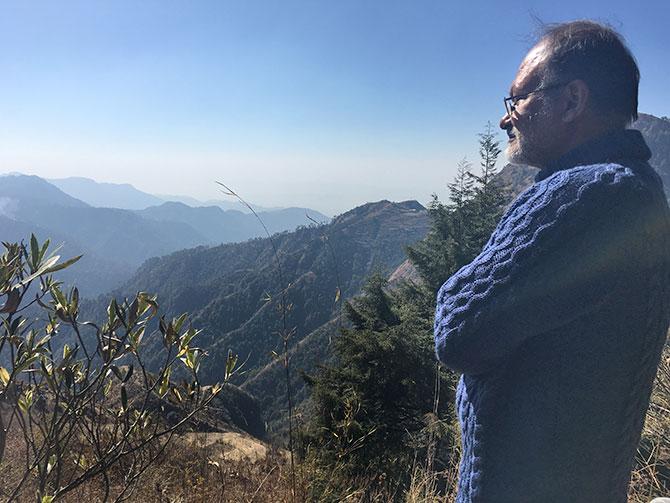 The Alams saw the magical spot while on a drive to the hills. A few years later they set up home and a small hand woven shawl business, hiring local weavers, using local wool and natural colours made of root, stem and flower.
10 commandments for Modi Sarkar to curb black money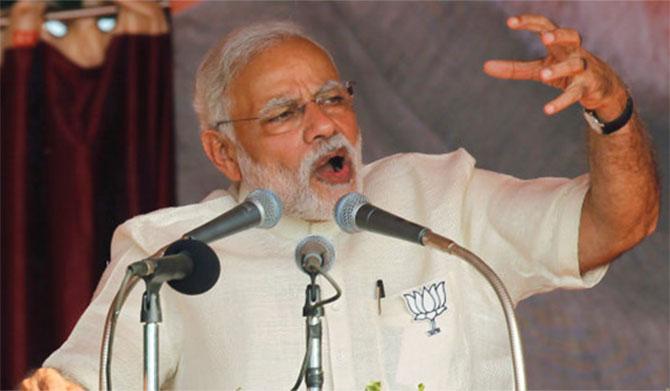 A K Bhattacharya digs into the yet-to-be-public report on ways to curb black money and finds out that Modi's next moves could include action on dabba trading, hawala, and education.
May 03, 2017
A man who knows the law too well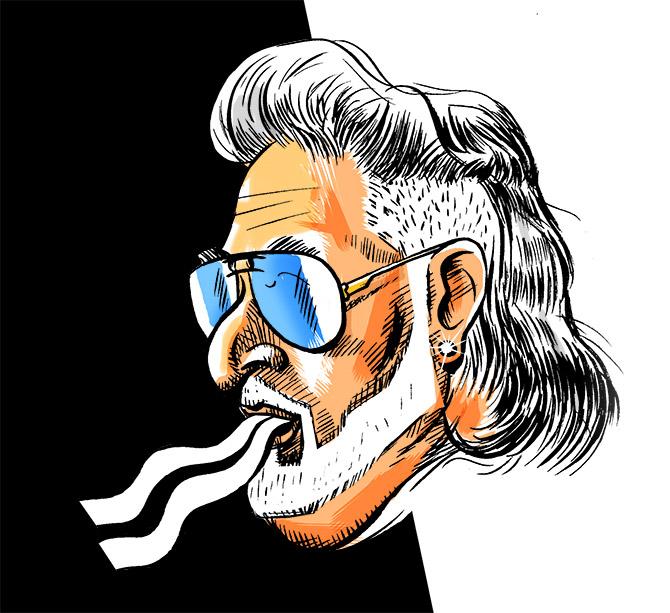 Mallya has lived on the edge for long enough to know that his extradition from UK is not a given, says N Sundaresha Subramanian.
May 02, 2017
'India has to catch a train that left 25 years ago'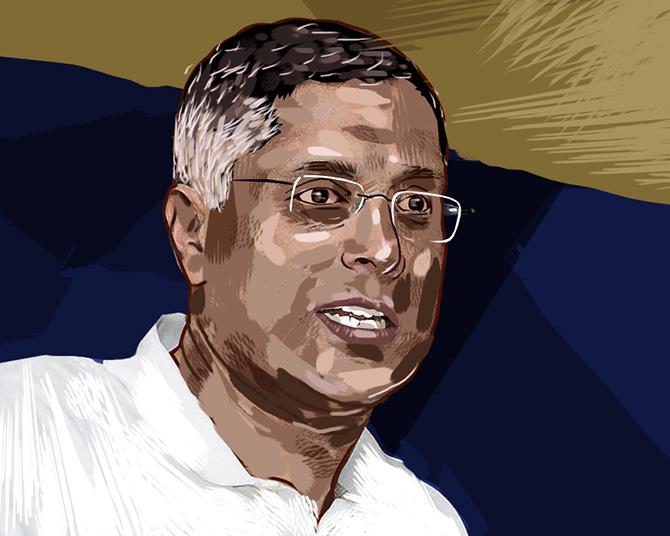 'In contrast to the generally buoyant tone of the Economic Survey in January, he sounds uncharacteristically pessimistic, saying that forces in the world economy -- slowing global trade, protectionism, robots -- will limit India's manufacturing to levels well below what propelled East Asia's economies decades ago.'
It's time to check in to India!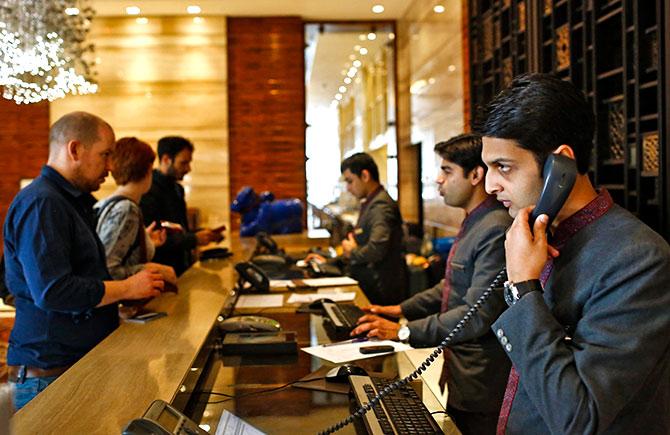 India needs 1.4 million hotel beds a night but has only 2.4 lakh, points out Rahul Pandit, MD and CEO of Ginger Hotels.
April 26, 2017
Rs 1 lakh crore: Biyani's target for 2020-21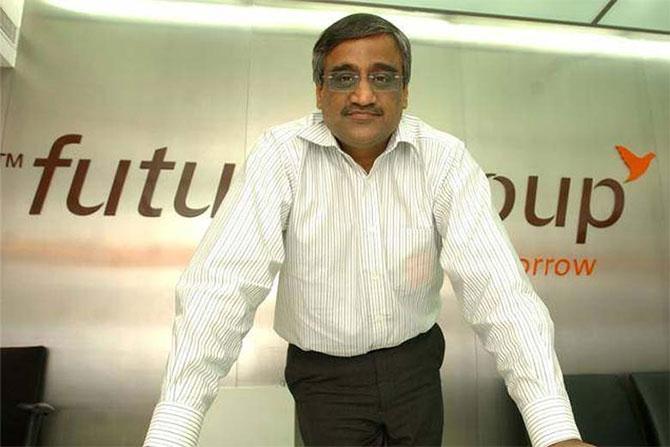 He's betting big on small stores to help him reach 10 million households by FY21, report Abhineet Kumar and Raghavendra Kamath.
April 25, 2017
Are markets ripe for a steep correction?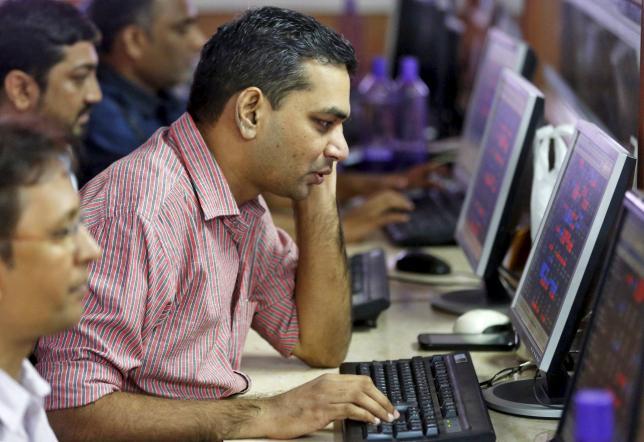 Number of stocks trading above 50 times and 100 times earnings at record highs.
April 17, 2017
Is India investing enough in infrastructure?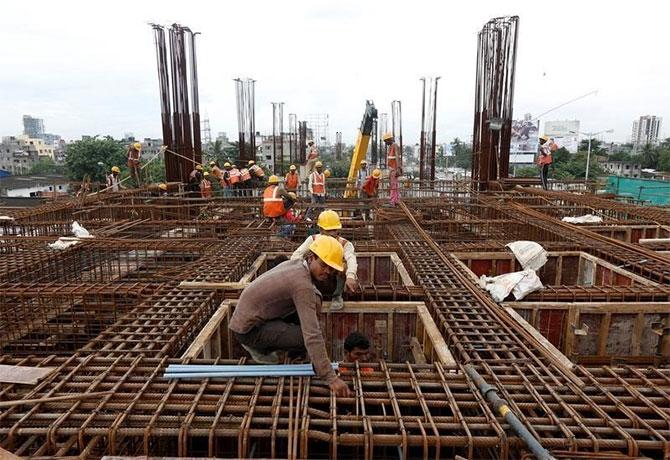 Yes. Whilst public expenditure is kicking in, the key reason is the decline in private investment
April 10, 2017
Movies, 'masti' and... merchandise!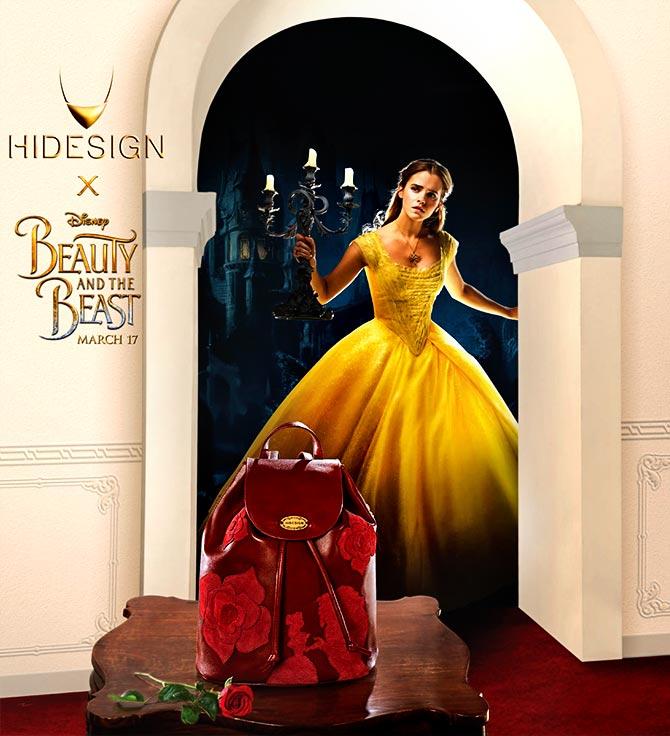 Global studios and indie content shops tap into the growing fan base for movie and TV characters in India, report Arundhuti Dasgupta & Urvi Malvania.
April 08, 2017
When the Mughals turned to demonetisation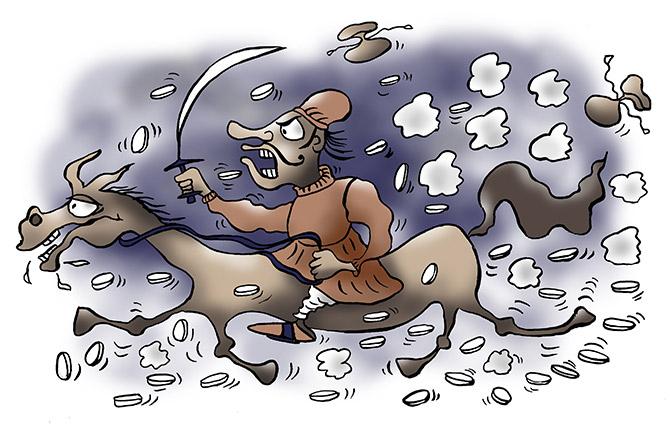 It's five months after 8/11.
April 07, 2017
Behind Netflix's India push is a VOD market of Rs 1400cr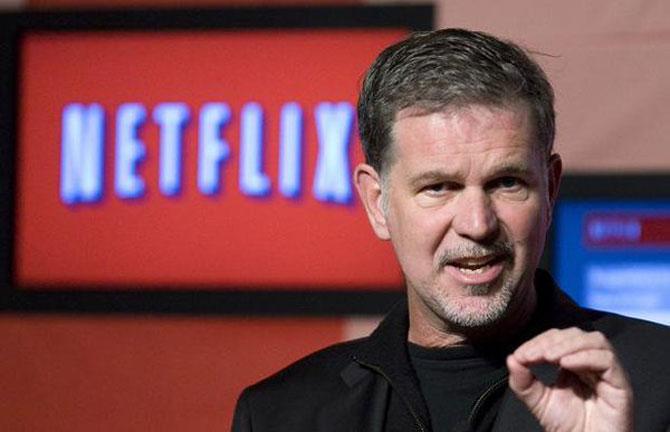 With a string of deals with telecom service providers, DTH operators and Bollywood stars, Netflix goes all out to protect its turf in India and fend off competition, says Viveat Pinto.
Exit interview: What's next for Mudra Group CEO?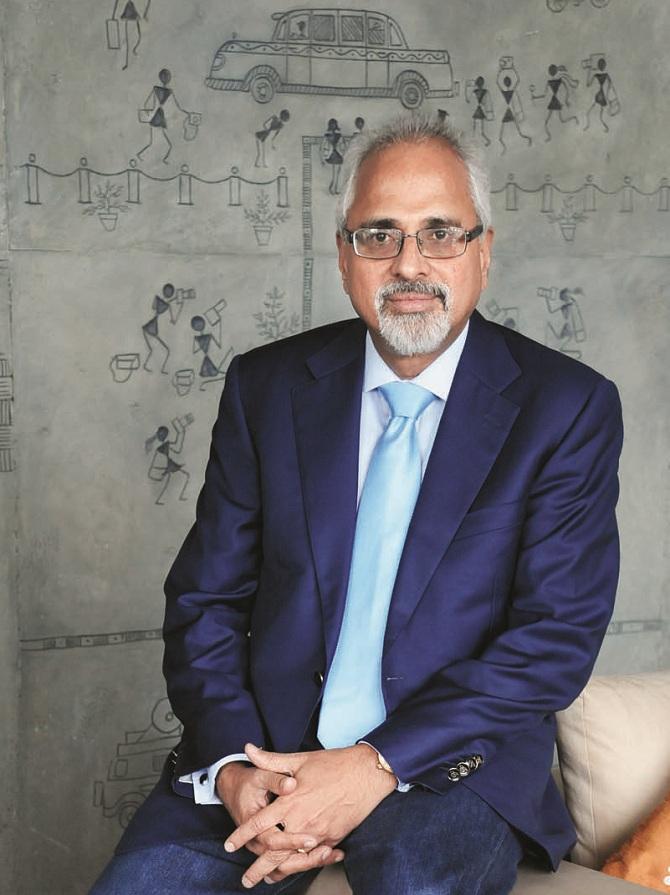 'Degrees get you into the room, it is the attitude that counts,' says adman Madhukar Kamath.
April 05, 2017
A home for India's saree traditions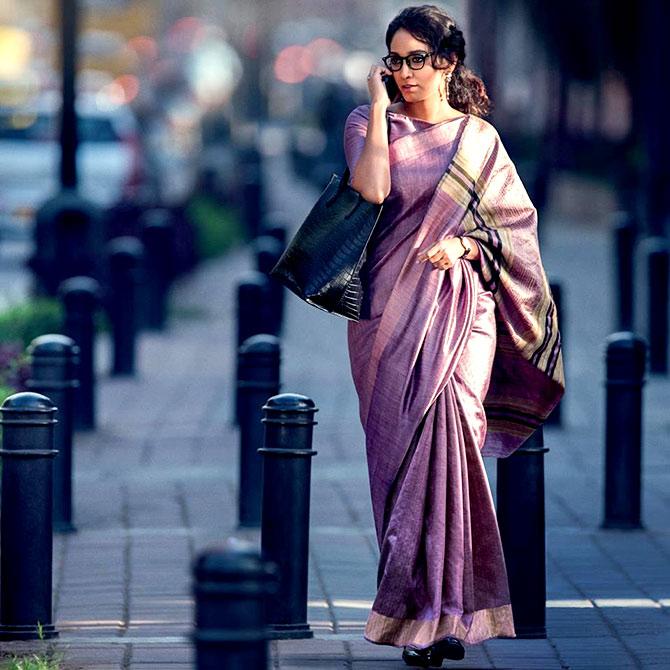 Nikita Puri visits Titan's latest offering, which brings handloom sarees under one roof.
How well do you know D-Mart's Damani?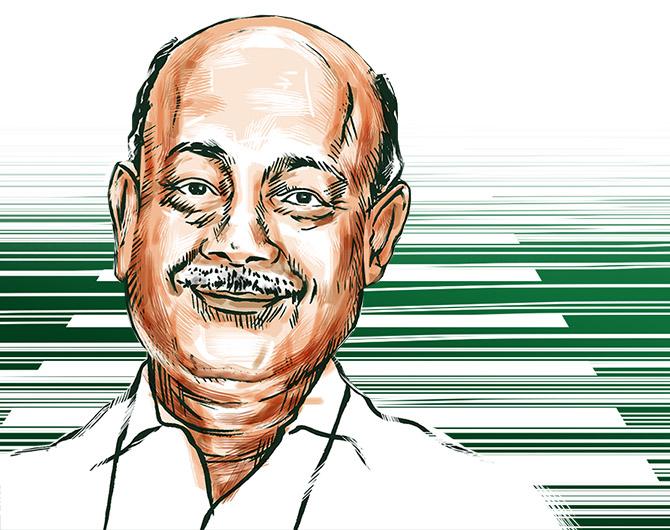 The stocks Radhakishan Damani enters or exits are closely watched by fund managers, says Joydeep Ghosh.
April 04, 2017
10 things that will change in FY18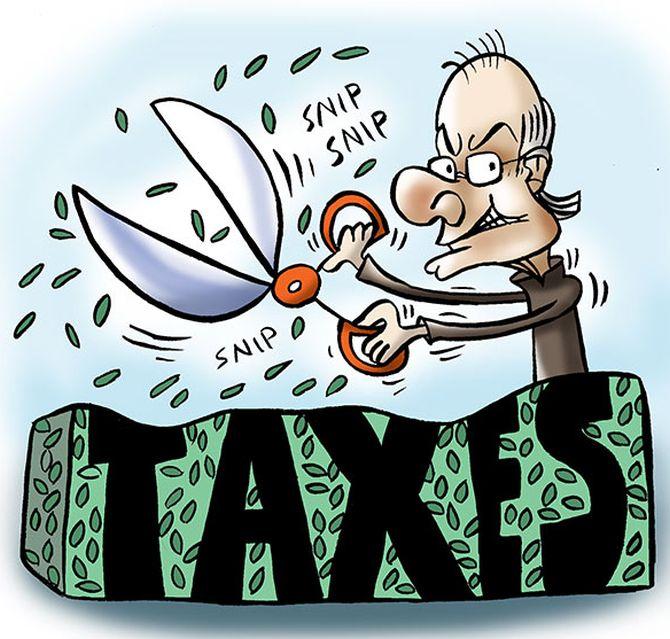 While for the consumers, there is some gain and some pain, for India Inc, it's all about compliance, consolidation and parity
April 03, 2017
India's bad loan problem is not a purely financial one!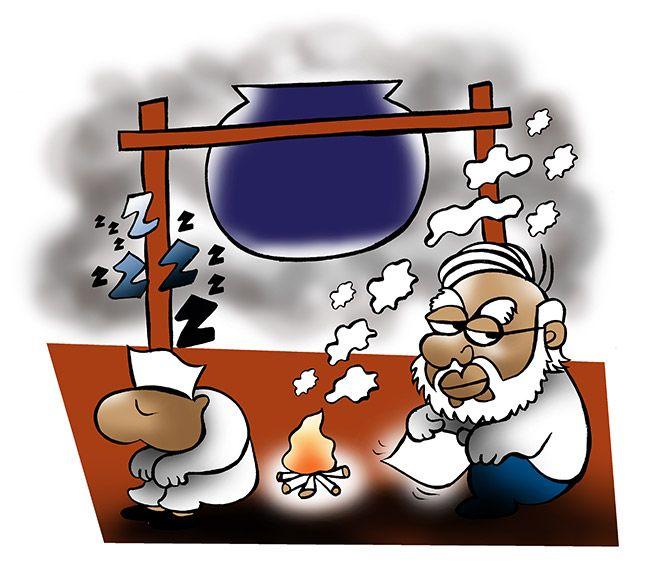 It is a national economic problem and one that requires a political solution hand in hand with a clear government commitment to stand behind core national assets, says Vinayak Chatterjee.
March 31, 2017
Fulfilling promises will add to UP's financial burden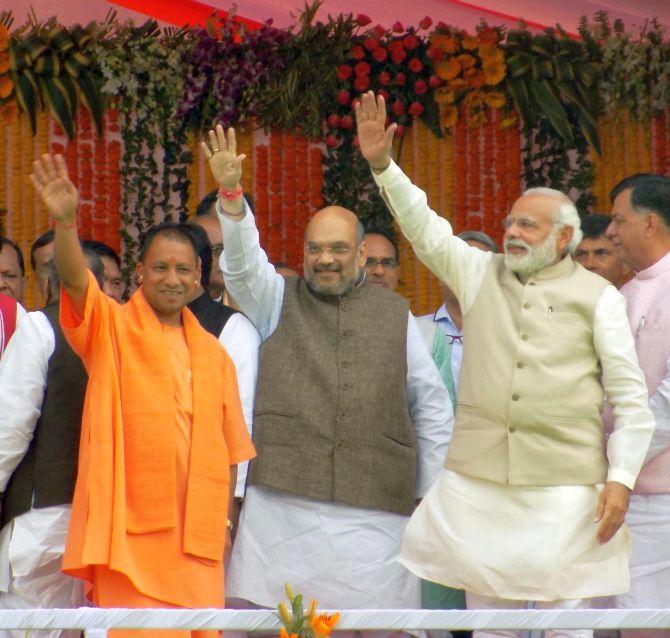 The BJP's manifesto for UP elections promised many things. But, given the state's precarious financial position, fulfilling these promises is likely to prove tricky, says Ishan Bakshi.
March 30, 2017
Why closing down can be tougher than starting up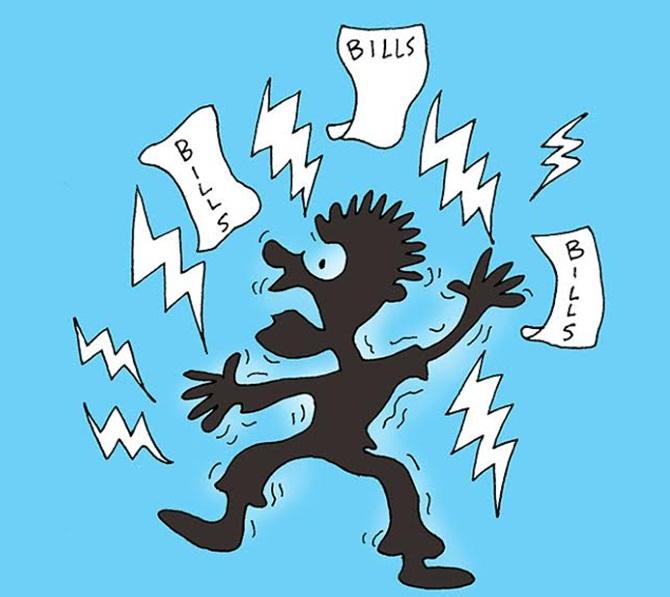 The Stayzilla episode raises questions over the regulations around the closure of a business, says Sudipto Dey.
Your favourite cup of tea could be in trouble!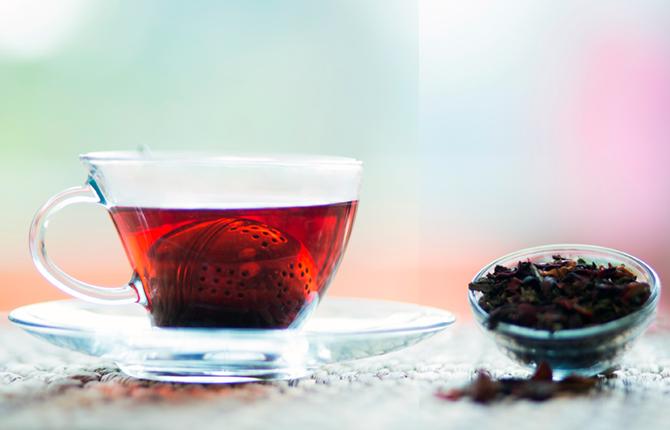 The world-famous Darjeeling tea is losing its flavour even as it struggles with falling production, says Avishek Rakshit.
March 29, 2017
'I expect increased investment from America to India'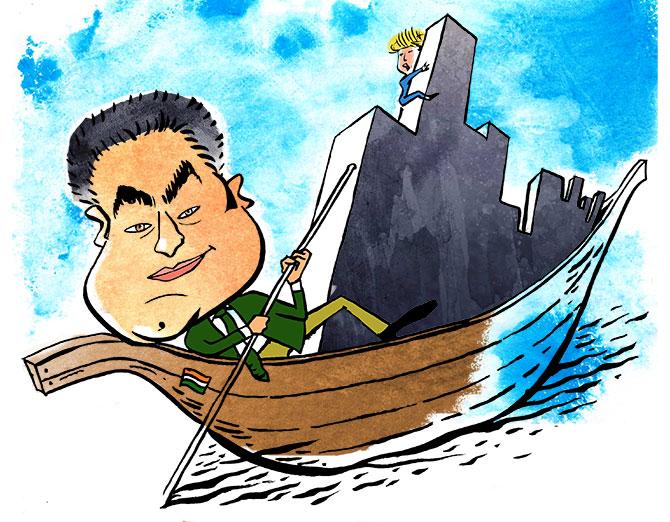 Anshuman Magazine of CBRE discusses effective leadership, millenials, Trump's America and his core business -- the real estate market -- with Nivedita Mookerji.
March 27, 2017
Explained! The alleged fraud committed by Reliance Industries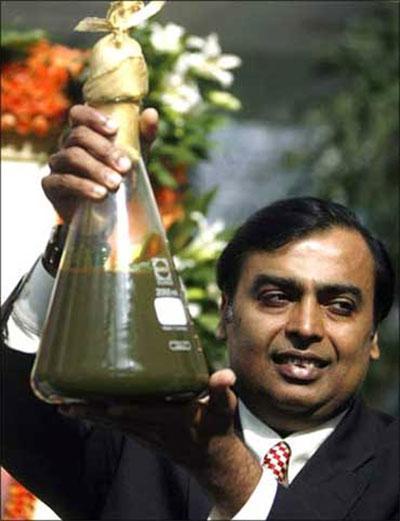 What was the fraud? Why did Sebi drag its feet on the order? What options does RIL have now? Samie Modak explains these and more.
The saga of an FB post gone horribly wrong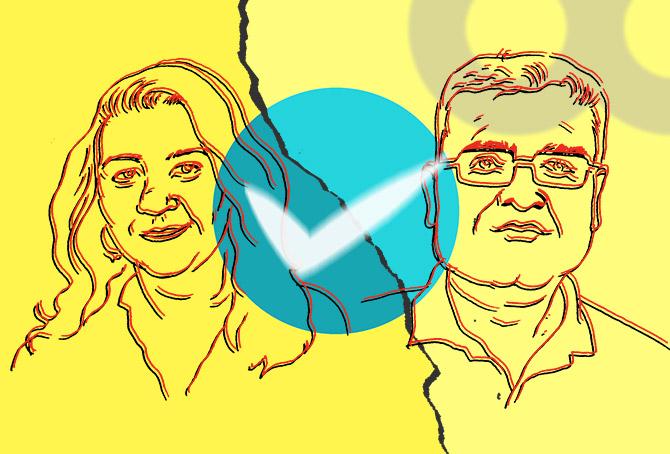 Of all the tremors to rock the start-up world of late -- Snapdeal's layoffs, Stayzilla's shutting down, Flipkart's frequent devaluations -- nothing will match the rumble at ShopClues for poignancy.
Why Aditya Puri is one of the world's top CEOs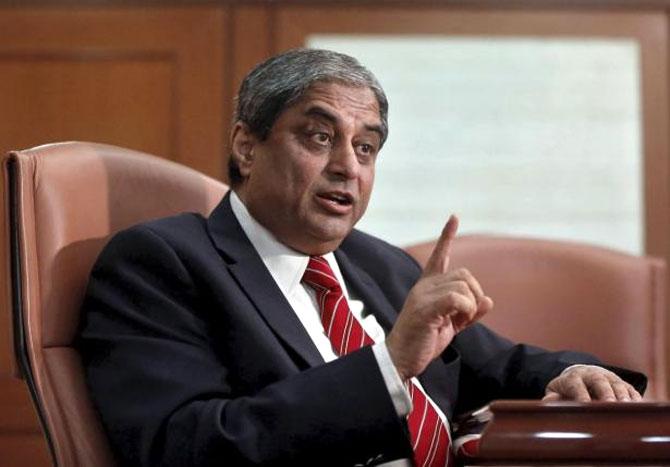 'If you want to live a happy life, you have to help the downtrodden. You have to understand that you have been given a position which is a confluence of your own capability and the grace of God. You must use that position to exemplify to others what has to be followed.'
March 25, 2017
He is trying to turn Air India around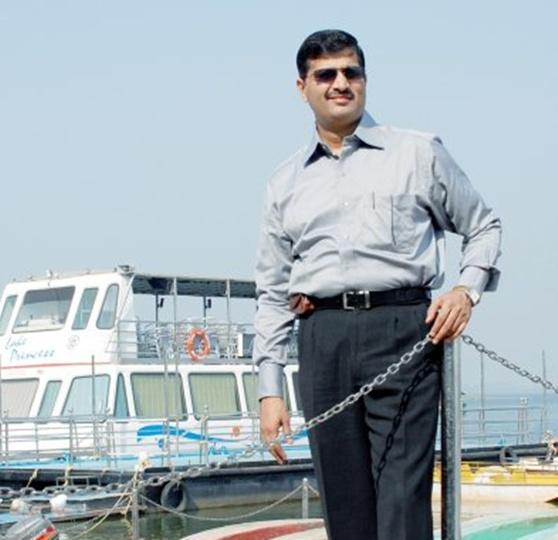 'It is not as bad an airline as it is made out to be: We serve wonderful food, the leg space is more, our cabin crew is warm and friendly.'
March 24, 2017
India's billionaires' success mantras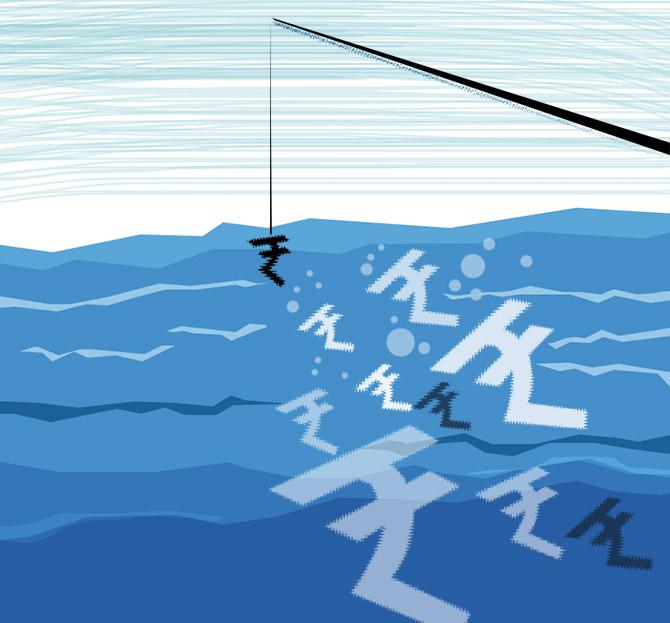 Three businessmen disclose their success mantras: One belongs to an old Marwari family, another is a second generation industrialist whose father scripted an amazing rags-to-riches story and the third was a professional till one day he succumbed to the charms of entrepreneurship.
March 22, 2017
Meet the man behind GST's IT backbone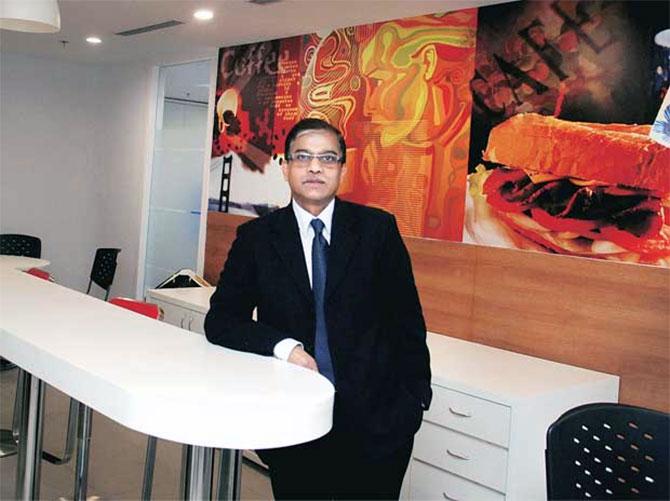 GSTN CEO Prakash Kumar tells Sudipto Dey how IT can improve service delivery of government departments.
March 20, 2017
The new avatars of India's best known entrepreneurs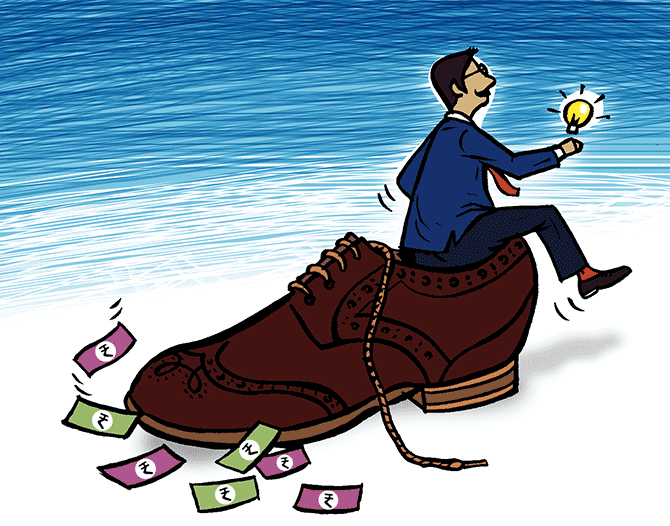 Suveen Sinha finds out what the tribe of modern, internet entrepreneurs who no longer run their first start-ups are up to.
March 15, 2017
A Hungarian invention that helped the British in WWII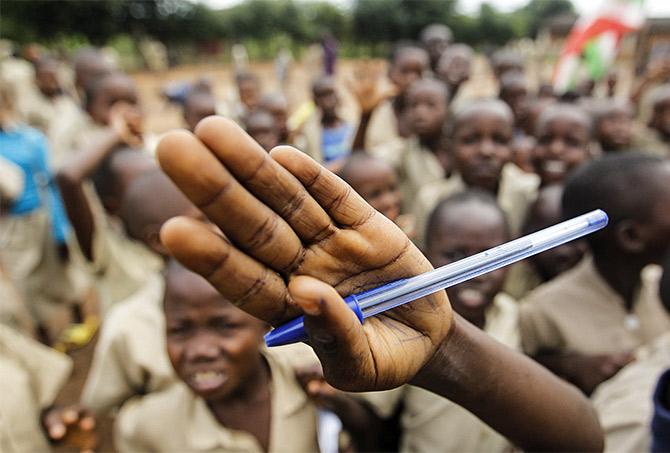 Tracing the early life of the humble ballpoint pen to its present.
March 10, 2017
In graphs: The grim story of India's bad loans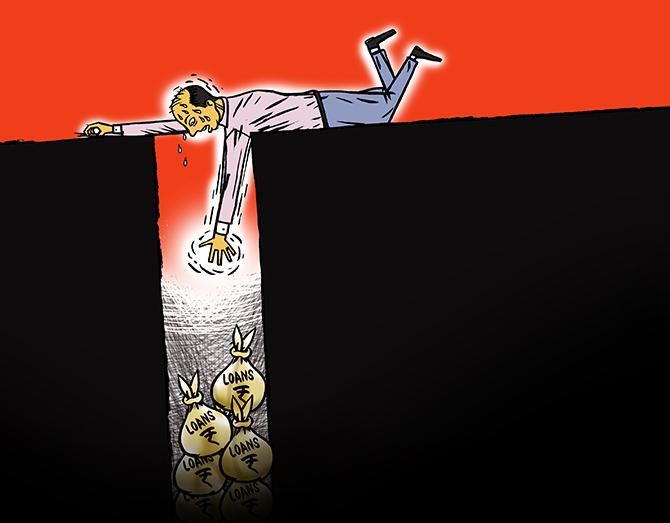 According to the RBI's Financial Stability Report, the industry's gross bad-loan is at a 14-year high.
March 09, 2017
Can India Inc manage its mergers?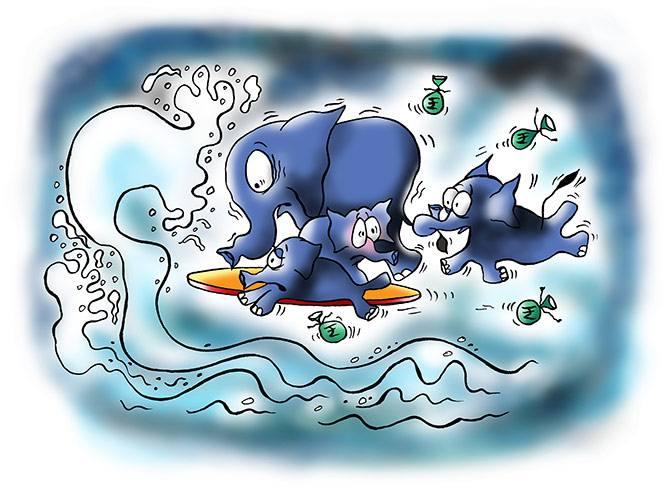 It may be the season for corporate matchmaking but India Inc's record of managing partnerships is far from impressive, says Shailesh Dobhal.
March 07, 2017
Can cell phones lead women to temptation?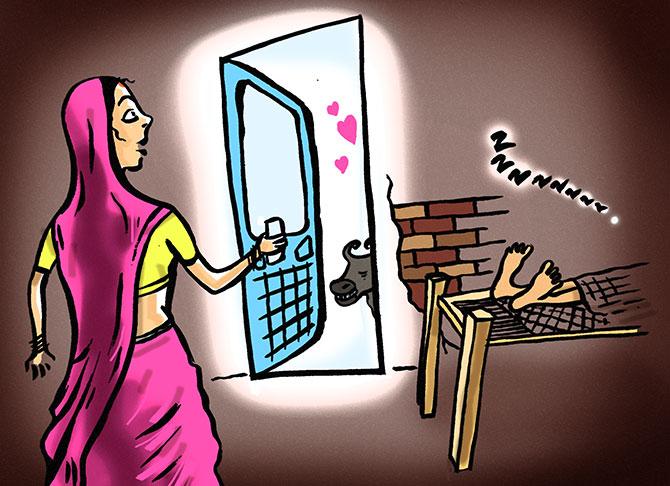 'It was clear that the cell phone gave her access to a temptation that destroyed her family... she'd never have strayed without it.'
March 03, 2017
Telenor's Indian adventure: A bold move that didn't click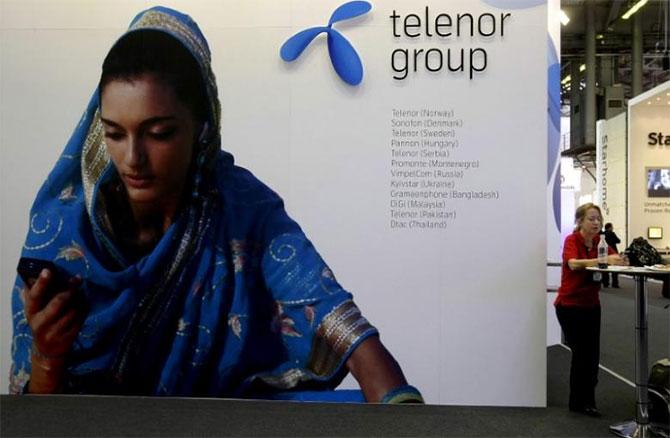 After building a subscriber base of nearly 50 million in about eight chequered years, it finally gave up as it saw itself up against a 600-pound gorilla that breezed through double that many subscribers in a fraction of that time, says N Sundaresha Subramanian.
March 01, 2017
Six years of U K Sinha in Sebi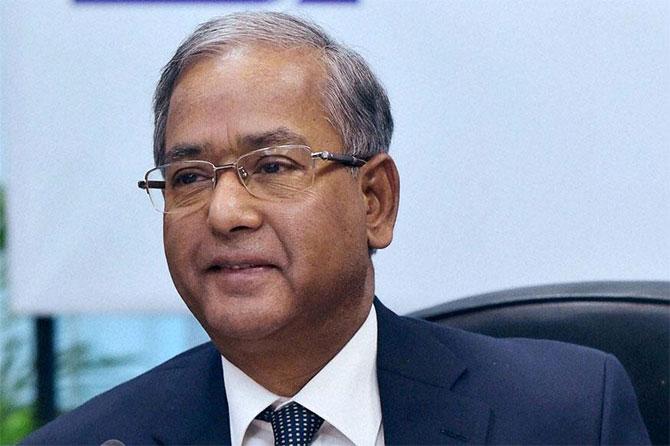 Sinha started his tenure at Sebi a bit shakily making people wonder if he'd complete his three years. Eventually, he went on to stay twice that long.
February 28, 2017
Remonetisation, albeit with a difference, has happened in Gujarat!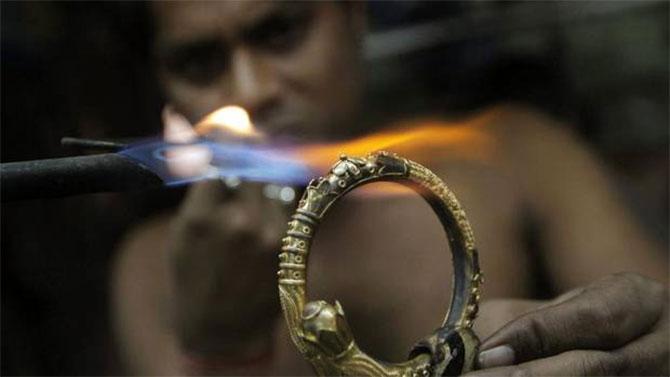 Workers who had gone to their hometowns and did not return for work after Diwali vacation owing to the demonetisation impact have now started trickling back to the industrial hubs in Gujarat, say Vimukt Dave & Sohini Das.
February 23, 2017
Why Infosys is no longer a cut above the rest of India Inc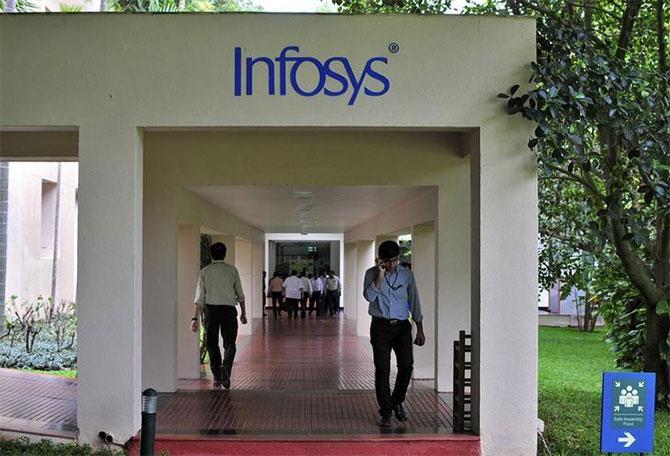 Even before Murthy's reappointment to the board, the decision to let each of the founders have a go at the CEO role was an antithesis of the meritocracy that Infosys had established as its corporate culture, says Hetal Dalal.
February 14, 2017
Did demonetization steal the colour from art?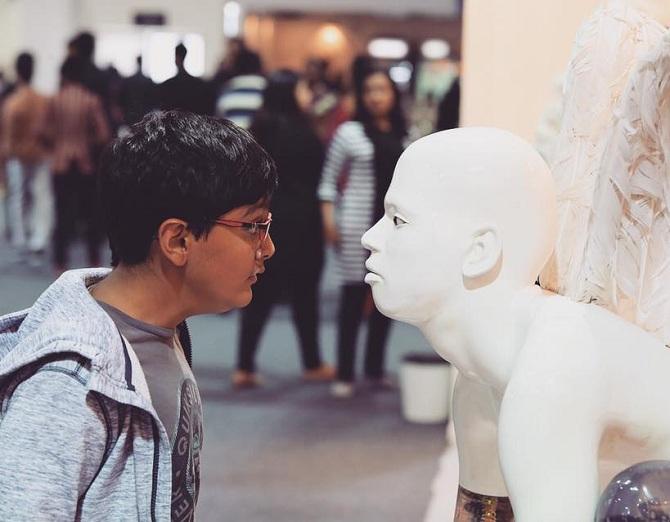 Since the note ban was announced auction houses, galleries and art fairs are witnessing lukewarm sales -- even with masters like Souza, Raza and Padamsee. Ritika Kochhar reports.
February 09, 2017
At 50, this CEO decided it was time to try a new career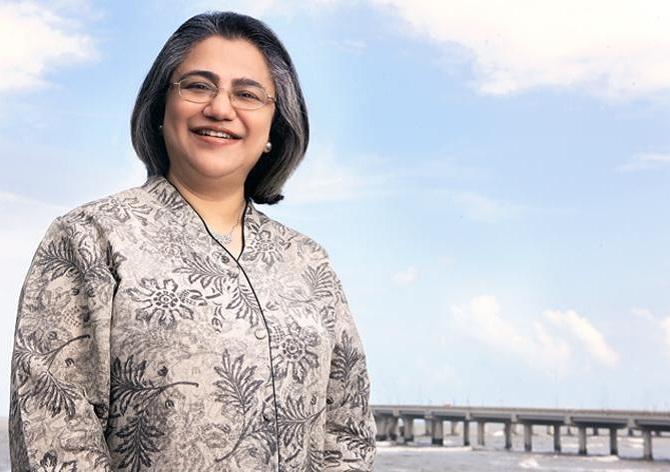 Heading Crisil would have been the peak of most people's professional lives.
February 01, 2017
The Budget as Budgets should be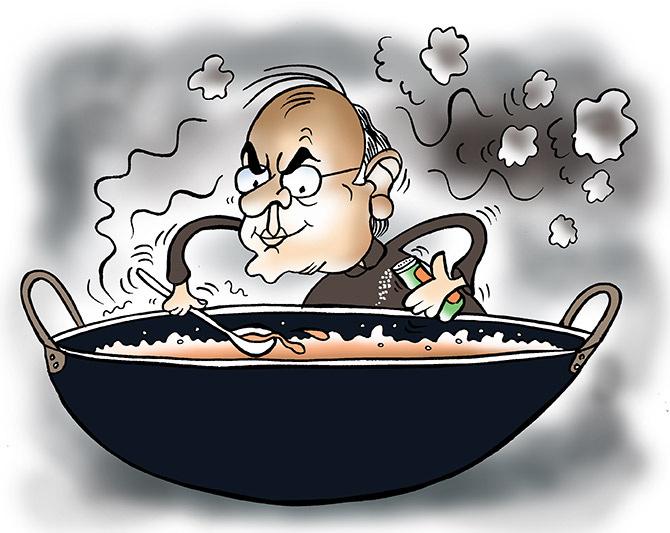 'We need to put aside our anxieties about the Budget for now and possibly for long, and carry on as best as we can,' advises Shreekant Sambrani.
Rediff Q: Will this Budget be a gamechanger?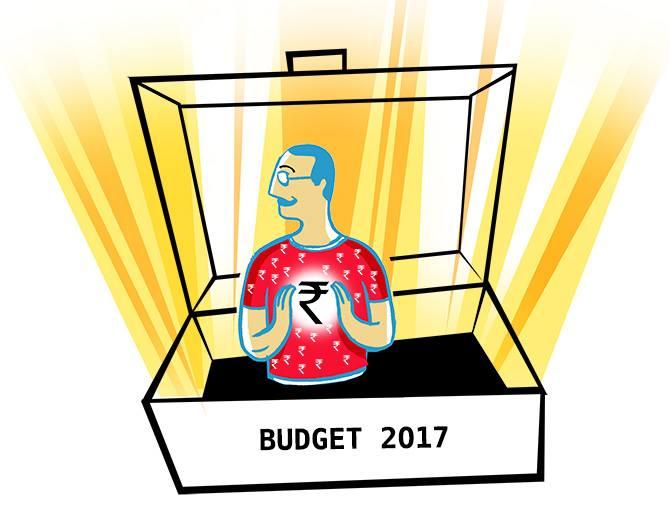 Harsh Roongta, Mahesh Padmanabhan, Anil Rego answer the most sought after questions on Budget Day.
January 31, 2017
Budget: 10 things common man can look forward to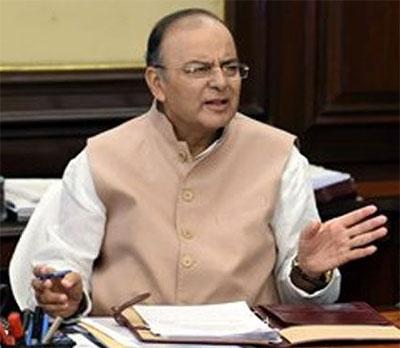 The people of the nation co-operated and patiently waited for the government's promised "ache din", and now they want their just rewards, says Adhil Shetty.
January 30, 2017
How India can survive the Trump years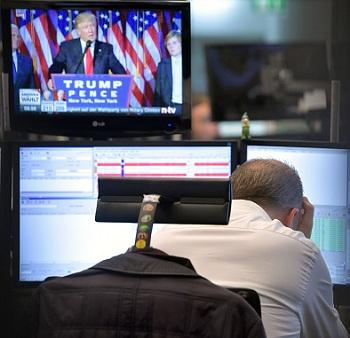 Devangshu Datta highlights the silver lining for the long-term investor.
'Indian business leaders can be change agents'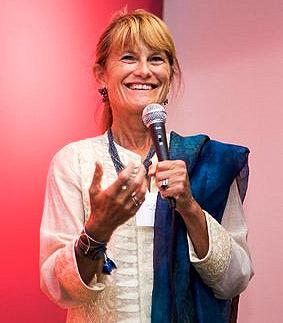 'While Silicon Valley is building the latest app to deliver ice cream at 2 am, the really interesting entrepreneurs are taking on major problems of society, poverty, where India becomes not only the marketplace but also the laboratory.'
January 27, 2017
The man Flipkart is banking on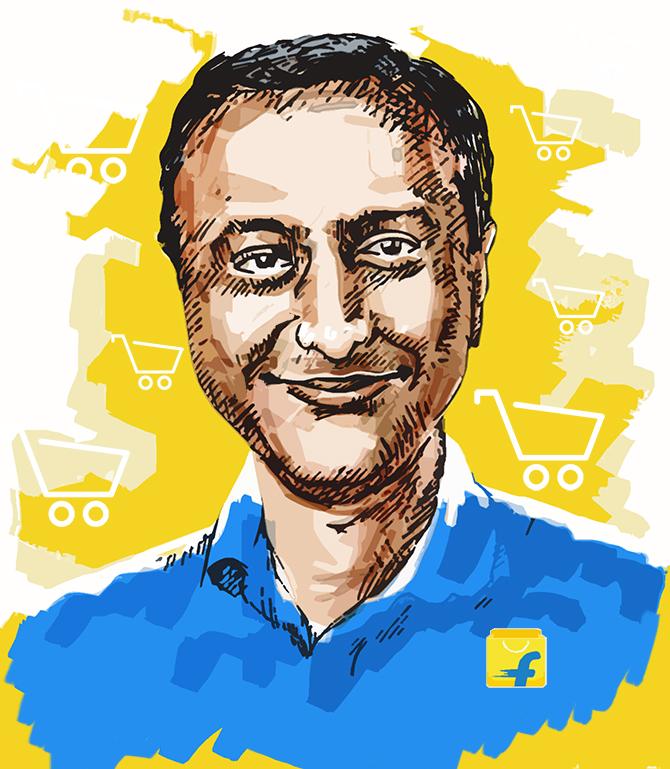 Alnoor Peermohamed & Raghu Krishnan find out why the new CEO is said to be the perfect man for turning around Flipkart's fortunes.
January 25, 2017
Will the Sensex rise or fall on Budget Day?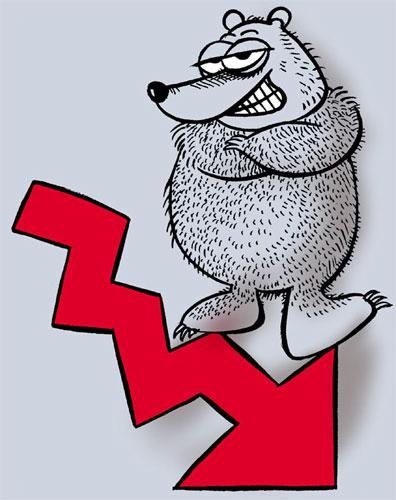 Rediff.com's Shailajanand Mishra discovers that the Sensex has fallen 12 times on the 20 Budget Days since this century began.
January 18, 2017
Train travel dips, but don't blame demonetisation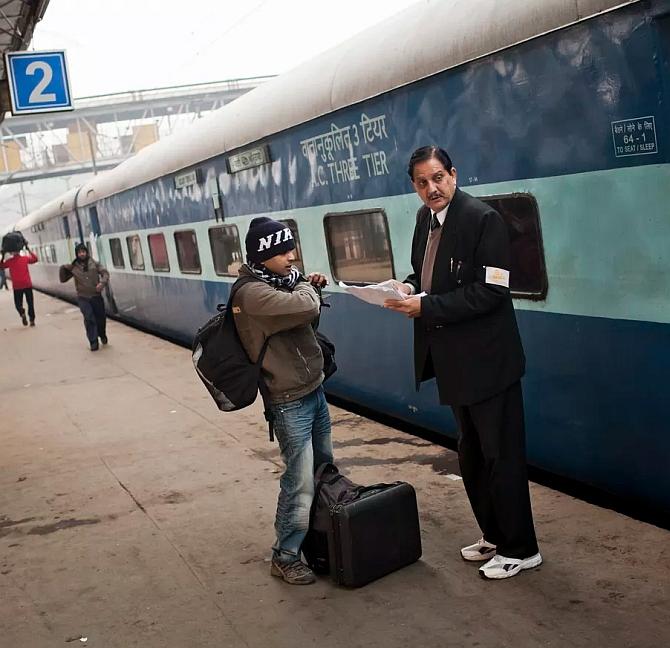 The number of poor people travelling by train has followed a similar trend since 2011.
January 13, 2017
Now the battle against 'brown money"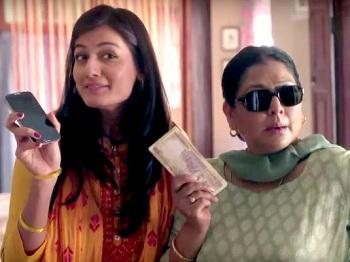 There is also an interesting name OLX gave the idle stuff lying in our homes: brown money.
January 03, 2017
Vote: Will you buy Amul Girl merchandise?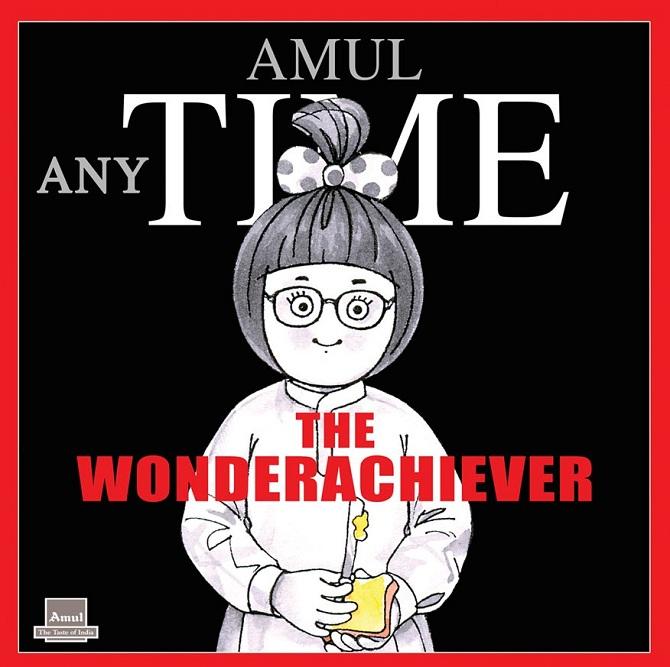 Even in her 50s, the Amul Girl has far greater clout than any brand ambassador in India. And India's largest dairy organisation may soon cash in on that. Sohini Das reports.
December 31, 2016
8/11 and after: The going won't be easy for some more time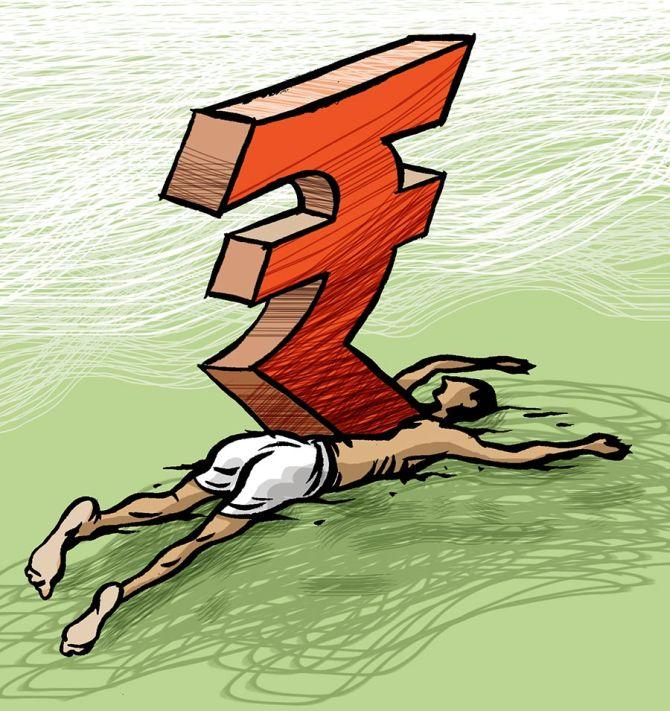 The bigger worry is that its effects could linger well into the next financial year.
December 30, 2016
Demonetisation is done. What should Modi & Jaitley do next?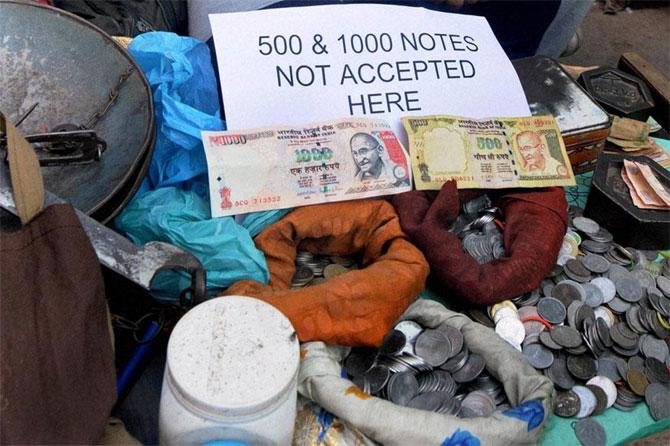 Adhil Shetty, CEO, BankBazaar.com shares his thoughts on what could help make digitisation and going cashless easier in the New Year.
2016: The ads we loved, the ads that worked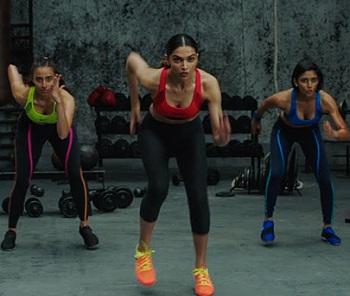 Experts pick the most effective advertisements of the year.
Demonetisation has driven Solapur's beedi workers to loan sharks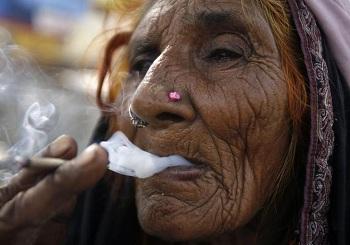 In the last of a six-part series Sanjay Jog discovers that if the government and beedi employers don't act now, there could be social unrest soon.
December 29, 2016
Note ban: In Assam's tea gardens cash is perennially in demand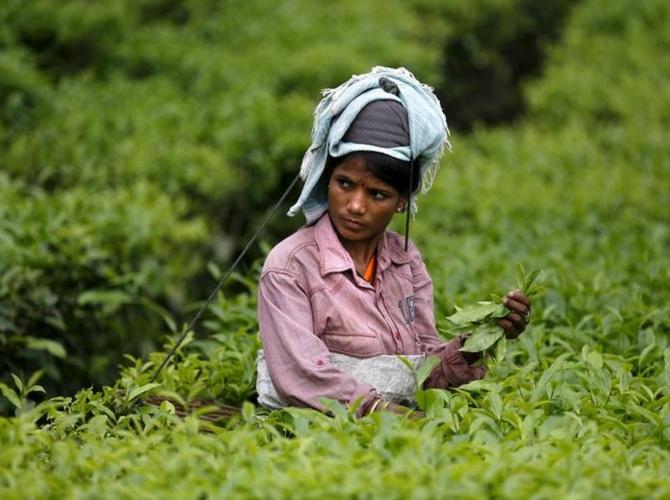 In the fifth of a six-part series on the impact of demonetisation, Avishek Rakshit senses a storm brewing over the 850-odd tea gardens in the north eastern state, which have a weekly and fortnightly payment cycle.
December 28, 2016
Demonetisation's overnight celebrity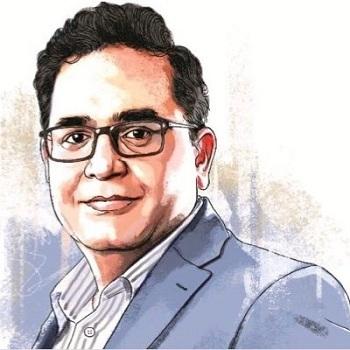 Nivedita Mookerji finds out how Paytm CEO Vijay Shekhar Sharma is handling his soaring popularity after the note ban as well as the criticism that comes as a package deal.
December 27, 2016
The cost of demonetisation: Jobless hundreds in Jalandhar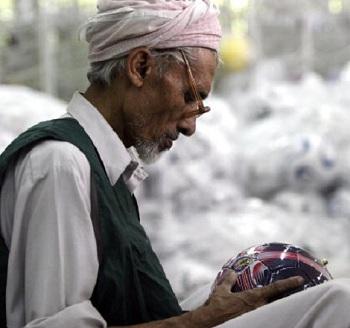 In the fourth of a six-part series Sahil Makkar finds out how badly Jalandhar's sports goods industry was hit by the note ban and the price it continues to pay.
In pictures: A tale of two demonetisations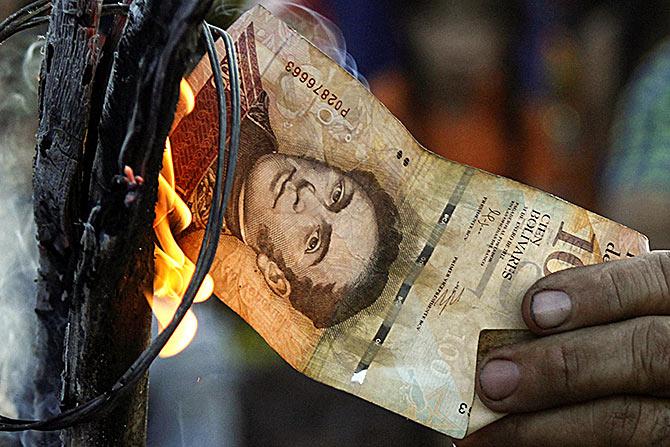 How the demonetisation drives in India and Venezuela have played out.
December 23, 2016
April 2017: Earliest India will get its cash back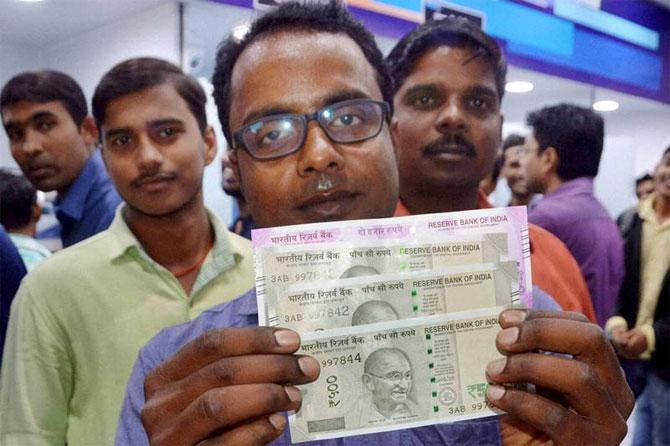 The crux of the problem is change, specifically the Rs 500 note, which India's presses cannot, currently, print in adequate number, says Sahil Kini/IndiaSpend.
How demonetisation stole Sivakasi's sparkle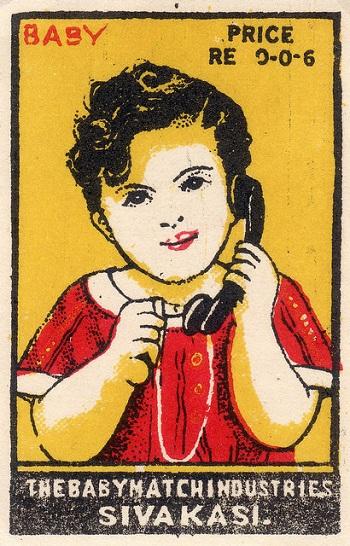 In the third of a six-part series T E Narasimhan finds out how the hub of India's firecrackers industry is coping after more than a month of the note ban.
December 22, 2016
The fall of the turnaround tycoon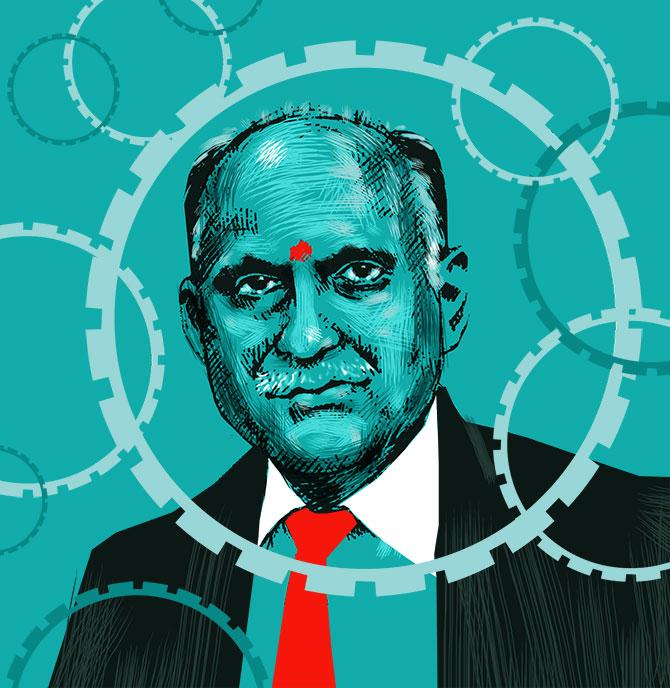 Industrialist Pawan Ruia's (think Dunlop and Jessop) arrest this month for cheating and criminal breach of trust marked a new low, but the tide had been turning against him for a while now. Ishita Ayan Dutt & Avishek Rakshit report.
Why Xiaomi's India head hires people who are smarter than him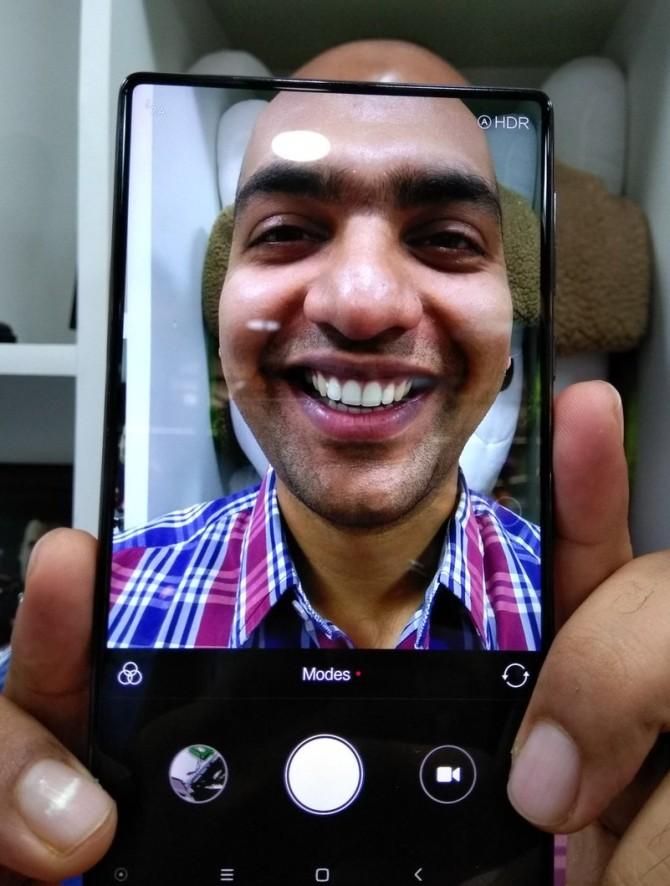 Manu Kumar Jain, India head, Xiaomi, tells Sangeeta Tanwar how the Chinese smartphone maker won over the Indian market.
Demonetisation silenced the looms in this 150-year-old town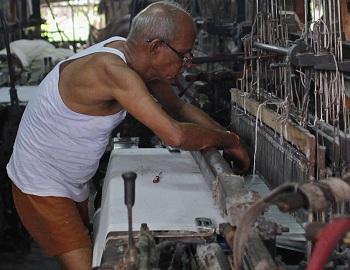 Cottage industries across India have suffered heavily because of the note ban. In the second of a six-part series, Sanjay Jog travels to Bhiwandi to examine how the power loom industry here is coping five weeks on.
Should India junk tradition and move to Jan-Dec financial year?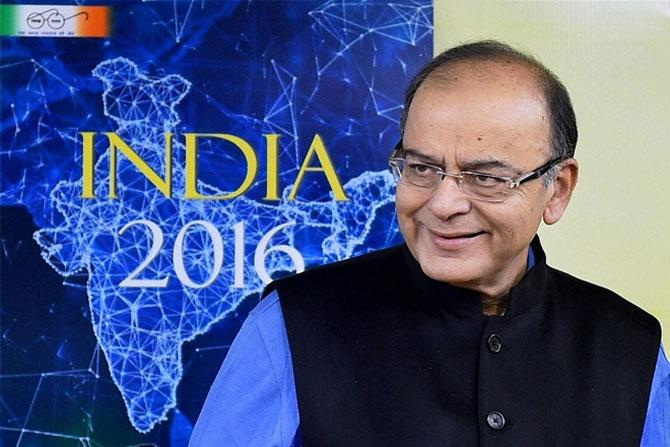 The most serious recommendations to change the financial year came in the years preceded by deficient rainfall. The Jha committee was formed after droughts in 1979-80 and 1982-83, reports Rishika Pardikar/IndiaSpend.
December 21, 2016
#Notebandi: India's fisherfolk stare at a dark future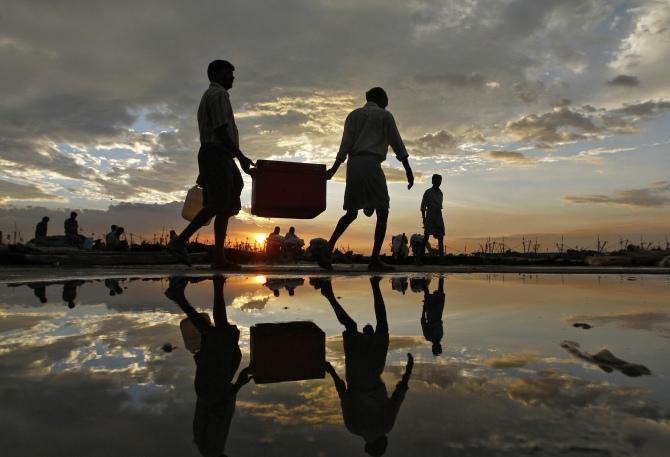 Distress sales, market closures and anchoring of fishing fleets have been reported from West Bengal, Andhra Pradesh, Tamil Nadu and Kerala.
Cash crunch pain hits Dharavi's leather goods hub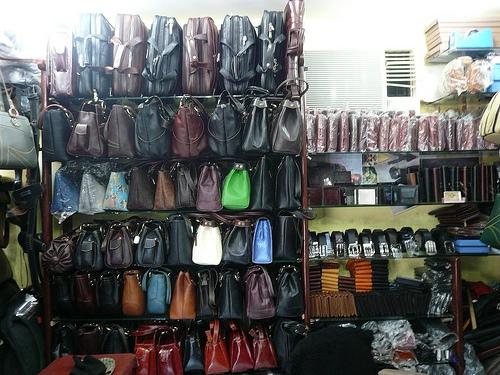 The first of a six-part series examines how the leather workers at Dharavi are coping after five weeks of demonetisation.
Black money cases: IT dept has 5% success rate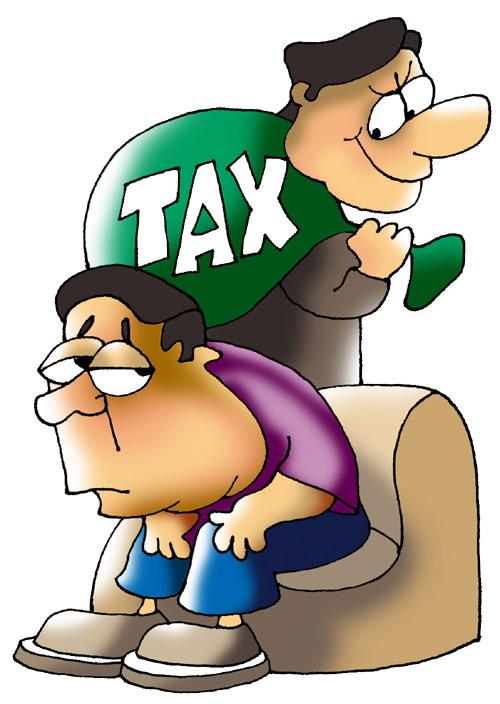 In 2014-2015 the I-T department put up 669 cases for prosecution.
December 16, 2016
Myntra's mantras for success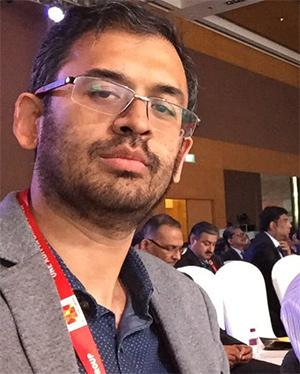 "Our artificial intelligence tells us what people are buying at that point, what is in fashion; on the other hand, we have a fair idea of the material available. It gives us a sense of what we should be putting across in the market and we can put them across really quickly," Ananth Narayanan, CEO, Myntra, tells Alokananda Chakraborty.
December 15, 2016
When your employees are family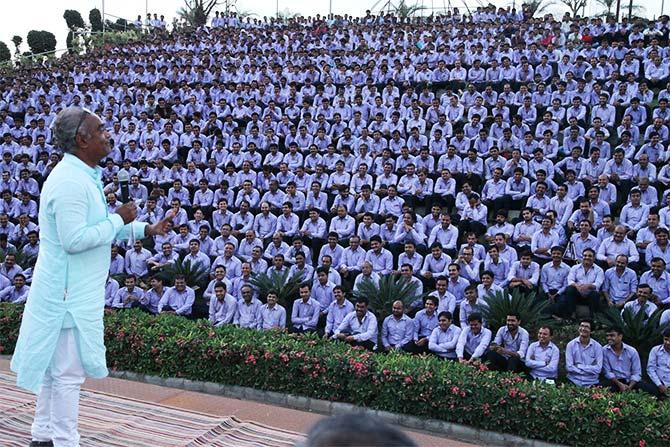 All in kind!
December 14, 2016
Why were these workers forced to go home?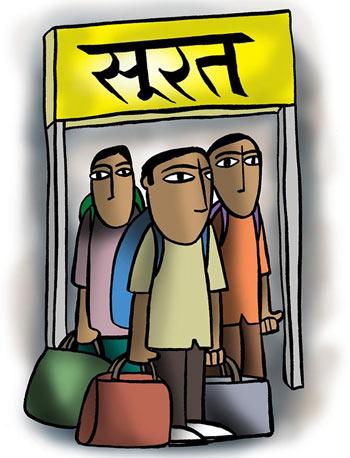 Migrant workers are leaving Gujarat, PM Modi's home state, as they have no work.
December 12, 2016
There is something foreign about the Rs 2000 & Rs 500 notes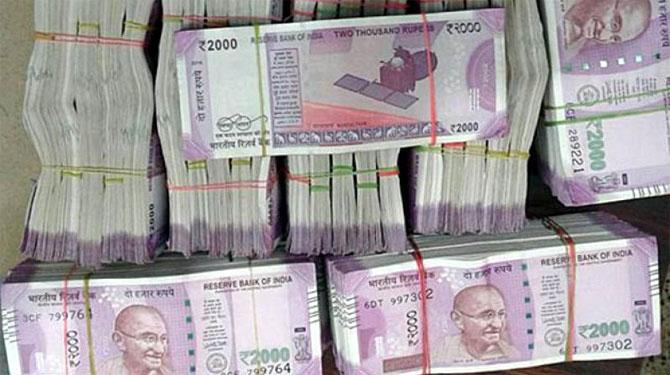 This press, considered to be one of the most sophisticated, has been printing the new Rs 2,000 and Rs 500 notes since August, three months before demonetisation rolled out, Alnoor Peermohamed/Business Standard reports from Mysuru.
December 11, 2016
When did the printing of Rs 2,000 notes actually begin?
In the first of a four-part series, Business Standard takes a look at how a mint in Salboni, West Bengal, is working overtime to print currency notes.
December 09, 2016
Acute cash crunch, but this mint can't print Rs 2,000 notes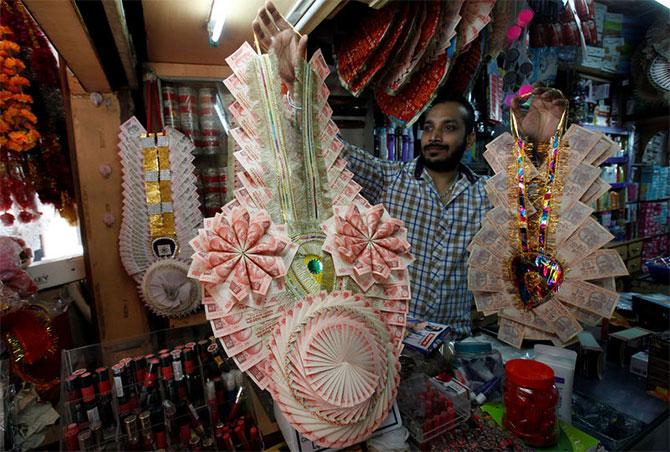 In the third of a four-part series, Business Standard reporter travels to Nashik to assess how the currency press there is responding to demonetisation.
The mystery behind the Rs 3 lakh crore deposits in 15 days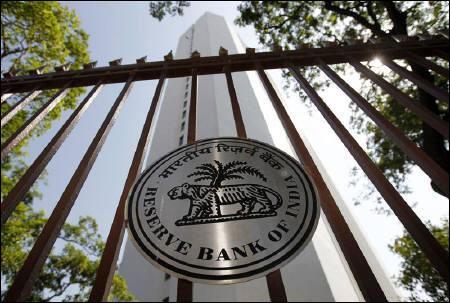 The second fortnight of September saw Rs 3 lakh crore of time deposits, something unique, followed by liquidation of Rs 1.2 lakh crpre of these right after.
December 08, 2016
Why notes ban is good news for people of this MP town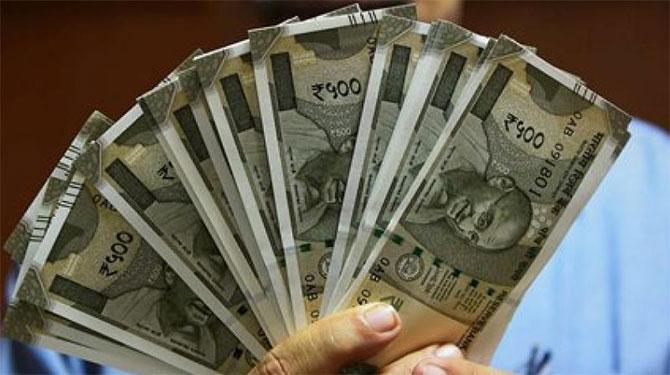 In the second of a four-part series, Business Standard checks out the currency press in Dewas to find target-based allowances have increased the monthly salary of employees from Rs 10,000 to Rs 30,000, at a time when notes are being printed 24x7.
The cashless chaiwallah who swears by Modi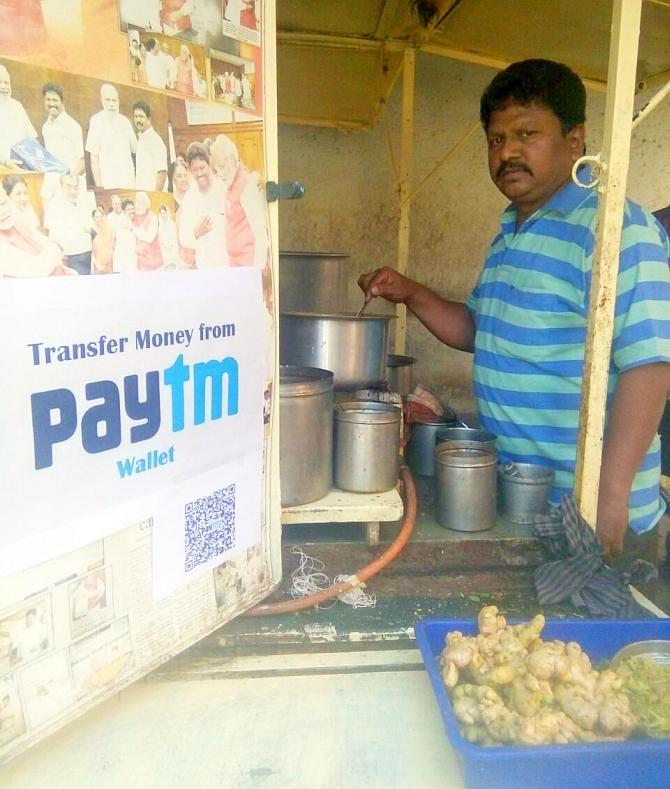 'The mindset of people needs to change.'
December 07, 2016
Cashless transaction: Going beyond plastic money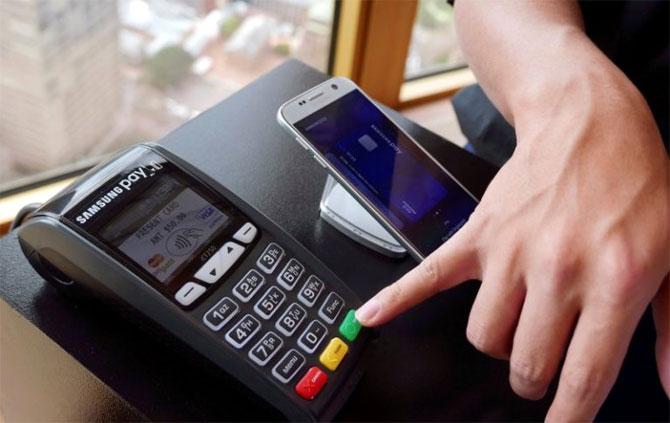 For those who are sceptical about using debit or credit cards, even when faced with cash crunch, Adhil Shetty, CEO of BankBazaar.com, lists out a few safe cashless options that can be exercised through mobile phones.
When did printing of Rs 2,000 notes actually begin?
In the first of a four-part series, Business Standard takes a look at how a mint in Salboni, West Bengal, is working overtime to print currency notes.
Jayalalithaa's legacy: Industrial ranking among India's best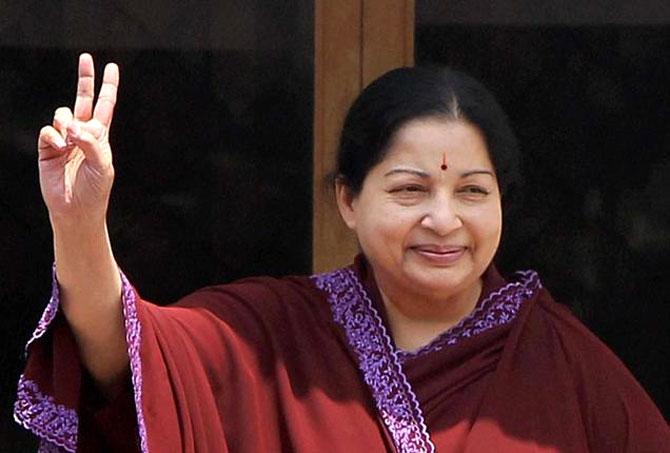 Tamil Nadu now has India's lowest fertility rate - lower than Australia, Finland and Belgium - second best infant mortality and maternal mortality rate; records among the lowest crime rates against women and children; and has more factories and provides more industrial employment than any other Indian state.
December 05, 2016
A village that lives Modi's cashless dream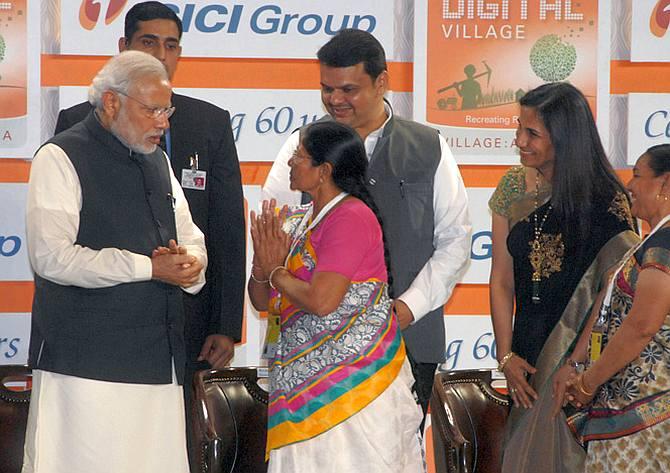 Rediff.com's Prasanna D Zore visited Akodara village that went cashless and digital on January 2, 2015.
December 02, 2016
The foot soldiers of Modi's cashless India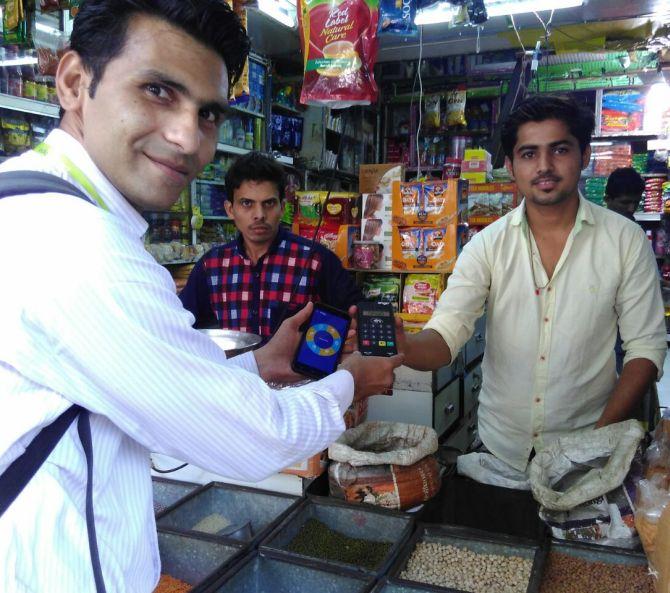 As Narendra Modi and his ministers vigorously campaign for a shift to a cashless society, Rediff.com's Syed Firdaus Ashraf reports on what is really happening on the ground.
November 11, 2016
Share a selfie with the new currency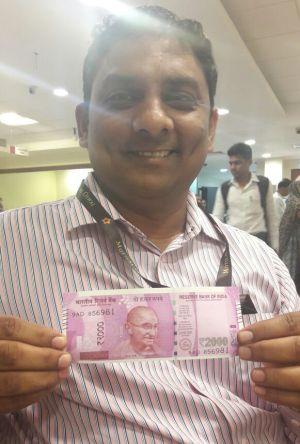 Were you one of the lucky Indians who handed over your Rs 500 and Rs 1,000 notes and got a brand new Rs 500 or Rs 2,000 note in return?
November 09, 2016
You can still convert your black money into white!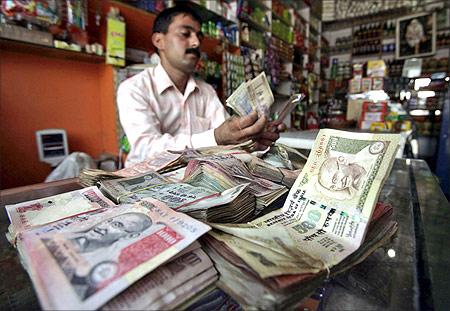 How will the government's decision to demonetise Rs 500 and Rs 1,000 notes help curb the creation and flow of black money into the Indian economy?
Video: Mumbai reacts to Modi's war on black money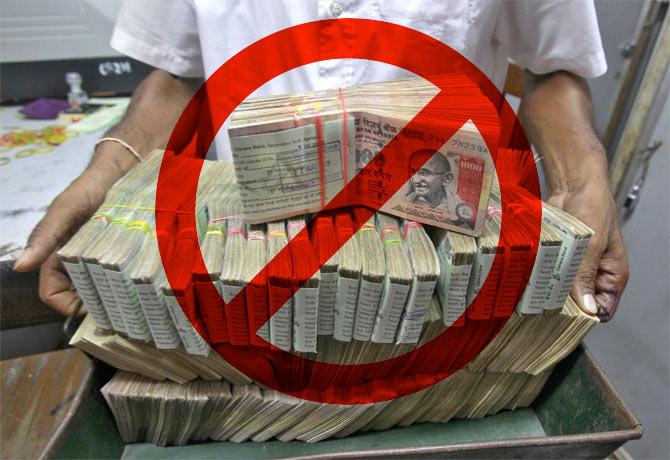 When Hitesh Harisinghani and Jahnavi Patel hit the streets of Mumbai after Modi's demonitisation announcement, here's what they found.
It's a politically astute move by Modi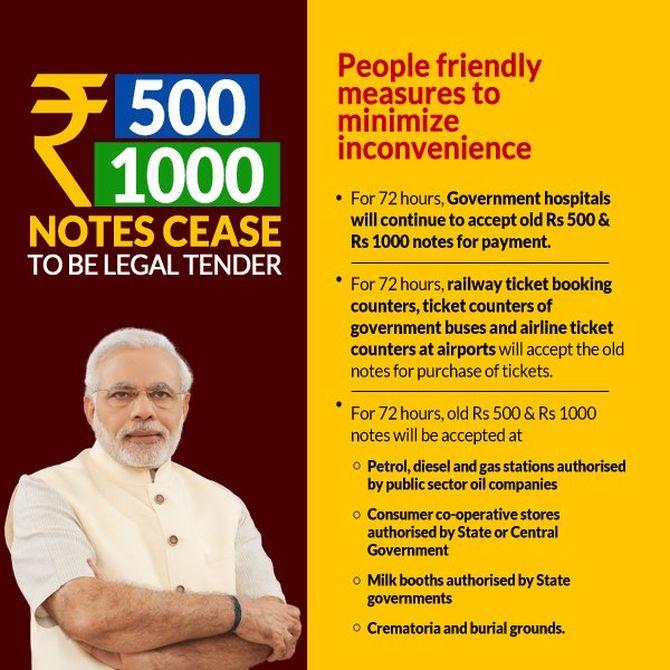 It has the potential to burnish his image as a strong leader, bring down inflation and could turn out to be common man-friendly.
November 07, 2016
Why Theresa May won't go to Bengaluru IT firms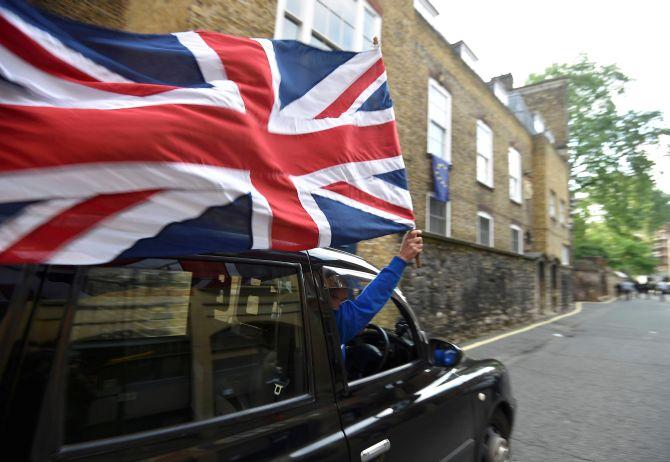 Theresa May's visit to a Bengaluru aerospace systems supplier is seen as the UK's strategy to pursue new defence deals.
'Mistry brought biggest turnaround in Indian biz history'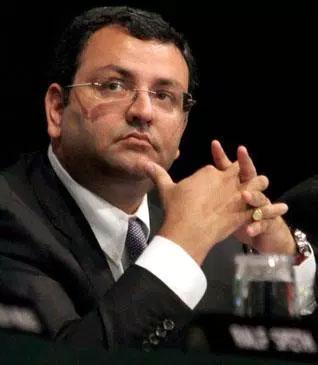 Cyrus Mistry had put in place a strategy that would have pulled most of the Tata group's 'legacy hotspots' out of the financial mess from legacy issues and helped turn around the group's finances.
November 03, 2016
'Superstar chairmen don't want to give up power'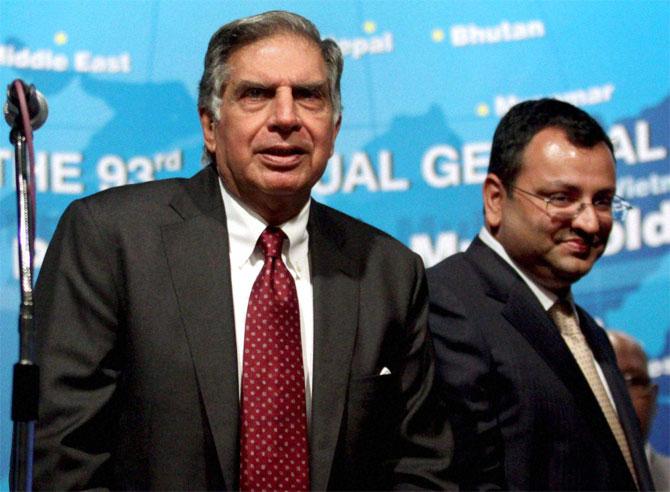 The Tata Sons controversy has raised governance concerns.
November 02, 2016
Heard of an airline's Chai Pe Charcha with its pilots?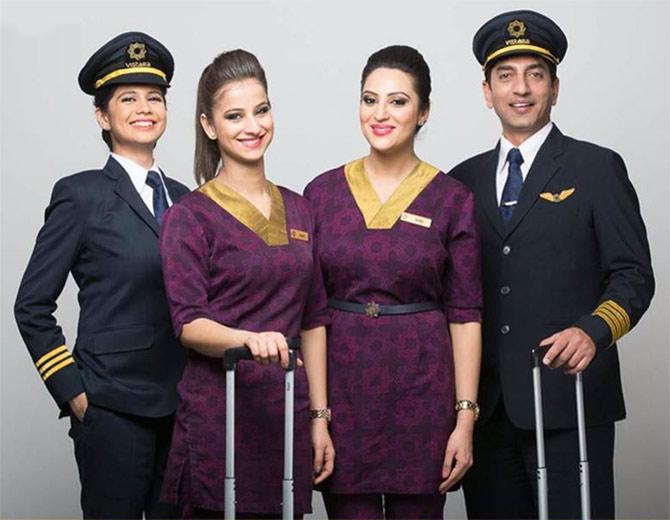 Most airlines lose 30 pilots a year. Vistara has lost only 2 in 18 months.
November 01, 2016
Grappling with succession after Ratan Tata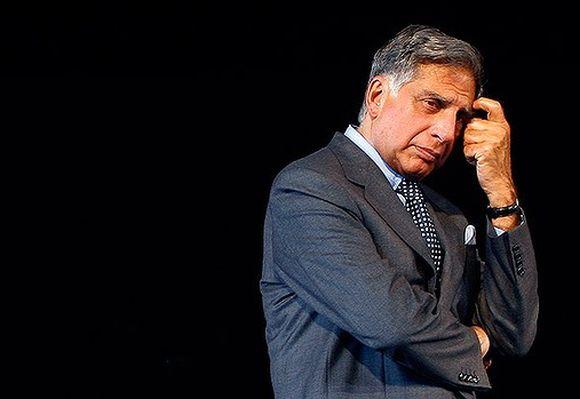 What would happen to the ownership after Ratan Tata?
October 28, 2016
The man who is caught in the crossfire between Tata and Mistry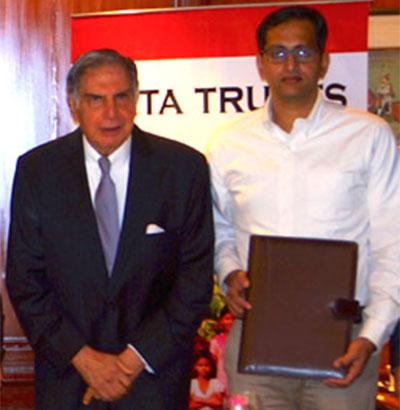 R Venkataramanan, the managing trustee of the Sir Dorabji Tata Trust who is responsible for all Tata-run trusts, prefers to keep a low profile but has emerged as a power centre in the group - with more clout than many established CEOs, says Dev Chatterjee.
October 27, 2016
The Tatas will have to answer many questions in the days ahead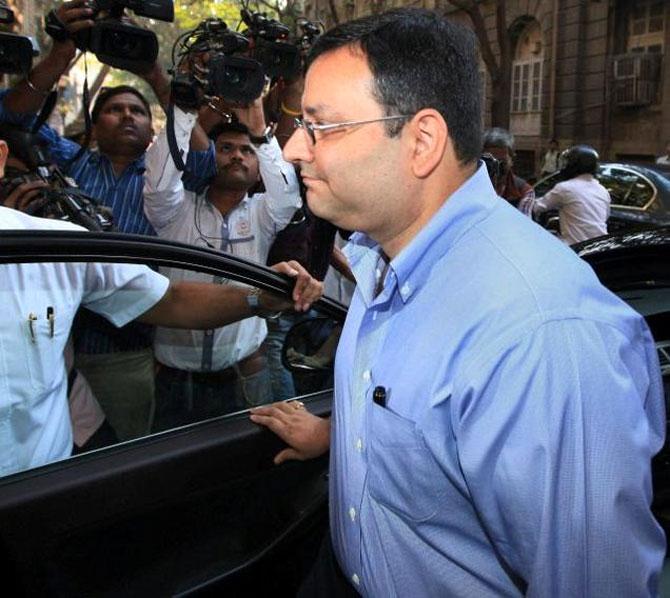 The larger investing community was not complaining at all about Cyrus's conservative approach. This is precisely the reason why investors will demand to know the real reasons for Mistry's sudden sacking, says M K Venu.
5 Ratan Tata plans Cyrus Mistry didn't deliver on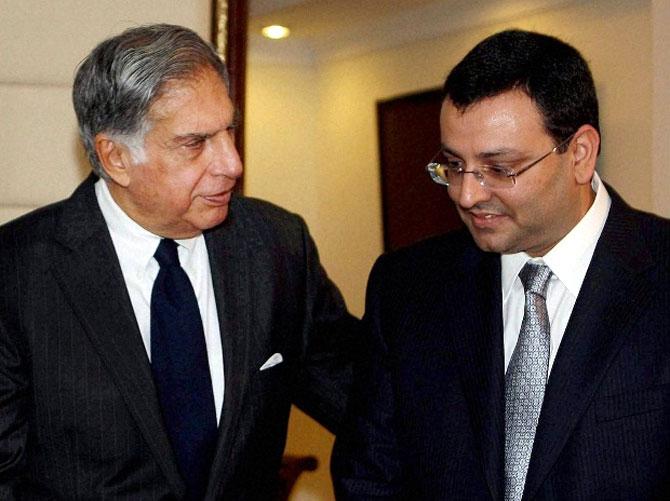 Which were the five businesses Ratan Tata had great hopes for, but his successor failed to deliver?
October 25, 2016
Mistry's stint as chairman is the shortest ever at Tata group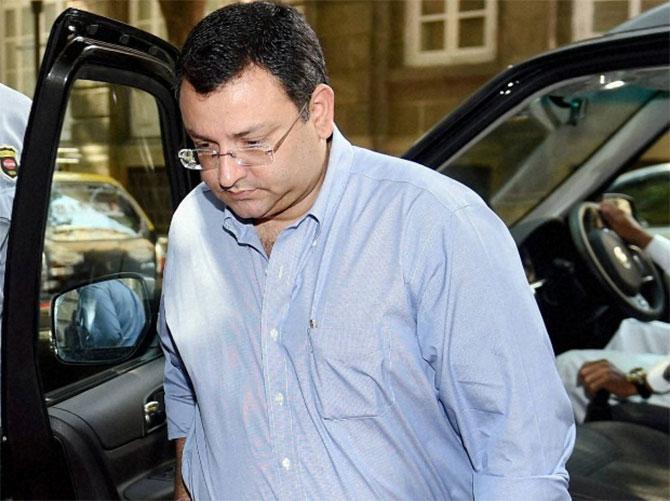 Of the six chairmen that Tata group has had in its 148 years, the longest serving was Jehangir Ratanji Dadabhoy
October 18, 2016
Why it's too early for an obit on Indian IT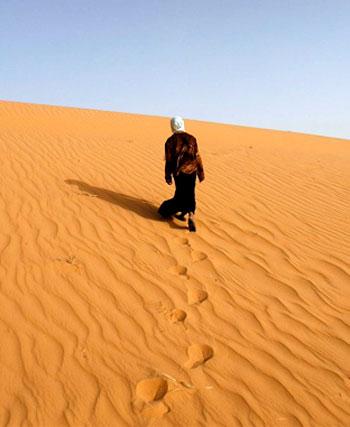 Though the evolving nature of the IT industry and changing needs of their clients pose a big risk
Why do parents chase this man?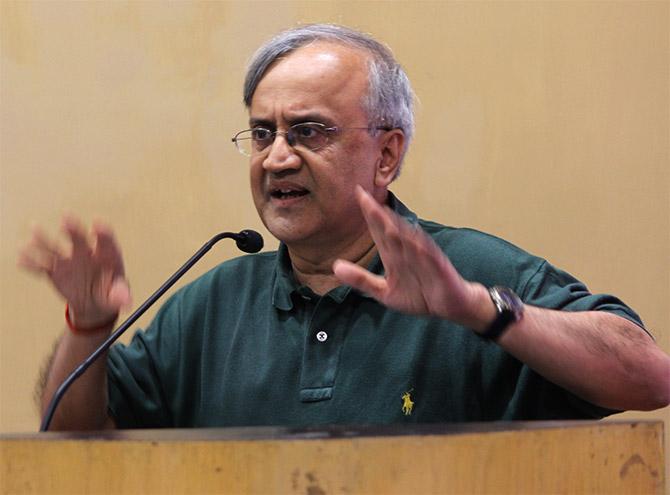 The man sought after by parents when they want to admit their children to Ivy League colleges tells Anjuli Bhargava how a hobby became a source of livelihood.
October 17, 2016
Where are oil prices headed?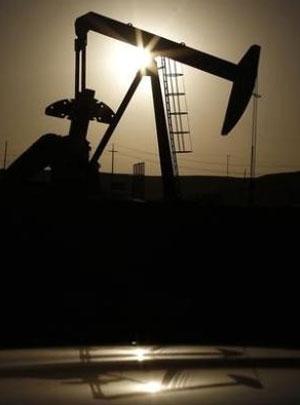 OPEC's move to cut output has pushed up oil prices. From here it could go either way: oil could reach $100/barrel or an analysis of demand and supply might follow, say Abheek Barua & Bidisha Ganguly.
October 12, 2016
Meet the first Indian to head a Swiss company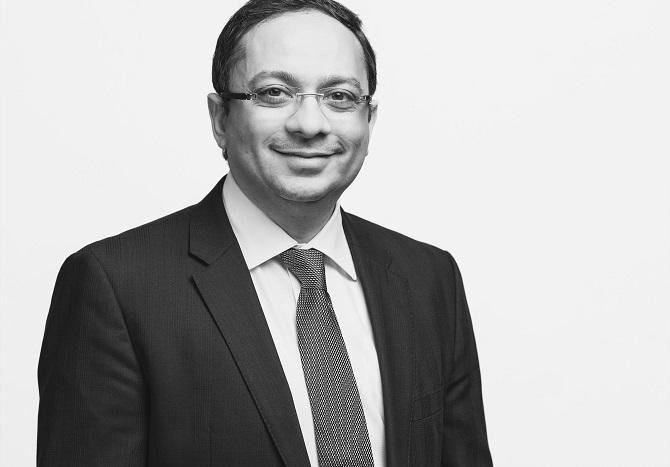 'Sometimes it's better to ask for forgiveness rather than permission,' Zubin Karkaria, CEO of the Kuoni Group and the first Asian to head a listed Swiss company, tells Niraj Bhatt.
October 05, 2016
What rate cut means for India's financial markets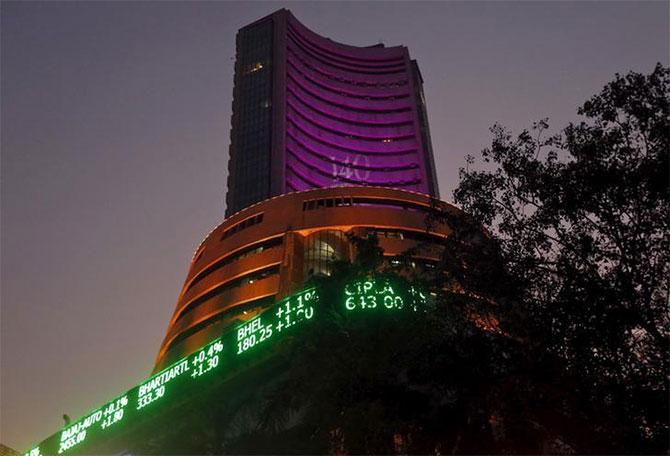 FPIs, which are holding large exposures in Indian debt, could also be expected to book some capital gains as yields slide down
Tamil Nadu, Kerala have most women entrepreneurs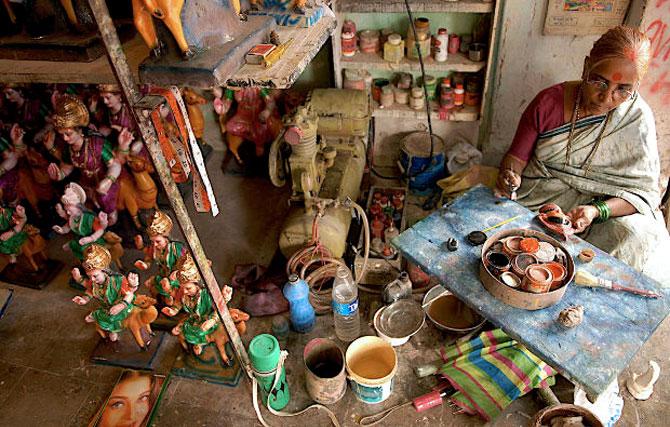 India was ranked 70th of 77 countries in the Female Entrepreneurship Index 2015 released by London-based Global Entrepreneurship Institute
October 04, 2016
Are we serious about e-cars?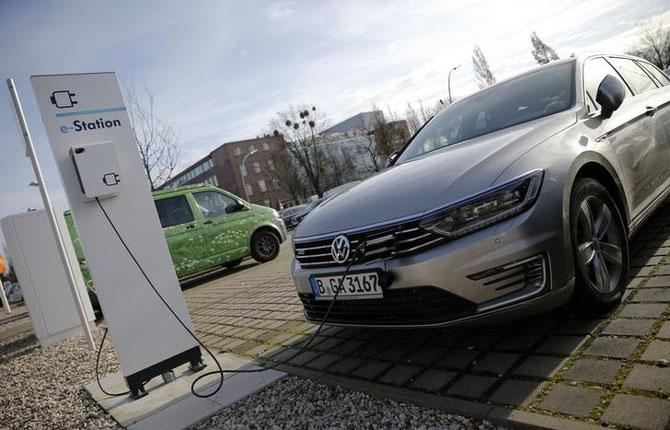 The electric vehicle market in India needs a policy push that goes beyond targets, says Vandana Gombar.
For the Oswals, a 6-year, multi-billion-dollar legal drama ends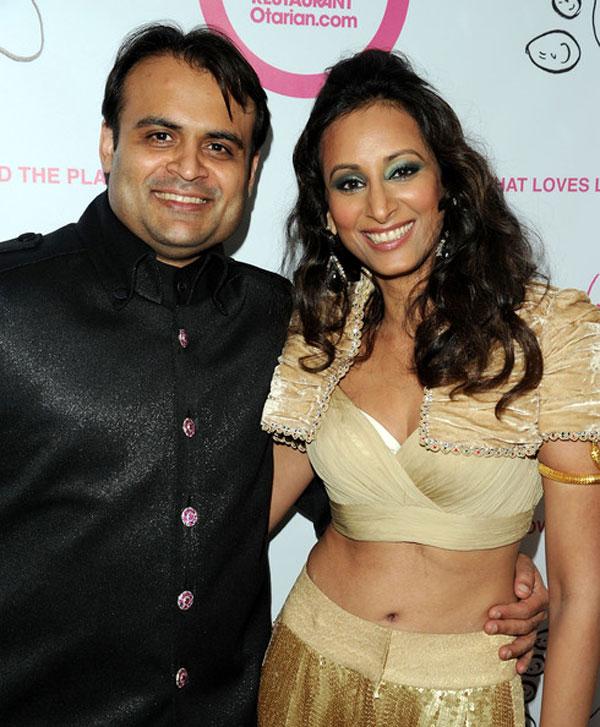 After reaching a deal with ANZ in a six-year tussle, Pankaj and Radhika Oswal have left Australia and plan to start a new venture in New York
Delhi is the world's most polluted megacity!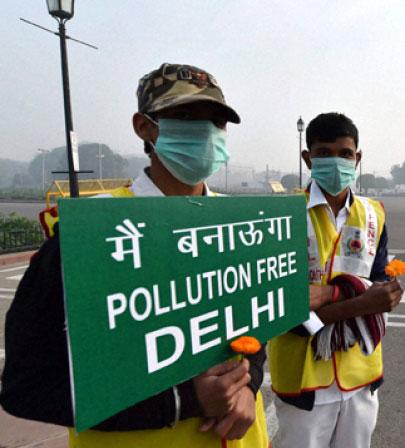 In 2012, with one million deaths, China reported the highest toll from PM2.5 and PM10 pollution. At the time, India followed, reporting 621,138 deaths, nearly 10 per cent of the global toll associated with outdoor and indoor air pollution
September 28, 2016
Jeep Grand Cherokee SRT: The sophisticated SUV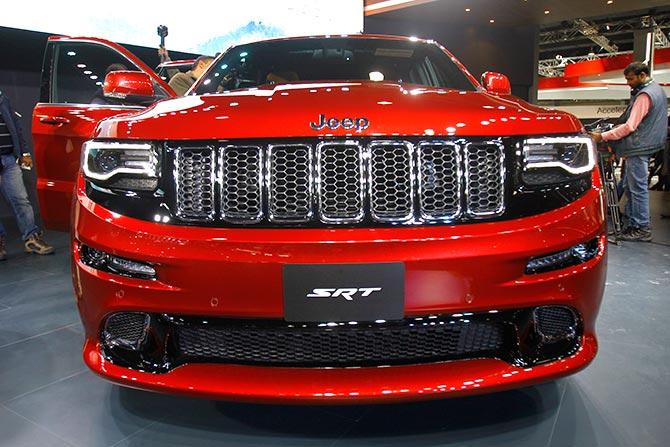 Jeep Grand Cherokee SRT: The sophisticated SUV
September 27, 2016
When it comes to business, he's Quickr!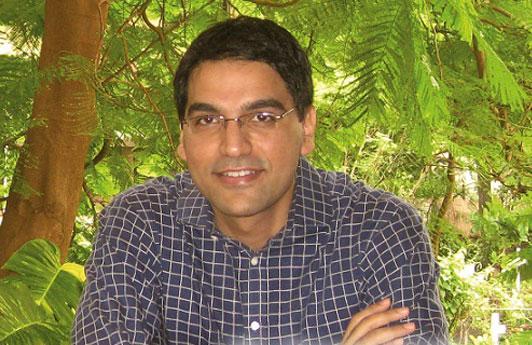 Quikr founder & CEO Pranay Chulet tells Raghu Krishnan and Bibhu Ranjan Mishra why money has never been an issue for Quikr and that someday he will make a romantic comedy.
September 23, 2016
India's pizza man gets ready for the future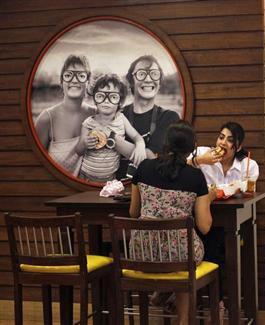 After 11 years at the helm of Jubilant, Ajay Kaul, the 'nuts and bolts' executive, called it a day amid speculation that his expansionist strategy was not clicking, says Viveat Susan Pinto.
September 22, 2016
The Stanford grad who left Oracle to make wine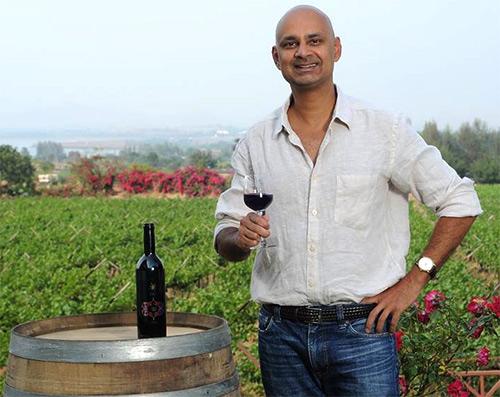 It's been 16 years since Rajeev Samant launched the first Sula wine by selling 50,000 cases. Today Sula is on track to sell a million cases this year.
September 21, 2016
An SC verdict that rattled India's high and mighty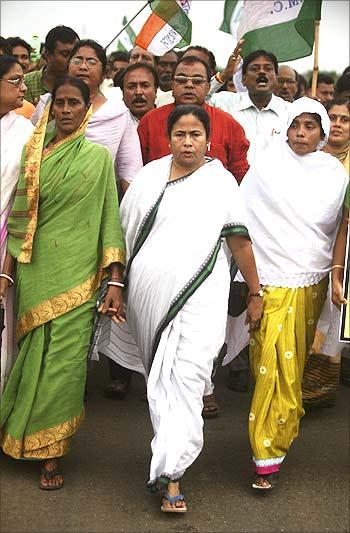 The spectre of Singur and now its verdict is looming large on the future of many of Bengal's projects, especially the state government's industrial parks that are vacant. As many more episodes await, the question uppermost on everyone's minds is, how long will Singur haunt Bengal?
September 20, 2016
Indian Railways goes down new track to power growth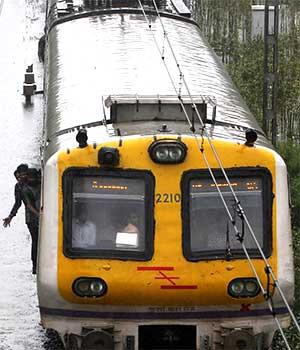 It is willing to let go of its budgetary independence and restructure its companies in order to make itself more viable commercially and less important politically, says Jyoti Mukul.
September 16, 2016
He is paying the price for rice @ Re 1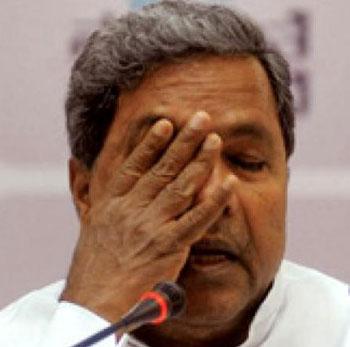 The current crisis Karnataka Chief Minister Siddaramaiah is facing is a cumulative effect of inattention to water management and the fiscal burden of populist promises, says Aditi Phadnis.
September 15, 2016
With fatter wallet, Paytm goes for the kill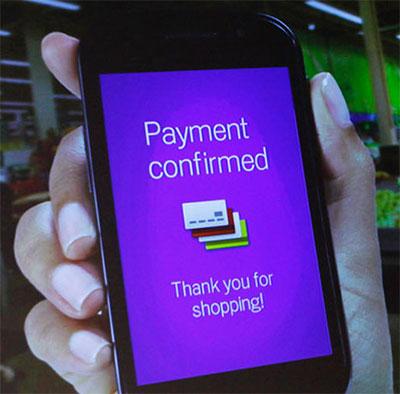 The mobile wallet player plans to add more Chinese sellers to its e-commerce platform and boost technology for its soon-to-be-launched payments bank
The game corporate India plays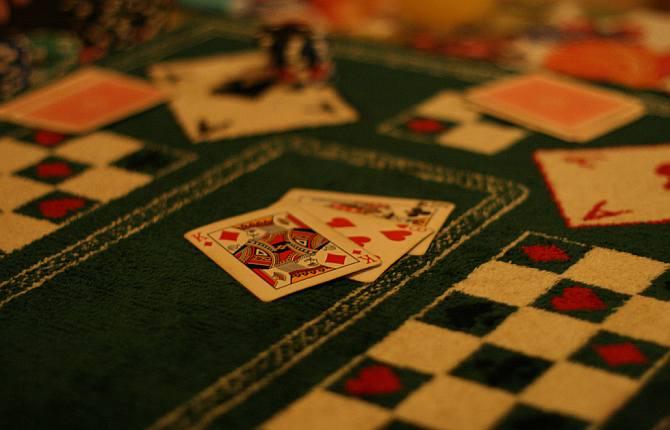 How bridge keeps corporate India sharp and quick-witted.
September 14, 2016
How Big Bazaar lost its way online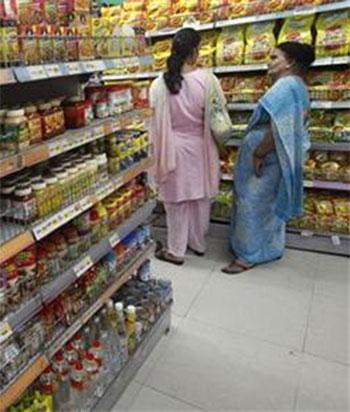 Three years after launching Big Bazaar Direct, Future group CEO Kishore Biyani's enthusiasm for online ventures has been tempered by growth concerns
The 5 most expensive cars in India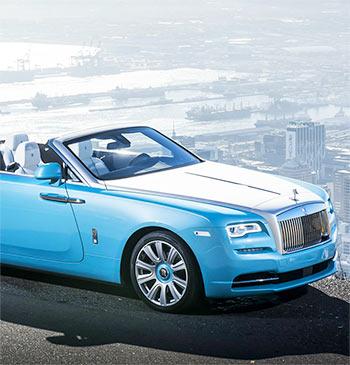 These million-dollar vehicles feature tarmac-shattering speeds, ooze luxury and come loaded with the latest bells and whistles.
September 13, 2016
The real reason behind RIL-ONGC dispute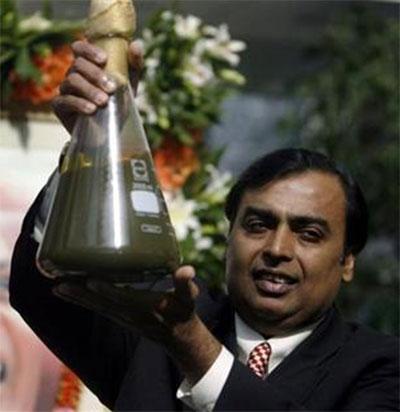 Dispute resolution provisions in the production sharing contract remained unimplemented, while the regulator faltered, points out Jyoti Mukul.
September 06, 2016
What do India's GDP numbers tell us?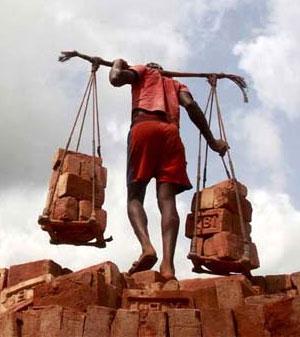 Private consumption is looking up and will get better as the full effect of the good monsoon is felt on rural income, and the effect of the payout from the Seventh Pay Commission is felt on urban income, say Anis Chakravarty & Rishi Shah.
September 03, 2016
Raghuram Rajan: The common man's central banker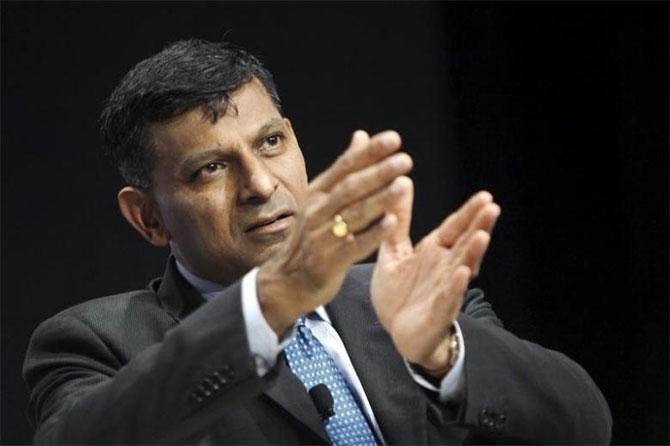 Rajan, as expected, furthered his predecessors' agenda and continued with the same resolution to make India's financial system safer, and direct the economy towards further liberalisation
August 31, 2016
Ending Rail Budget is Mr Prabhu's first step in the right direction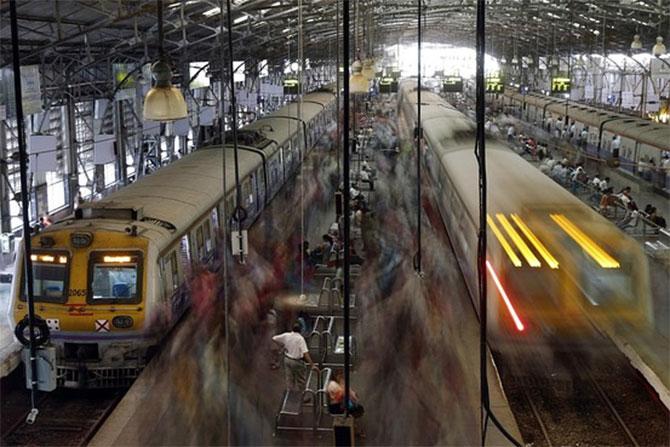 He has now to show that he can take on the vested interests within the railways which are resisting change through corporatisation
August 30, 2016
The real story behind the demise of TaxiForSure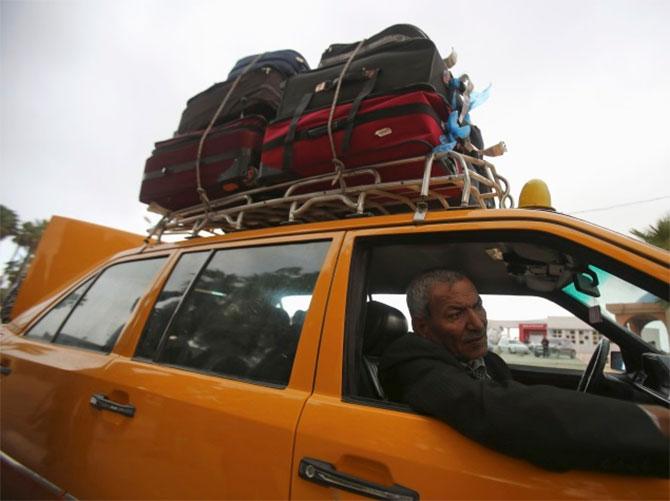 Ola's cash reserves are starting to run dry. The company was in talks to raise $1 billion in funding by the end of July, but no announcement has been made as yet
August 26, 2016
He helps Indian banks raise money in London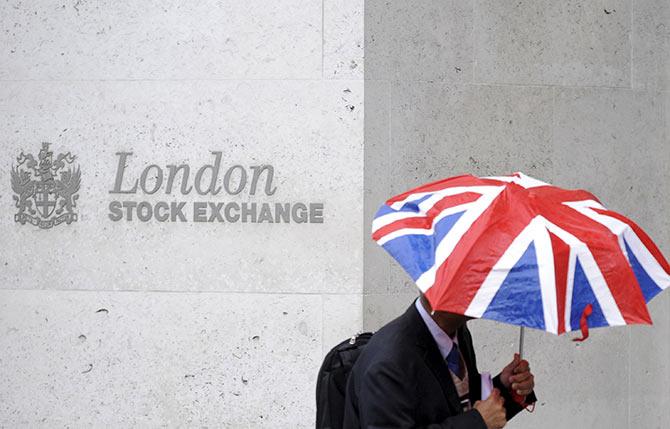 In India post the success of masala and green bonds on the LSE, Nikhil Rathi tells Rajesh Bhayani that there are many international investors interested in buying into the India story
August 23, 2016
Bandhan sprints into new role as universal bank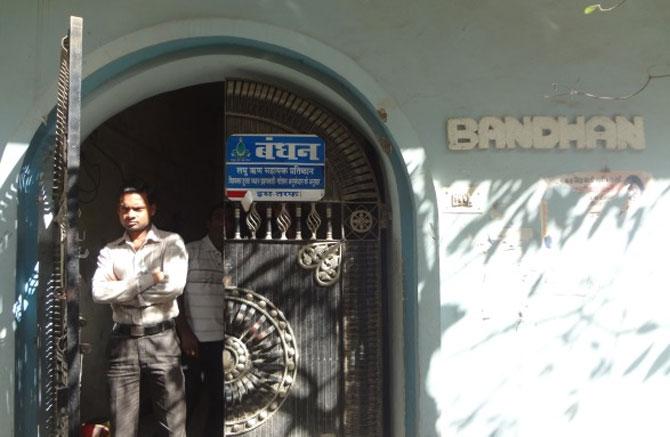 With over Rs 15,000 crore in deposits, its strategy is a hit for now, but the real test will come when it starts lending to retail and corporate customers in a big way
7 ways GST affects India's infrastructure sector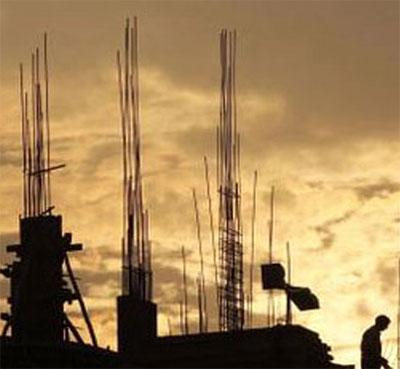 There are both positive and negative impacts of the tax, but the net result for India's infrastructure sector is advantageous, says Vinayak Chatterjee.
August 19, 2016
Gripping tale of an iconic businessman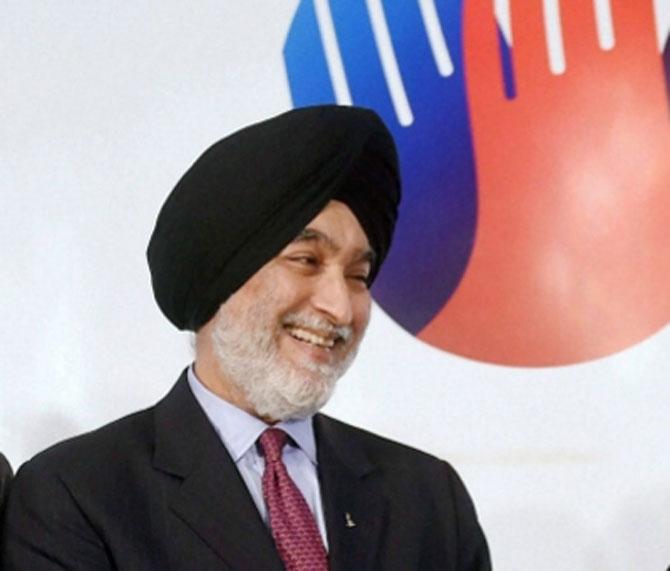 Over the years, Mr Singh has got in and out of innumerable businesses, cutting across sectors. He is one businessman who I have always found to be in a start-up mode, says Bhupesh Bhandari.
Fulfilling Deveshwar's dreams: Big challenge for ITC's new CEO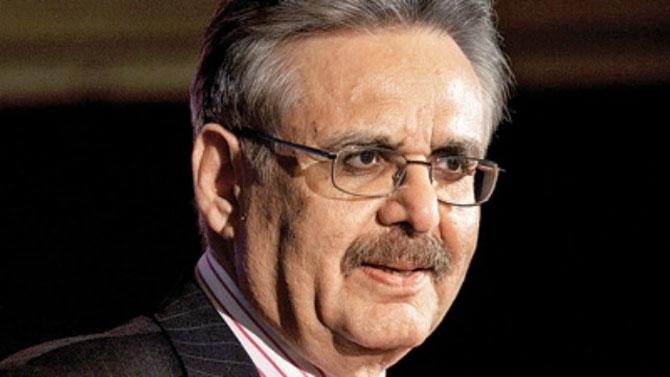 The outgoing chairman believed in building for the future; for his successor, the challenge will be to maintain the momentum, says Ishita Ayan Dutt.
Perfect storm gathering over Smriti Irani's ministry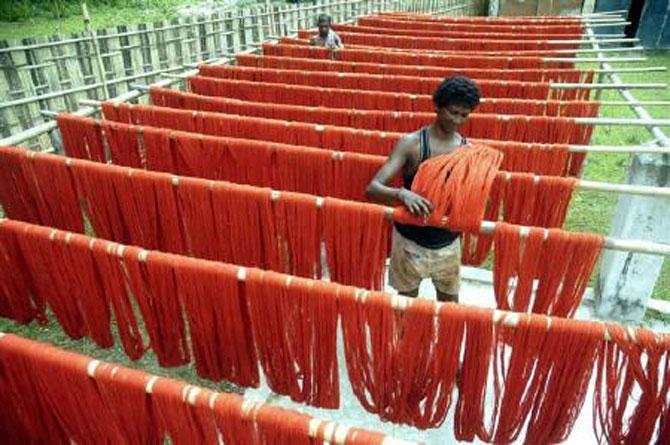 Rising skills gap, falling exports, low productivity, rising debt and low foreign investment is jeopardising the target set for the textile and apparels sector
A tale of crumbling infrastructure in India's IT cities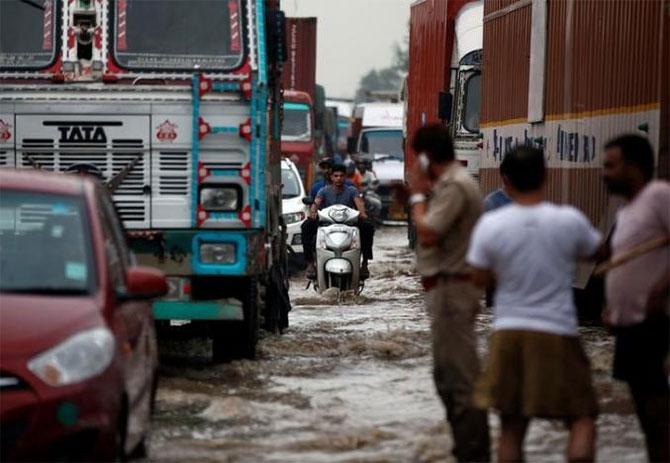 Can the country afford to have problems of such magnitude in the cities of Gurgaon, Bengaluru, Pune and Hyderabad, which not only are the major growth drivers but are also the biggest revenue contributors in their respective states?
August 18, 2016
How safe is your PF money? 10,932 companies caught defaulting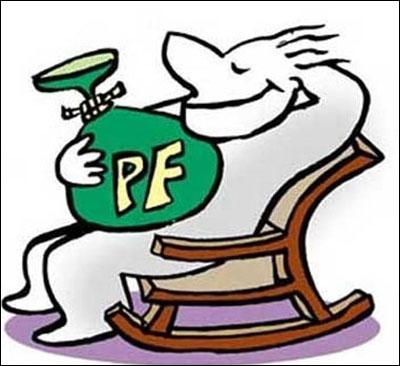 By region, Thiruvananthapuram leads with 247 defaulters, followed by Kolkata with 173 and Bhubaneswar with 115
August 16, 2016
Bihar struggles to pay the price of liquor ban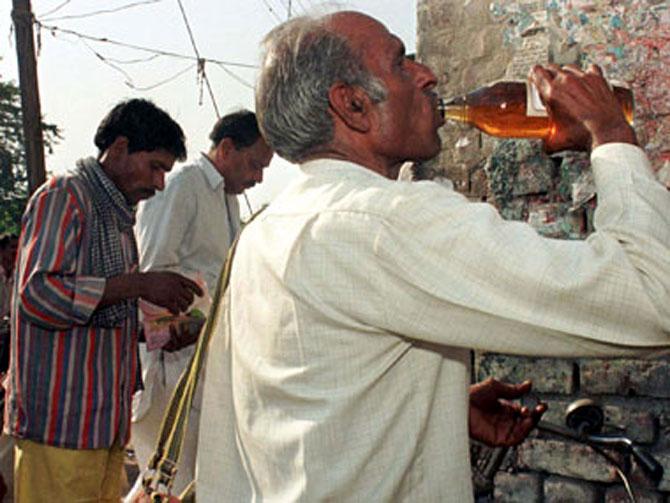 Incentives for industries have been rolled back and teachers have gone without salary for months as the state grapples with the after-effects of the ban
August 14, 2016
What happened to the 8 promises Modi made on I-Day 2015?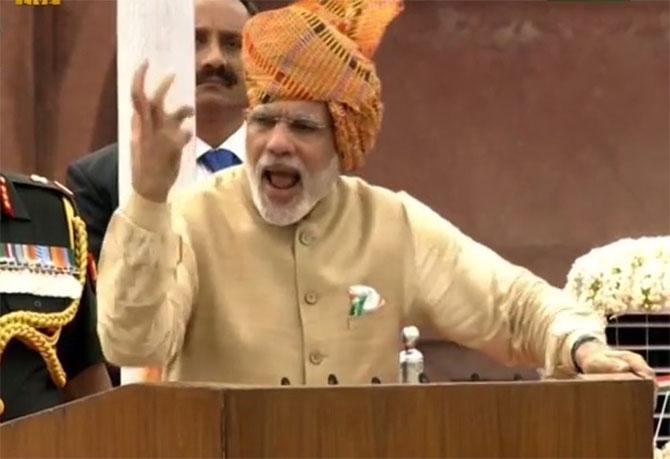 As Prime Minister Narendra Modi is set to deliver his third Independence Day speech on August 15, he is inviting ideas from citizens on issues he should speak on
August 12, 2016
Balki: An extraordinary adman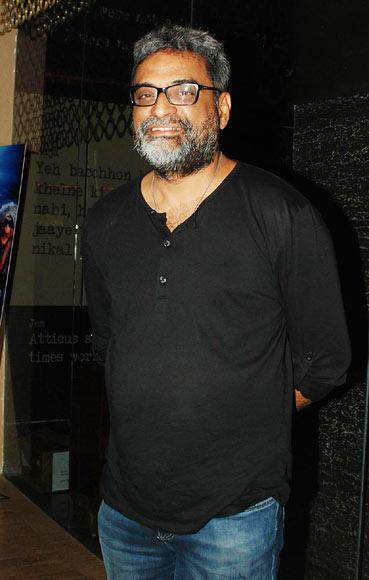 He didn't think much of advertising awards, and yet as he moves on from Mullen Lowe Lintas, he leaves the agency at its strongest ever
August 11, 2016
As India steps on gas for infra building, repairs are left out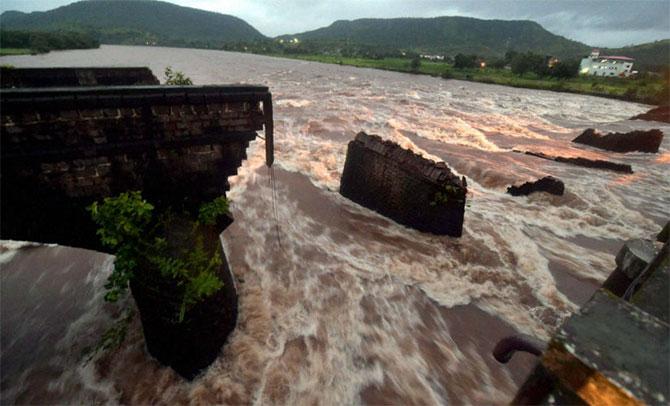 Little attention is being paid to keep roads, bridges and flyovers in good shape
August 10, 2016
Amazing story of how Skymet weathered the storm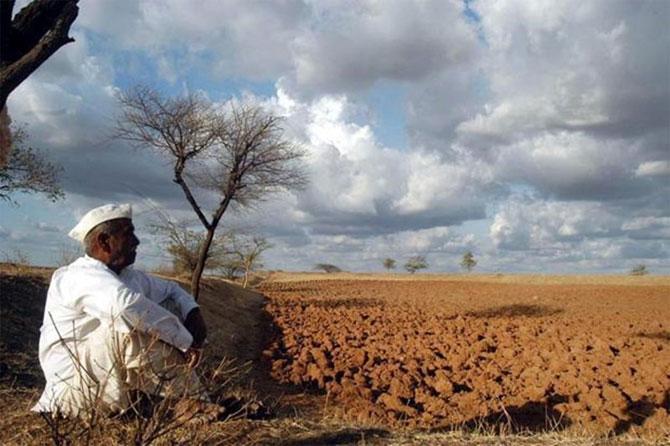 If Jatin Singh is right in the long run and his morphed business can help reduce farmer distress, Skymet will provide a service of far more value from where it began
August 05, 2016
'Unless you solve somebody's problem, you won't make money'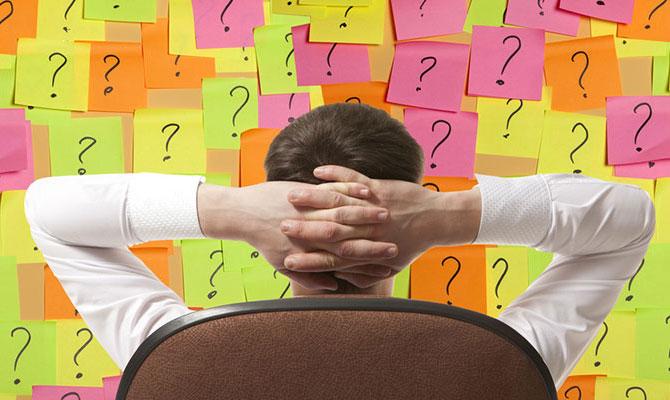 'If they are not ready for a 10 to 20 year journey, they should not become entrepreneurs.'
3 reasons why RBI should opt for a rate cut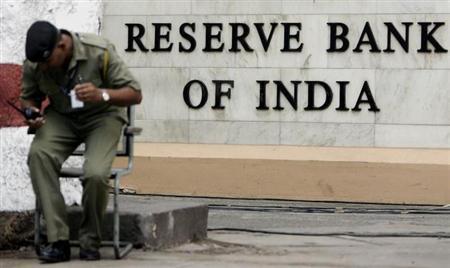 RBI policy surely cannot impact agflation, in any case.
July 29, 2016
Ananth Narayanan: The turnaround man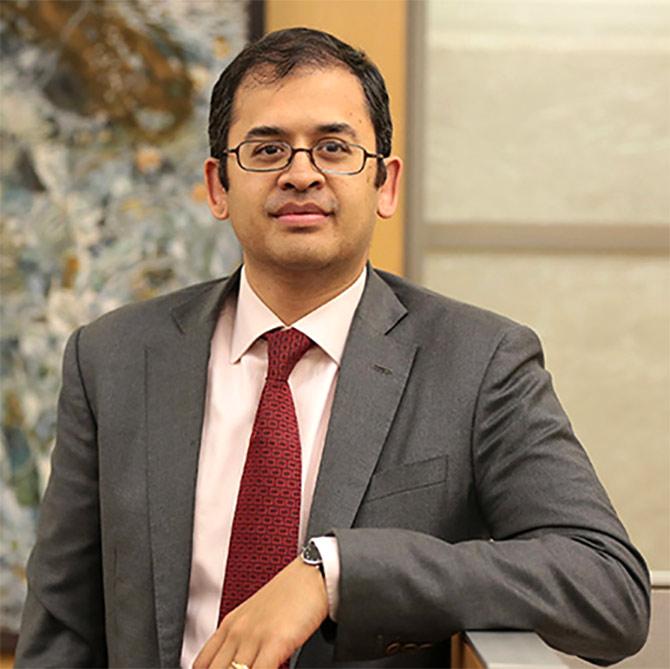 Narayanan's strategy of building exclusive brands for Myntra has been a success as well, and more such brands will be added to the portal's offering in the future
July 19, 2016
How Nirma tries to reclaim the golden days of 1980s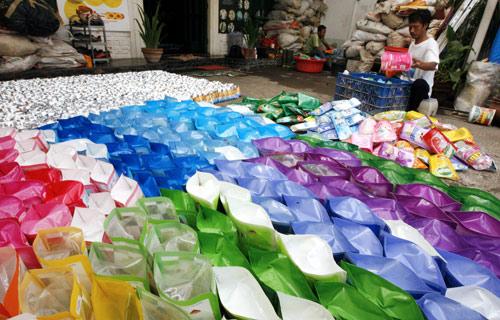 Many see Nirma's Lafarge deal as some kind of second coming for the Patels.
July 14, 2016
World's fastest-growing economy lags most South Asian neighbours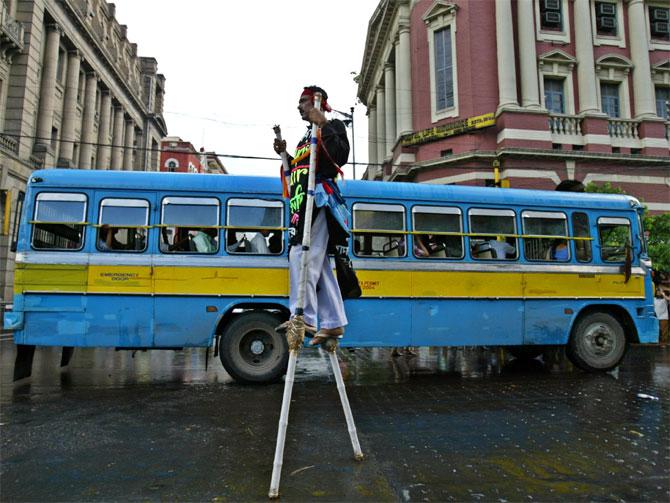 India's per capita GDP of $5,238 in 2013 was 65 per cent lower than Iran, 54 per cent lower than Maldives, 44 per cent lower than Sri Lanka and 27 per cent lower than Bhutan, according to the Human Development Report 2015
July 11, 2016
Mercedes-Benz GLC: Glamour meets comfort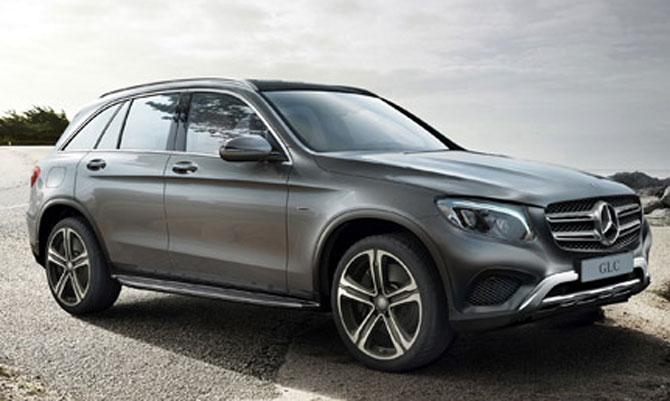 The Mercedes-Benz GLC 220 d 4Matic is both sporty and luxurious
July 04, 2016
Advice from an ace investor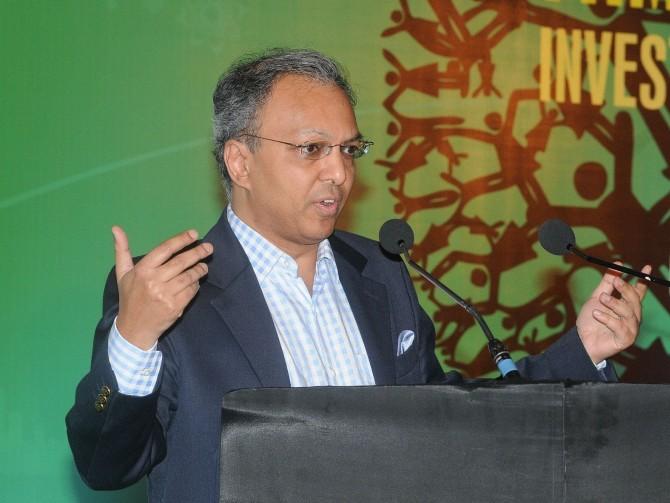 Be a fox by temperament and a hedgehog by conviction, Gaurav Dalmia tells Bhupesh Bhandari. Then, he explains why.
July 01, 2016
How Renault scored a goal with the Kwid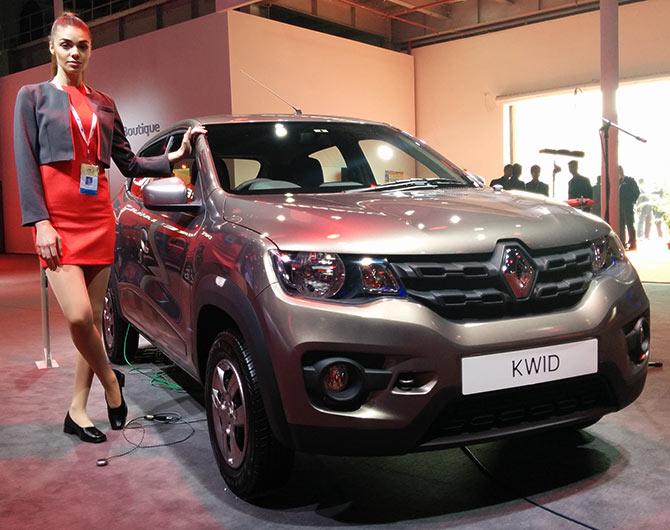 How did the Kwid become an Indian success story?
June 19, 2016
If Vijay Mallya was Thomas Flohr...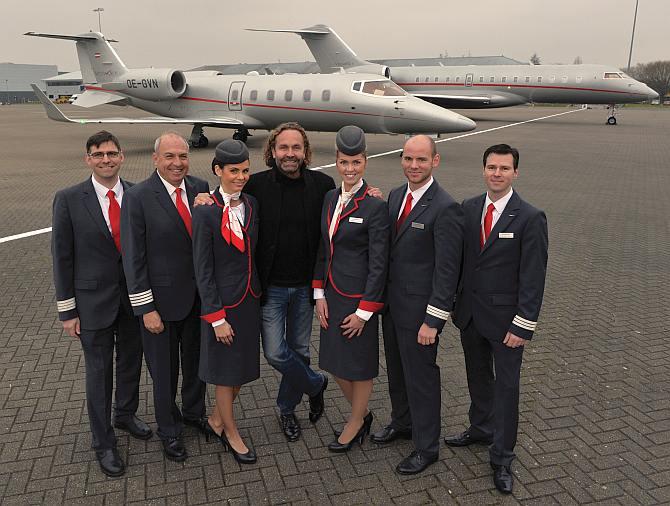 ...He'd be running a successful aviation business, says Anjuli Bhargava.
June 08, 2016
Does Paytm have its finger in too many pies?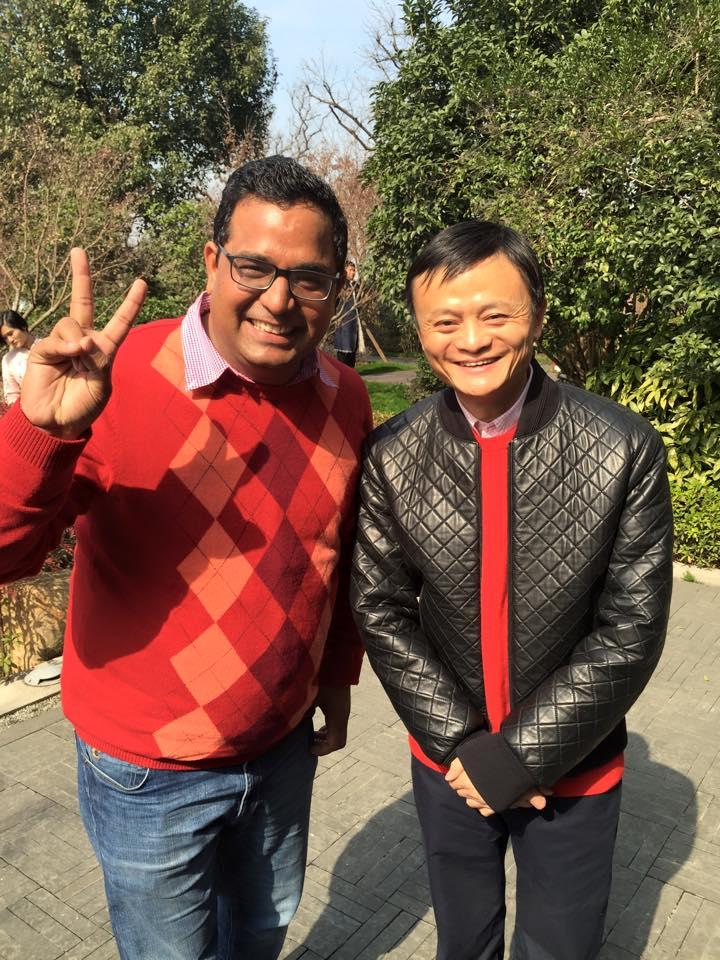 What explains Vijay Shekhar Sharma's optimism when other players have started to tread cautiously is Paytm's huge customer base: It has 120 million users and counting, says Nivedita Mookerji.
June 03, 2016
India Shining! Forest land wiped away for industrial projects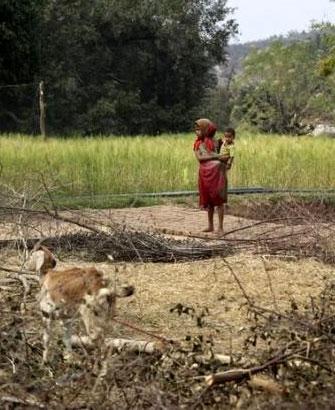 The government may claim planted trees compensate for forests lost, but that does not mean complex flora and fauna destroyed have been restored, points out Himadri Ghosh.
June 01, 2016
How water inequality governs drought-hit Maharashtra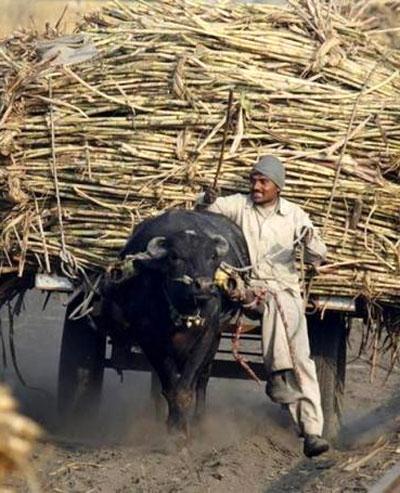 Sugarcane, which is grown by no more than 1.1 million farmers, consumes 70 per cent of water available in Maharashtra for irrigation. In contrast, about 10 million jowar, pulses and oilseeds farmers get only 10 per cent of irrigation water, points out Abhishek Waghmare.
May 31, 2016
How India can add an extra $1 trillion to its GDP by 2020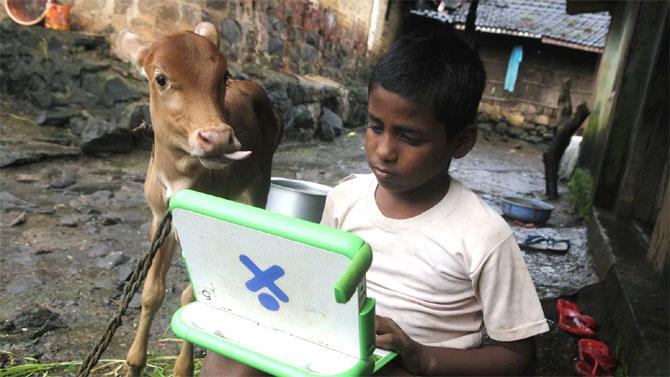 A data plan currently priced at Rs 100 should not cost more than Rs 34, if India has to make the Internet affordable for 80 per cent of its population.
May 25, 2016
Slippery road ahead for car makers in India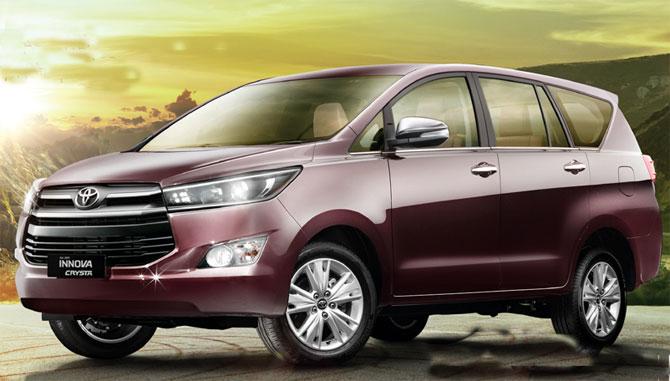 Toyota, M&M and Honda are making tough adjustments to their growth plans as uncertainty over diesel vehicles and fuel emission norms rises
May 20, 2016
Has India's anti-trust watchdog lost its drive?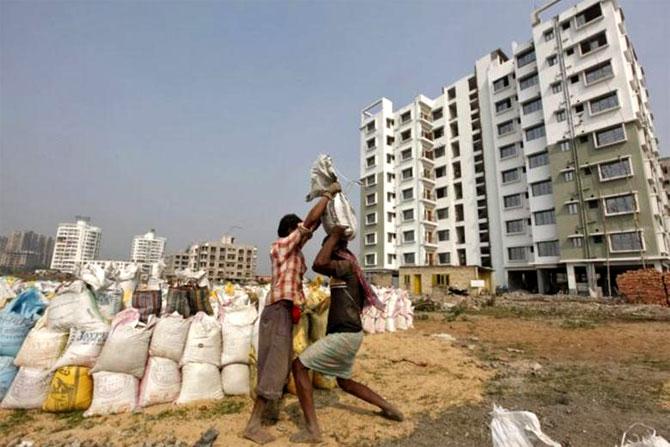 The number of cases being admitted and investigated by the Competition Commission of India has fallen drastically in recent years.
May 18, 2016
Land reforms fail, only 5% of India's farmers control 32% land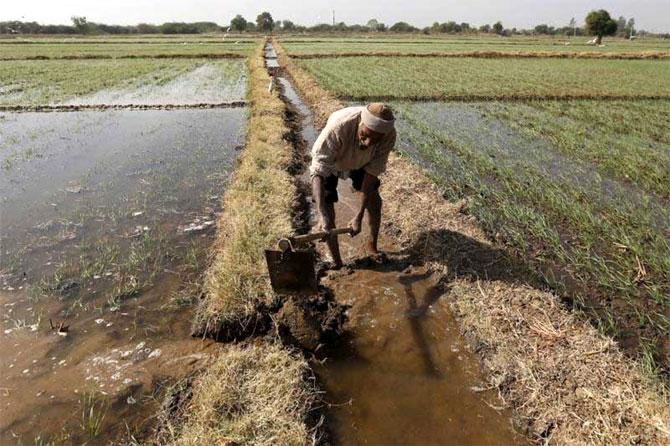 The average land given to the rural landless is small and falling, from 0.95 acres in 2002 to 0.88 acres in 2015 - a 7.4 per cent drop over 13 years-and a slowdown is evident in the process of taking land away from rich landlords, the RTI data reveal.
Juggernaut's funky experiment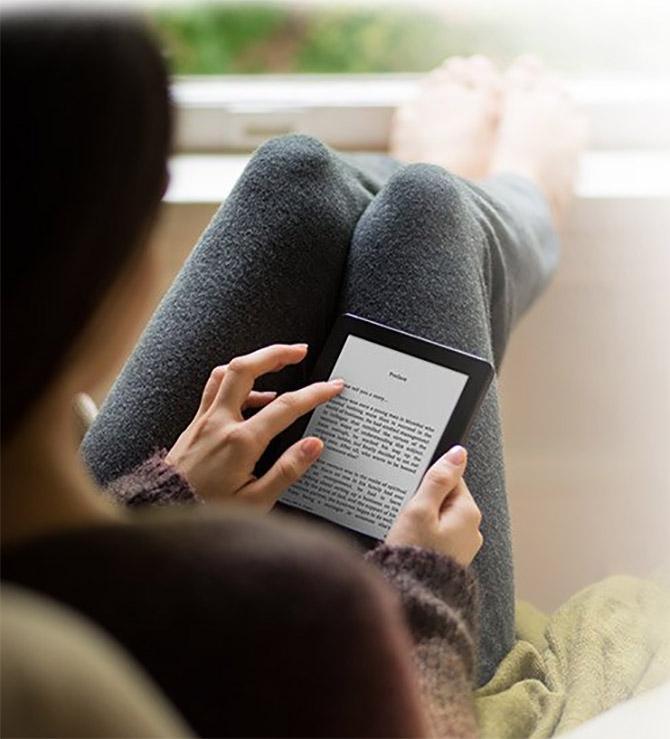 Juggernaut's mobile reading app could be a game-changer, says Nilanjana S Roy.
May 17, 2016
Meet Rahul Gandhi, the smart realty investor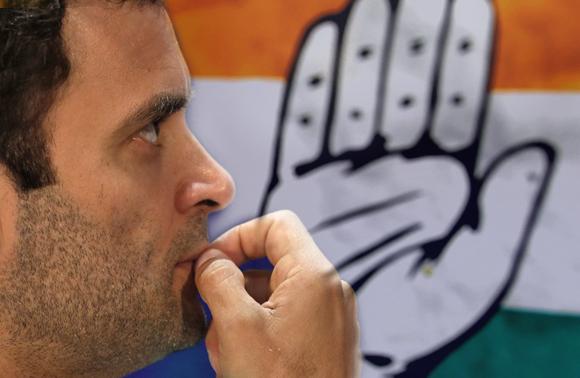 The shops became a subject of a political controversy last week.
May 16, 2016
How Amitabh Bachchan tops the brand trust charts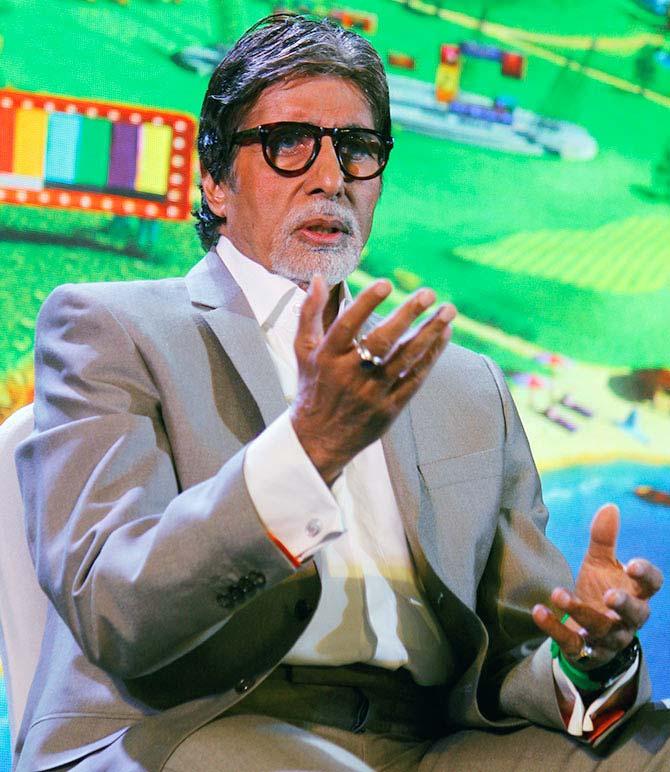 The superstar manages to retain the trust of consumers across age groups.
May 13, 2016
Why India Inc still fears MNCs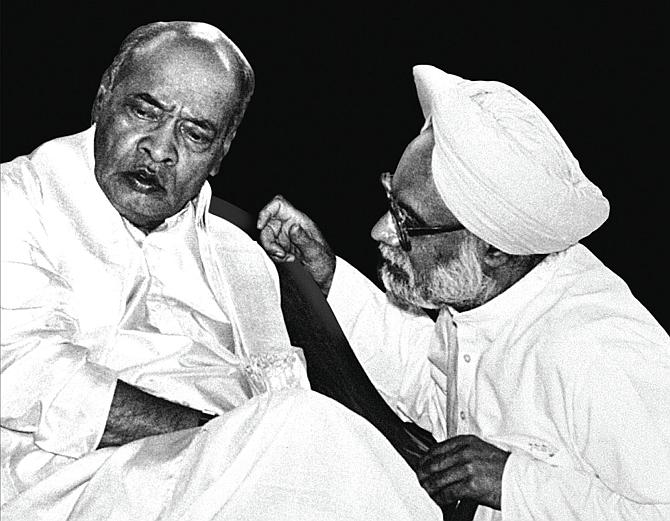 Business reacted with caution to the reforms of 1991, and demanded protection from multinationals and imports. Twenty-five years later, traces of that demand can still be found, reports Bhupesh Bhandari.
Modi @ 2: Reforms flicker in rural India, other big challenges remain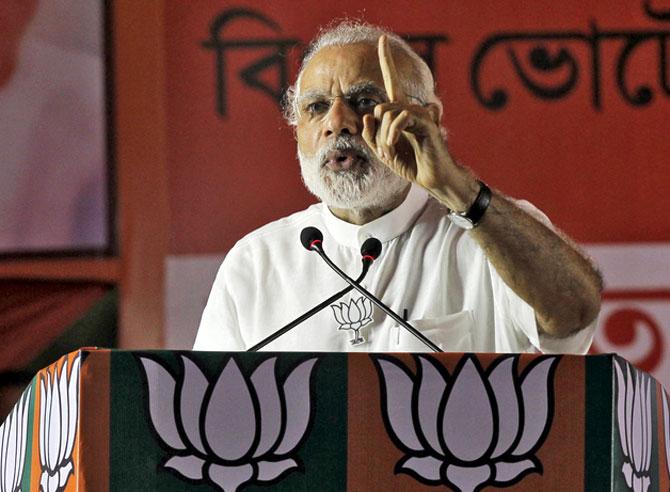 While many promises remain unrealised, power reforms and the creation of tens of millions of new bank accounts have helped Modi maintain his popularity
May 10, 2016
Why govt deals are high-stakes game for IT firms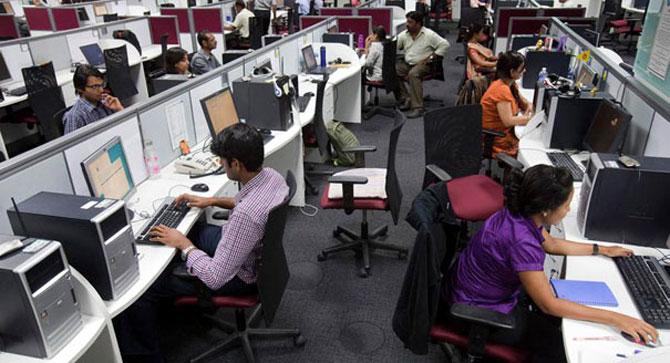 Even as government projects aren't lucrative from a revenue perspective, companies fight with each other to bag the contracts
Why India's construction slowdown threatens to increase poverty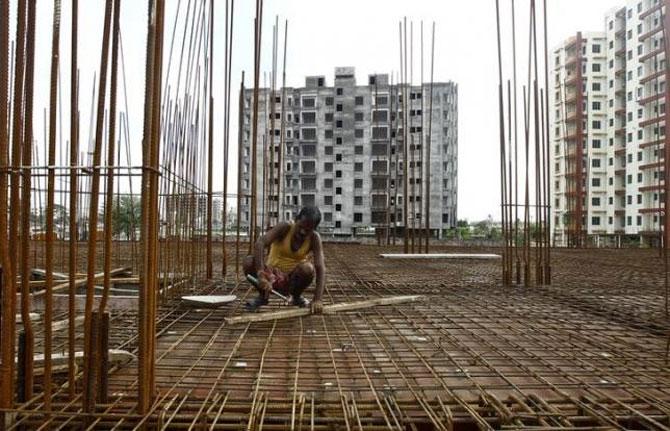 The construction sector is now India's second-largest employer after agriculture, the trend coinciding with India's high-growth phase and decline in poverty levels
Why Raghuram Rajan deserves a second term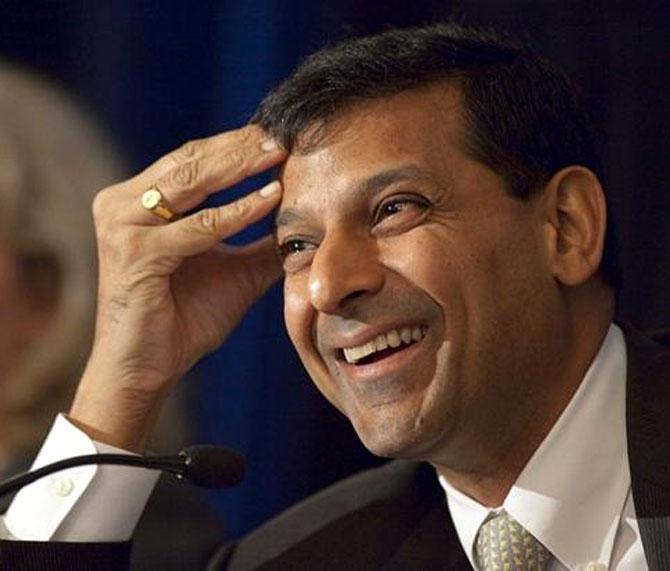 What differentiates Rajan from his predecessors is his proactive steps in anticipating a problem and coming up with out-of-the-box solutions
No electricity, no school here but kids learn with iPads!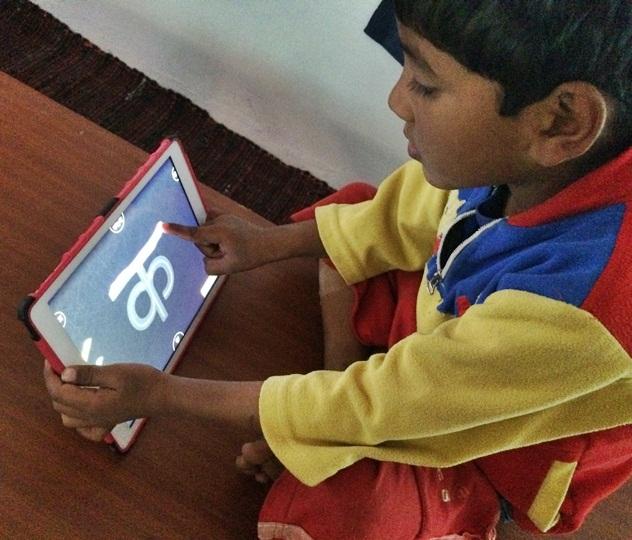 Two young engineers educate children with iPads n remote villages.
May 04, 2016
It's raining remuneration at MF houses!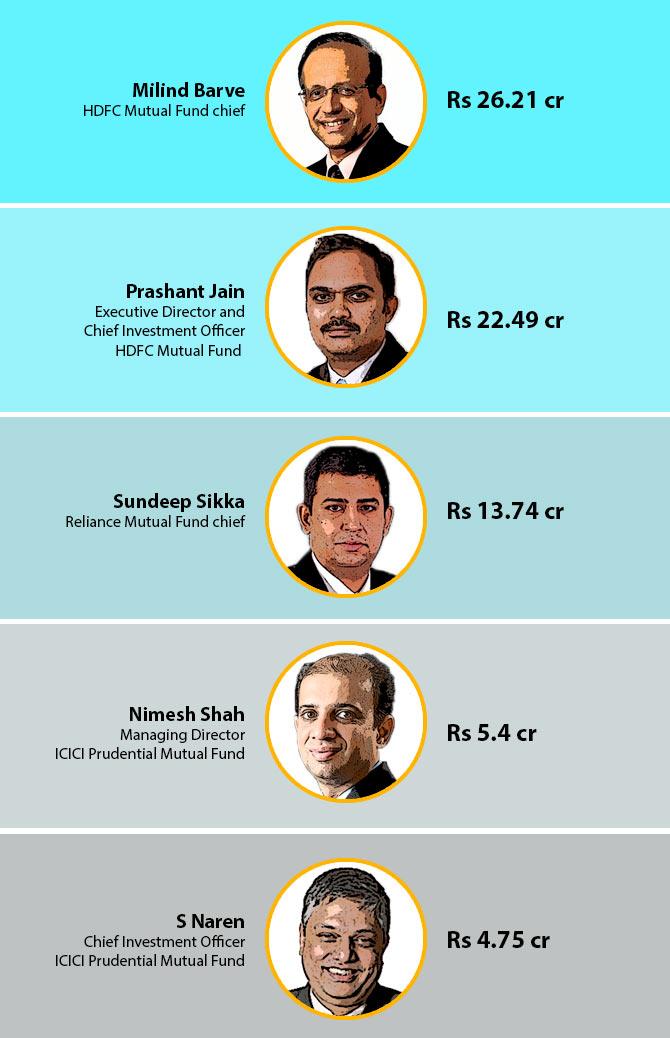 Sebi wanted to know how much Mutual Fund head honchos were paid. A look into who got how much...
Maharashtra, Delhi pay 53% of India's income-tax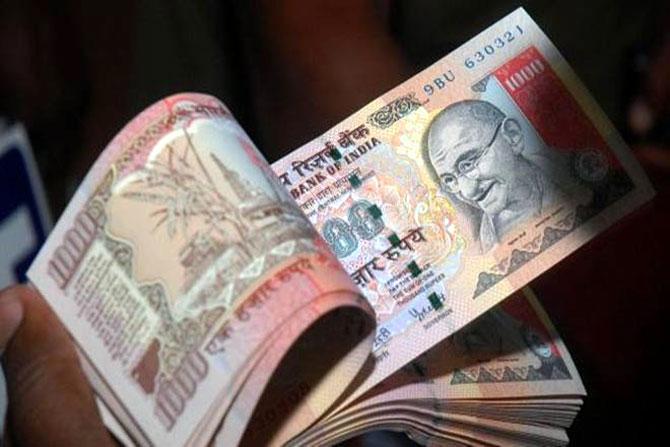 The government earned Rs 7.42 lakh crore as direct taxes in 2015-16, a 66 per cent increase from Rs 4.45 lakh crore in 2010-11
April 29, 2016
9 reasons India's rising credit card debt should worry you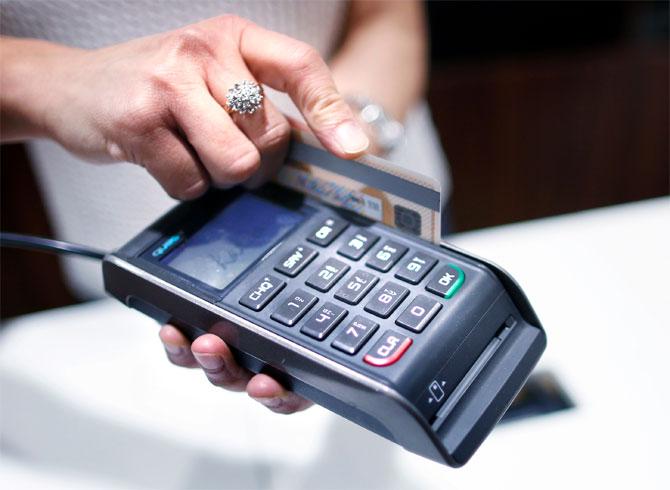 Next time you swipe, ask yourself, do you really need it or do you just want it?
Bad loans of state banks = defence + education + roads + health spends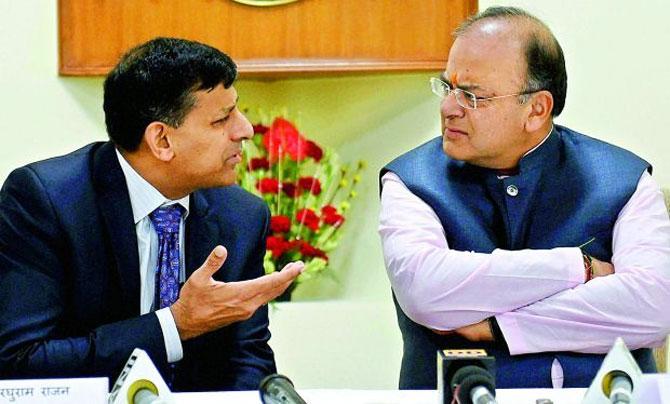 The crisis in Indian banking has now reached a point where the NPAs of many public-sector banks are higher than their net worth
April 25, 2016
Why gold refinery consolidation is the need of the hour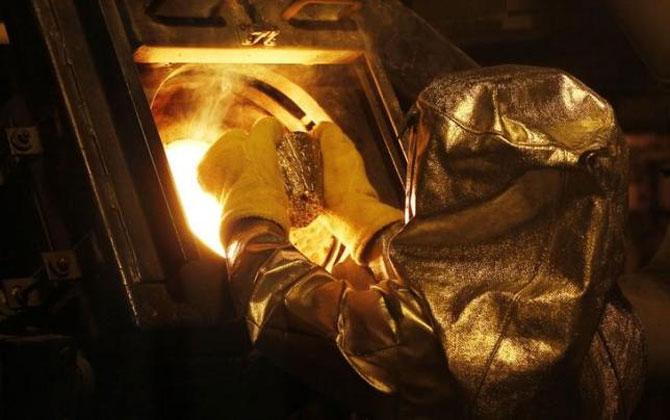 Finance Minister Arun Jaitley's decision to cut arbitrage may ensure that the standards of purity of the refined gold in the Indian market meet the global benchmark
How Virat Kohli cracked the Rs 100-crore league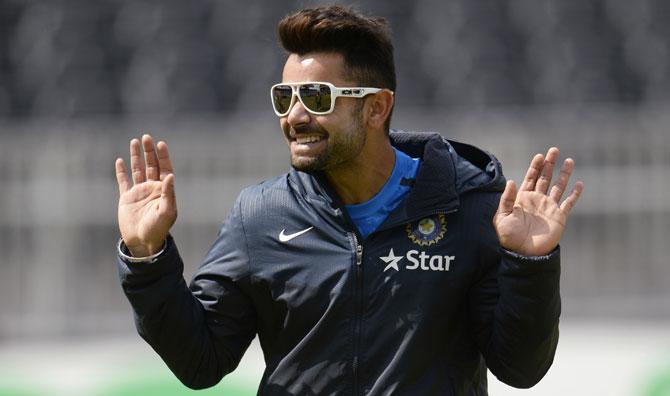 Kohli is rated very high on being distinctive, stylish and prestigious.
April 23, 2016
How life insurance companies get celebrities on a small budget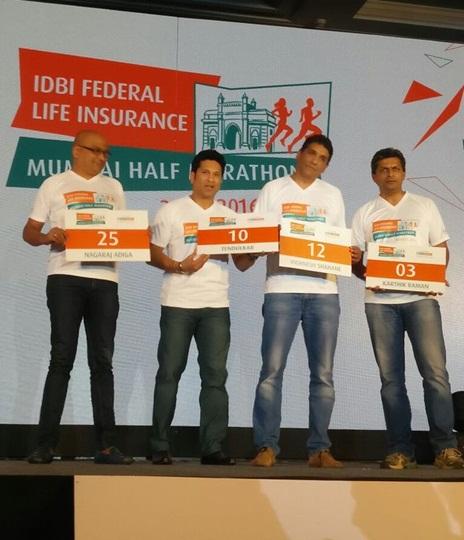 Life insurance companies are balancing the increasing use of celebrity endorsers by limiting the association to short, event-led campaigns.
April 22, 2016
Oswal vs Oswal: Another murky business family feud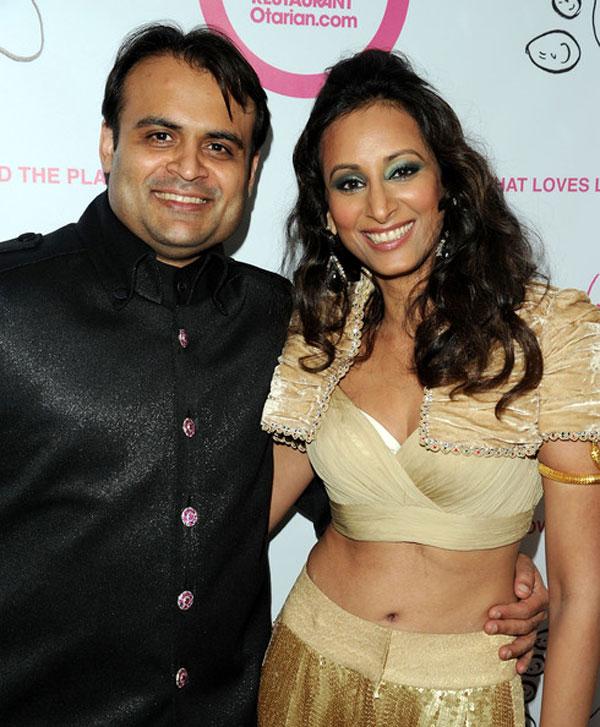 This is the first time the fight is between mother and son.
April 19, 2016
The man who's driving Uber in India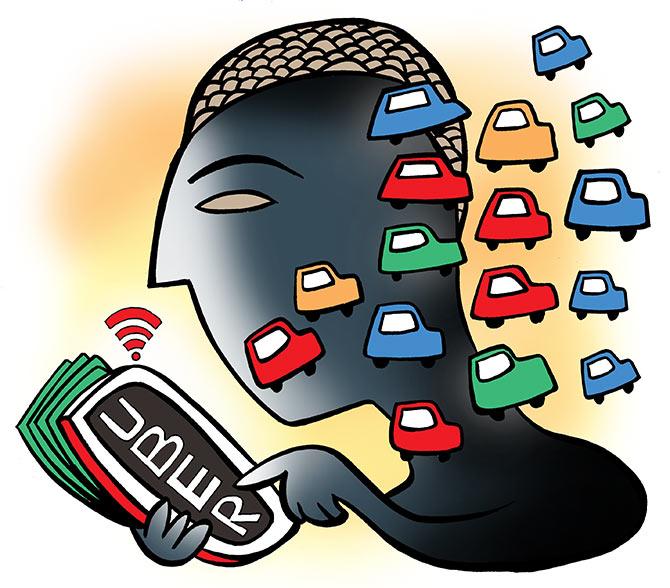 Amit Jain tells Shyamal Majumdar about his dream to make Uber the 'safest place in the city'
India's biggest farm reform is 91.6% behind target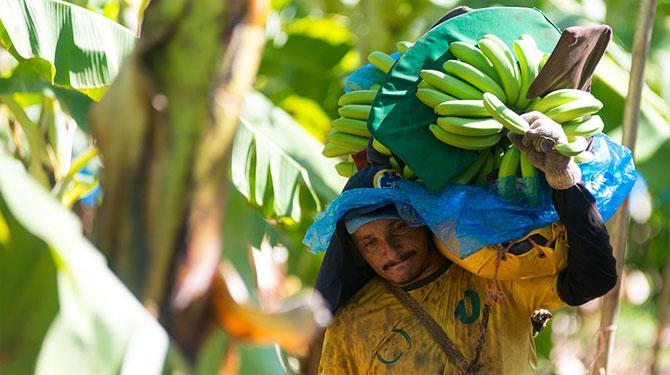 The Agricultural Produce Marketing Committee Act of a state regulates the purchase of agricultural products, such as cereals, pulses, fruits and vegetables for that region. It hobbles farmers, imposing multiple levies on produce and disallows direct sales to private companies.
April 18, 2016
Indian garment companies help Bangla tiger roar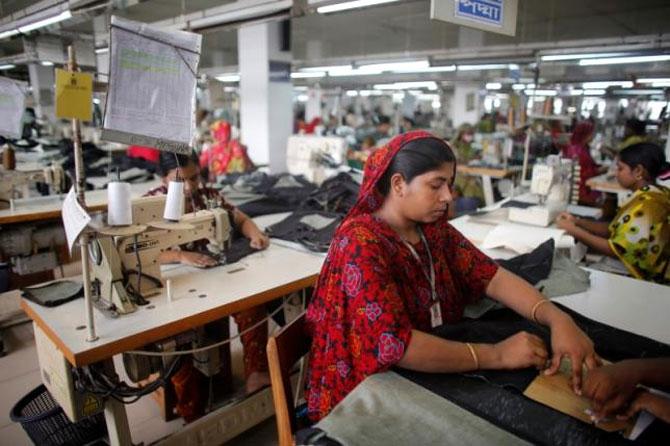 More than Indian exporters, it is Indian business families based in Sri Lanka and Hong Kong which have exploited the Bangladesh advantage
April 12, 2016
Baba Ramdev, Sri Sri and India's skewed corporate laws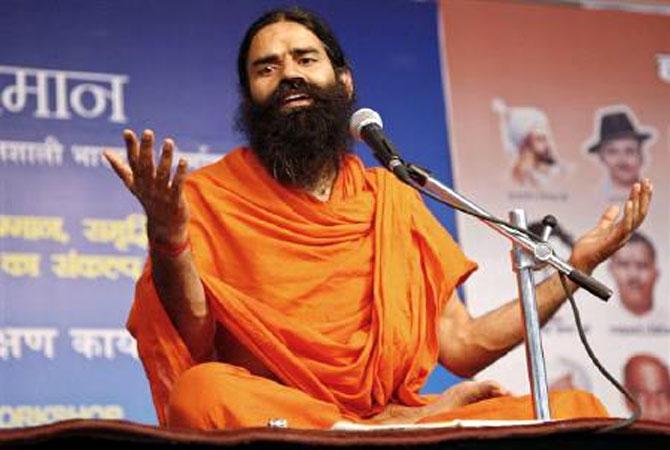 The strategies that the gurus adopted to build their successful business empires over the past two decades could hardly be adopted by businesses that openly claim to be businesses, points out Somasekhar Sundaresan.
Had farmers paid taxes, India could have earned Rs 50,000 cr more!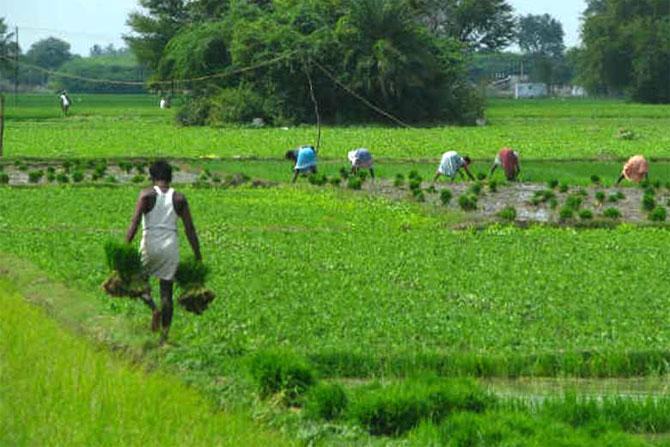 Agricultural incomes can be taxed without hurting farmers, as a substantial section - the small and marginal ones - will remain outside the tax net simply because their incomes are likely to be below the basic exemption limit of Rs 250,000 per annum that is extended to all taxpayers in India, finds out Ishan Bakshi.
April 08, 2016
Leave IPL alone; water-guzzling sugarcane is the real culprit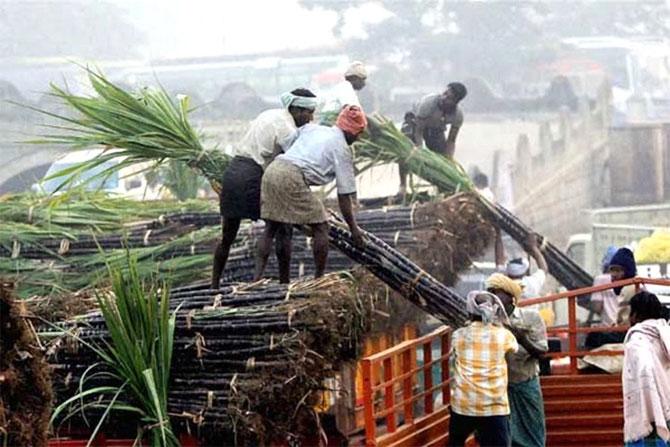 Of 650 billion cubic metres of water available for irrigation nationwide, 15 per cent, or 100 BCM of water, is used by sugarcane , which is planted on no more than 2.5 per cent of India's farmland
When Indian dreams turned sour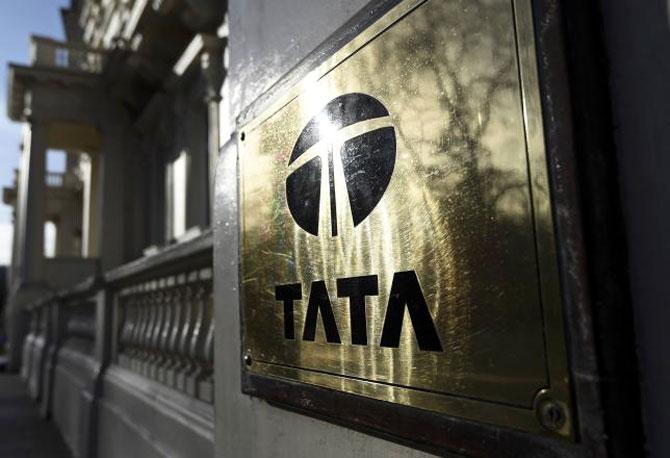 Only a handful of overseas acquisitions by Indian firms have survived the bloodbath, says Bhupesh Bhandari.
The Indian tycoon who is the white knight of UK's steel plants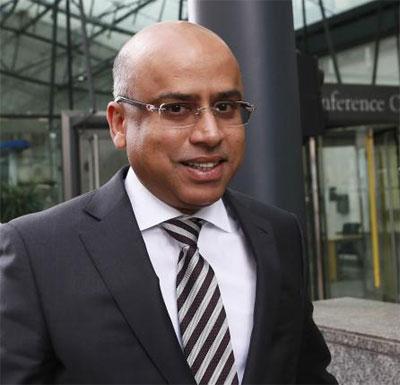 Gupta has expressed an intent to buy Port Talbot, Britain's biggest steelworks
April 05, 2016
Why Sri Sri is laughing all the way to the bank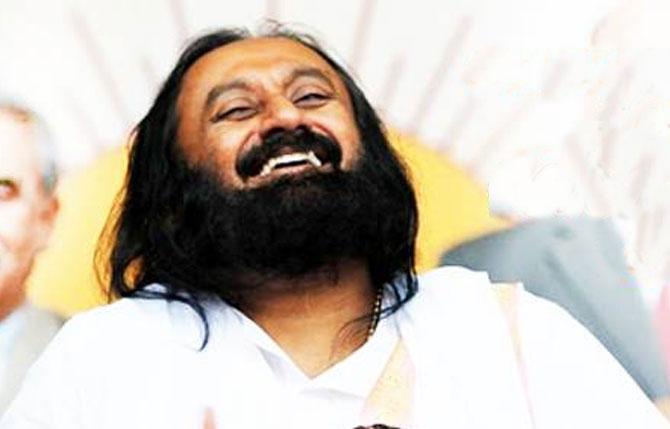 Yoga, wellness, meditation, Ayurveda, software and ... toothpaste - Sri Sri Ravi Shankar has successfully merged business with spirituality
April 04, 2016
Renault Duster just got smarter, safer and automatic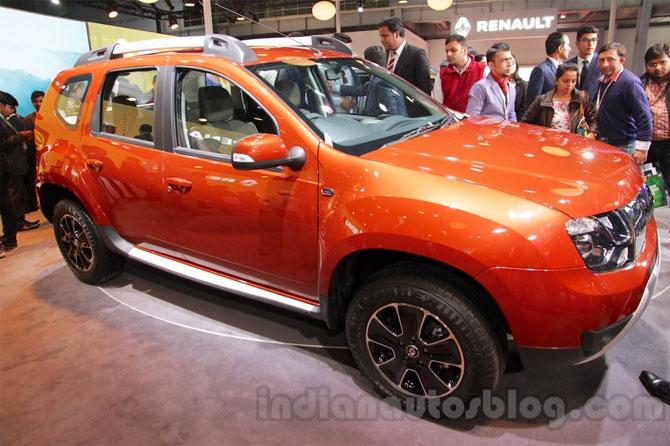 The AMT variant comes with a turbo charged diesel engine which produces 108.5bhp@4000 rpm and a peak torque of 245Nm@1750rpm
He is 24, blind, and CEO of a Rs 10-crore company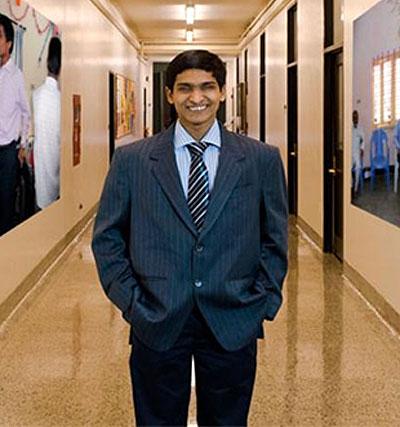 Srikanth Bolla, CEO of Bollant Industries, has set his sights on changing lives
March 26, 2016
How 'gurunomics' is fueling India's consumer boom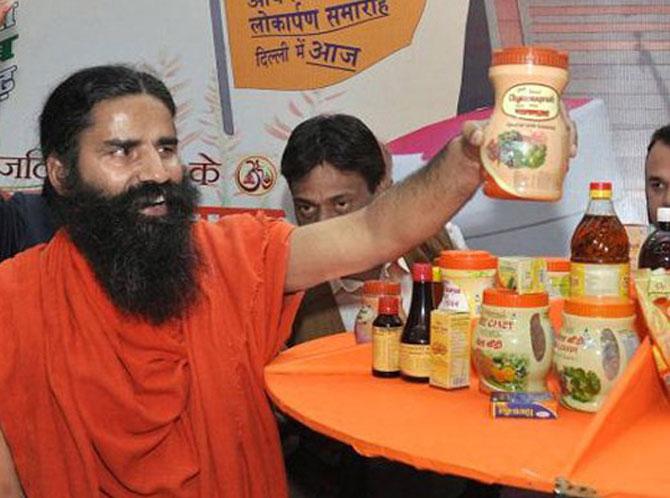 Be it consumer products, lifestyle or entertainment, spiritual gurus are stepping into business and are finding success
March 25, 2016
A different migration: From small villages to big ones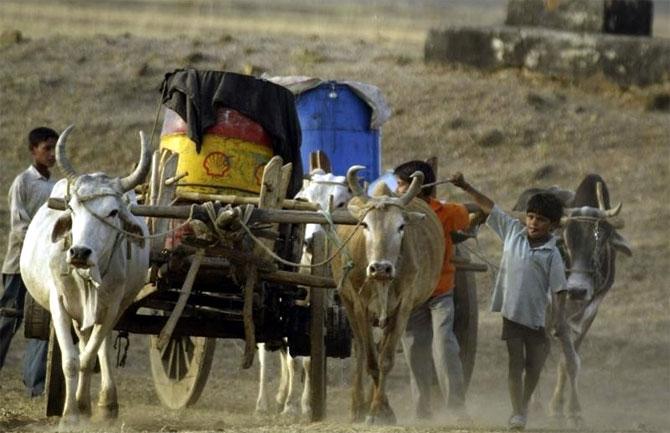 Between 2001 and 2011, the number of rural habitations with population of less than 1,000 has declined sharply
March 24, 2016
When terror strikes, markets go bulletproof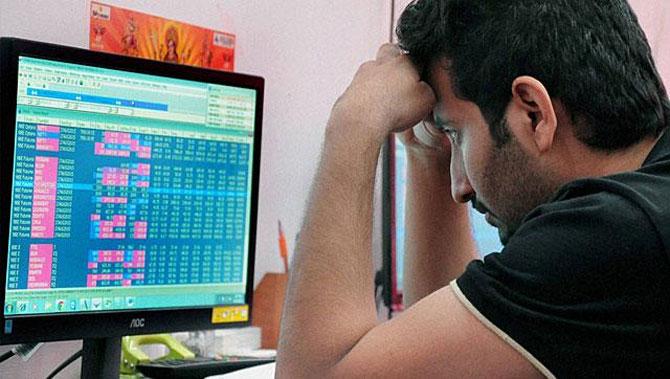 In most cases, they dodged bullets and, in some, recovered the same day
March 22, 2016
Why over 50,000 profitable firms pay no tax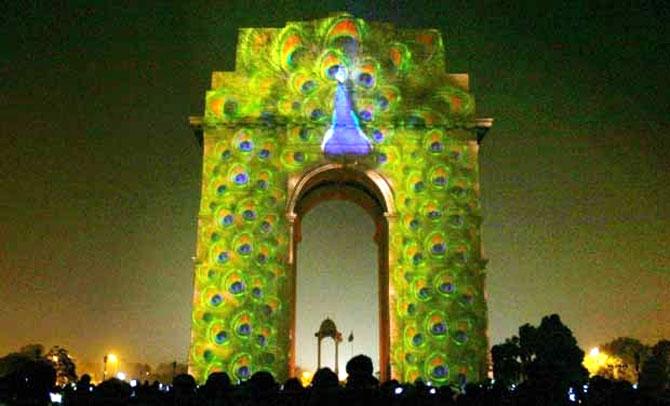 Companies making larger profits are now paying a lower rate of effective tax because of concessions
On World Water Day, India faces worst water crisis in decade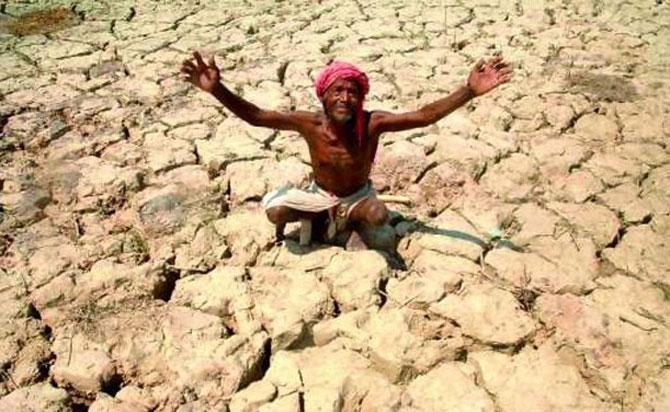 Andhra Pradesh, Uttarakhand, Maharashtra and Tamil Nadu likely to be India's most water-scarce states this summer
March 21, 2016
Achhe din: When will it come?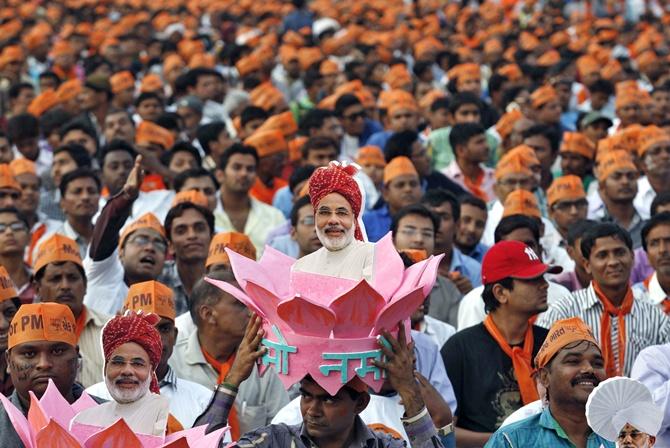 Instead of condemning all businessmen, the PM may like to listen to some of them.
March 18, 2016
5,275 wilful defaulters (+ Mallya) owe banks Rs 56,621 crore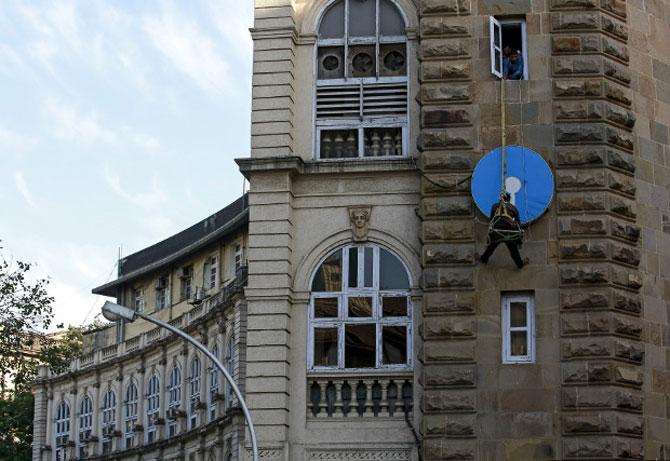 India's five leading wilful defaulters are Winsome Diamonds & Jewellery Ltd and associate Forever Precious Jewellery & Diamonds, Zoom Developers, Kingfisher Airlines, Beta Naphthol and Raza Textiles
Why Modi cannot use the 'Money Bill' option every time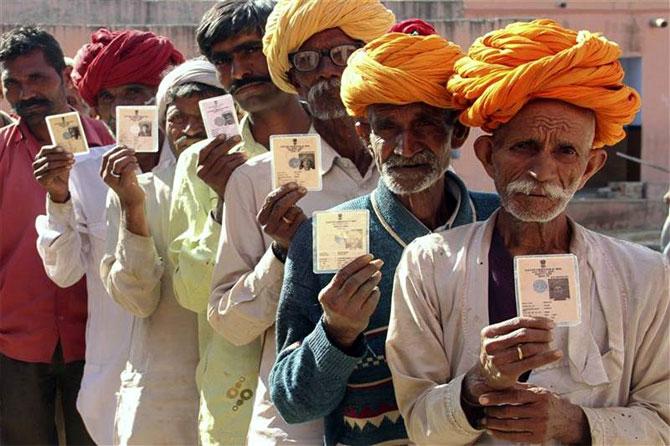 The Centre needs to have dialogue with the Opposition instead of letting politics come in the way; it needs to stoop to conquer, says Aditi Phadnis.
March 17, 2016
This investment banker has Mumbai bhel for lunch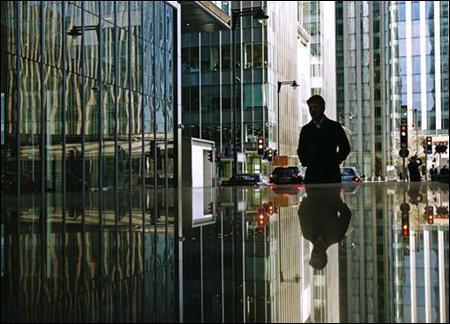 Gaurav Deepak has raised funds for about 100 new-age entrepreneurs.
March 16, 2016
Modi's new growth recipe - Just add water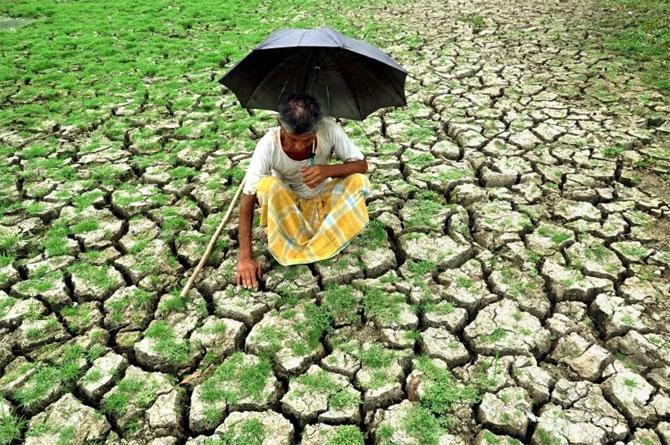 Modi's irrigation push in the Budget is aimed at scoring on the political front along with achieving growth targets
Why is the government reacting in fits and starts to Paris pact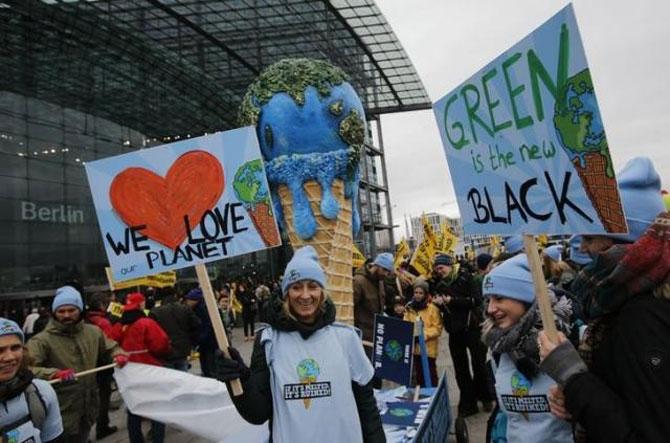 The Niti Aayog has finalised the first draft of a new national energy policy.
Not just rich farmers, even agri cos with Rs 215 cr profit pay no tax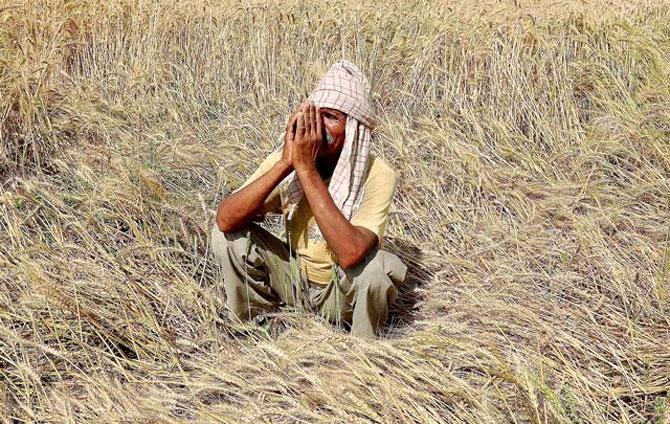 A large number of rich farmers, who earn more than salaried employees in the cities, get away with paying no tax at all in view of the government's lack of will to consider an agricultural income tax
March 15, 2016
In India, exactly who benefits from government 'dole'?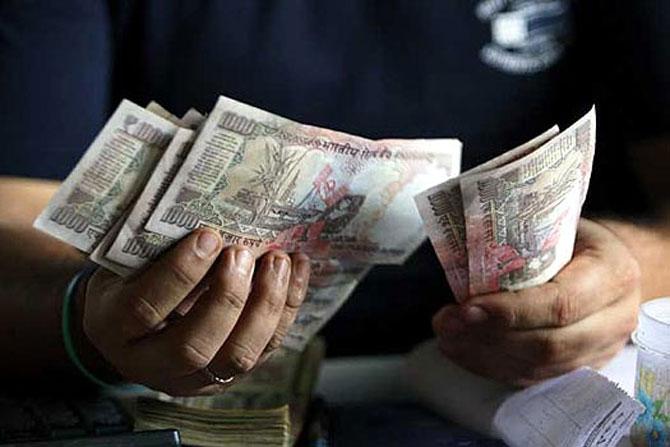 'According to the government's Economic Survey, the Indian state's generosity is not restricted to its poorest citizens. In fact, in many cases, the beneficiaries are disproportionately the well-off.'
March 14, 2016
Maggi Noodles: Reclaiming faith in an instant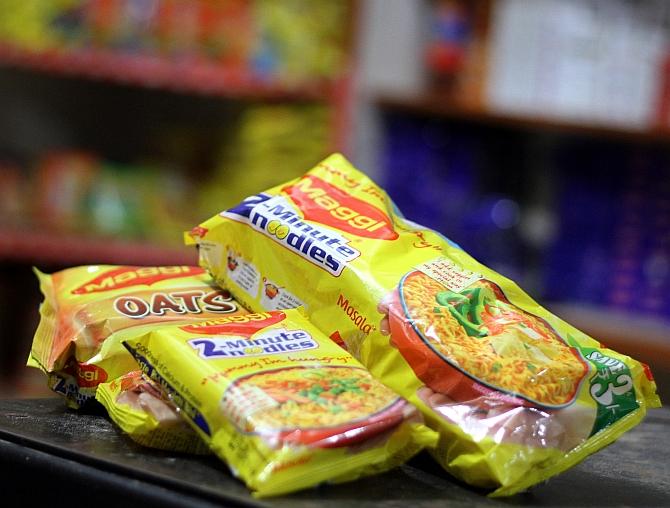 'Maggi noodles belong to the consumers.'
March 10, 2016
Why swift action in the Vijay Mallya case is important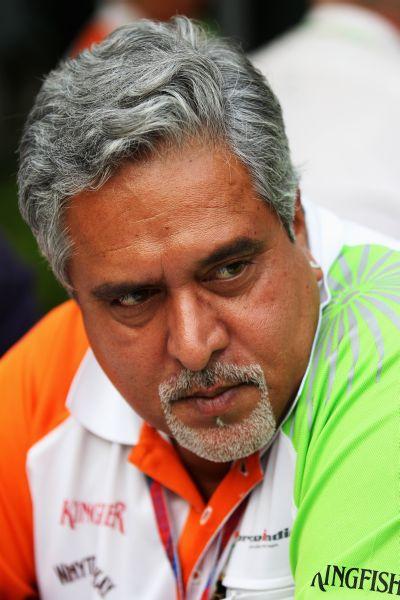 Several of his lenders have a lot to answer for.
March 09, 2016
5 key lessons about women and work in India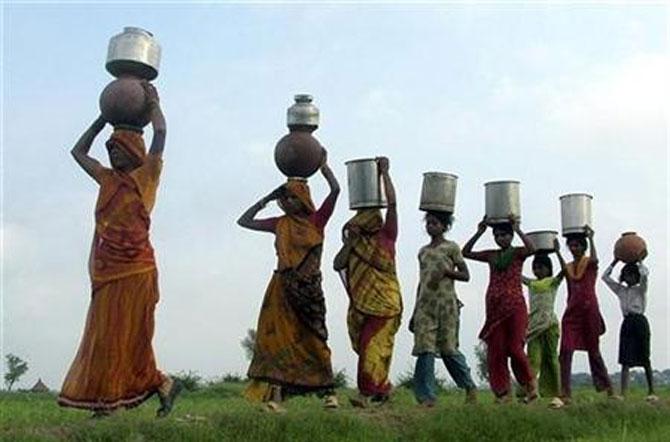 With India poised to become the largest economy in the world by 2030, it cannot afford to leave half of its workforce behind.
March 08, 2016
How Maruti Suzuki is putting S-Cross back on track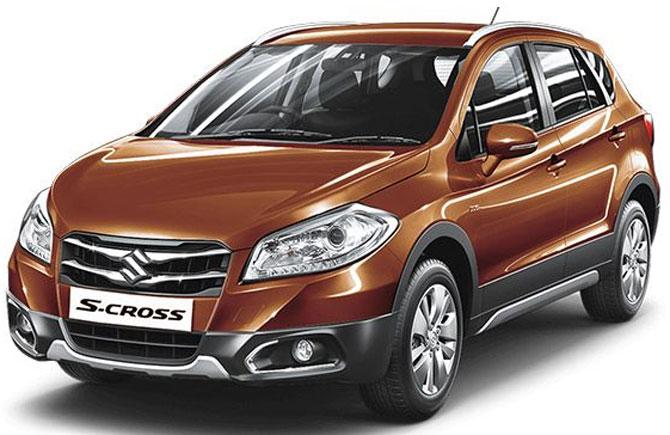 High price, combined with the decision to go only for diesel and position it as a crossover, resulted in its limited success
Is the worst over for the Indian markets?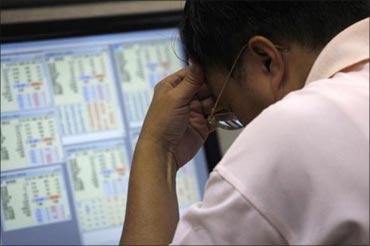 The markets gained nearly 7 per cent in the 4 trading sessions of March.
Vijay Mallya: The reluctant poster boy of bad debt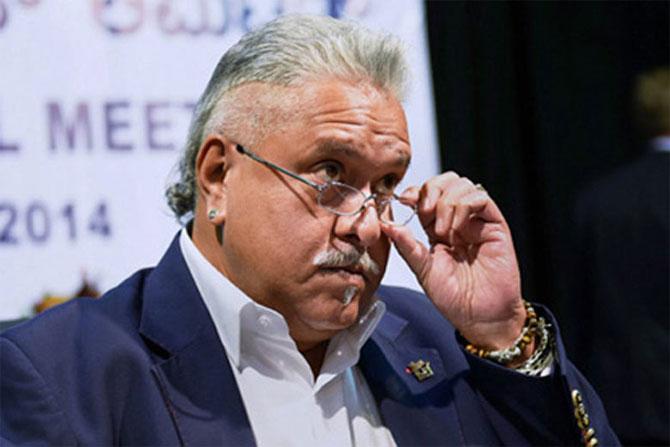 Mallya failed to repay loans worth Rs 7,200 cr, did not pay salaries, did not deposit PF, and did not pay income tax. It is still a mystery why banks continued to pour money into the airline when it was on life support
March 04, 2016
Films, books that inspire corporate head honchos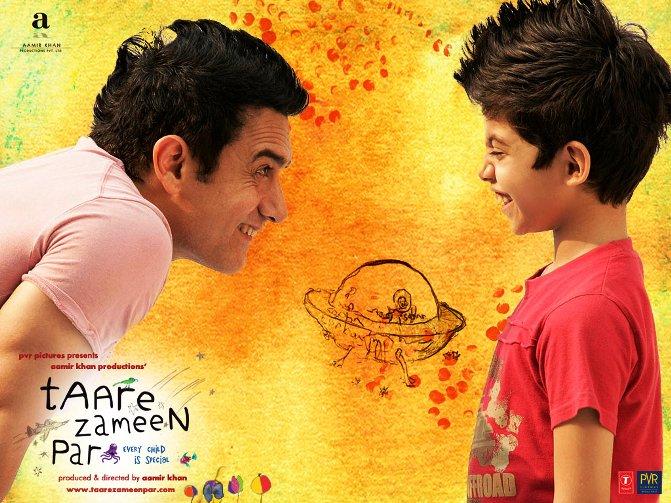 Here's a list of the favourites of the billionaires.
March 02, 2016
10 laws that Jaitley wants to change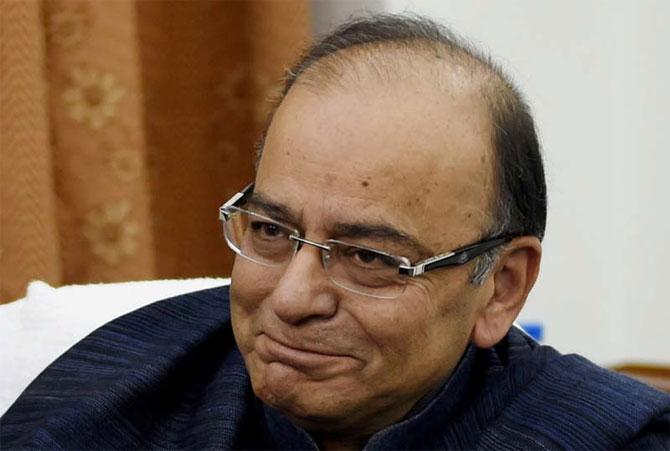 Priorities include the amendments of the Companies Act and the Motor Vehicle Act
March 01, 2016
Thankfully, Mr Jaitley delivers!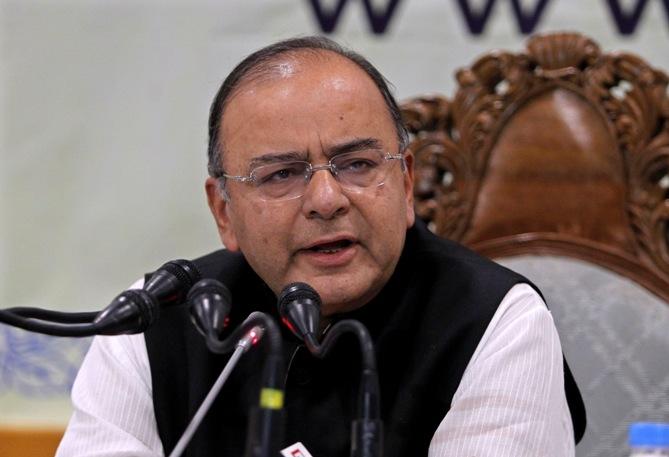 Jaitley has managed the difficult feat of sticking to the fiscal correction.
Budget 2016: A view from the visitor's gallery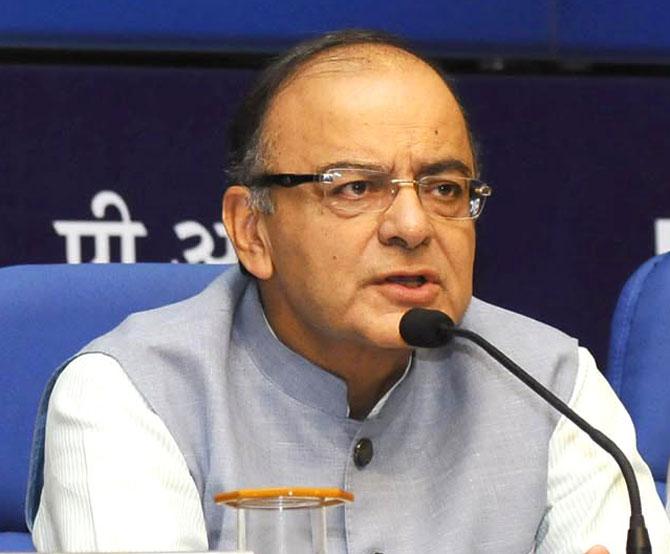 Aditi Phadnis brings us a ringside view of the reactions Jaitley's speech generated in Parliament
Budget 2016: Bets are on Bharat rather than India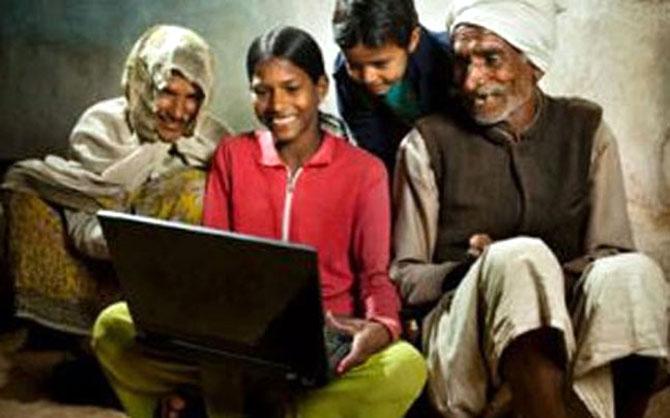 Budget has laid emphasis on enhancing expenditure in farm & rural, and social sector including healthcare, education, skill development, job creation and infrastructure
February 26, 2016
Uttam's Take: 10 cheers for rail travellers!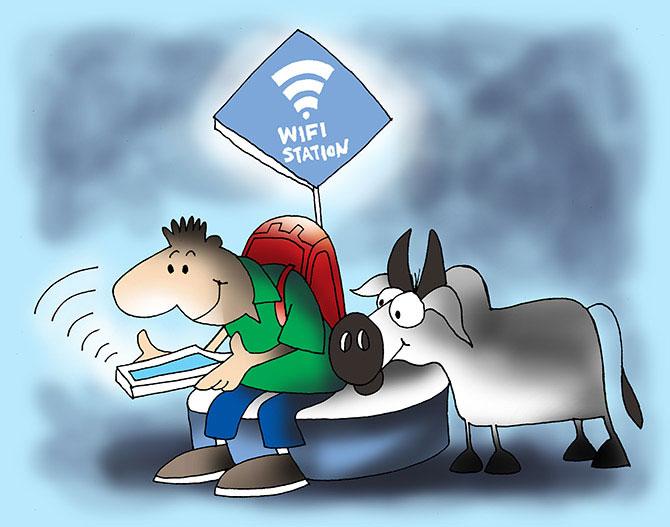 Uttam Ghosh on how rail passengers will benefit from the Railway Budget.
February 24, 2016
A tax notice that affected India's credibility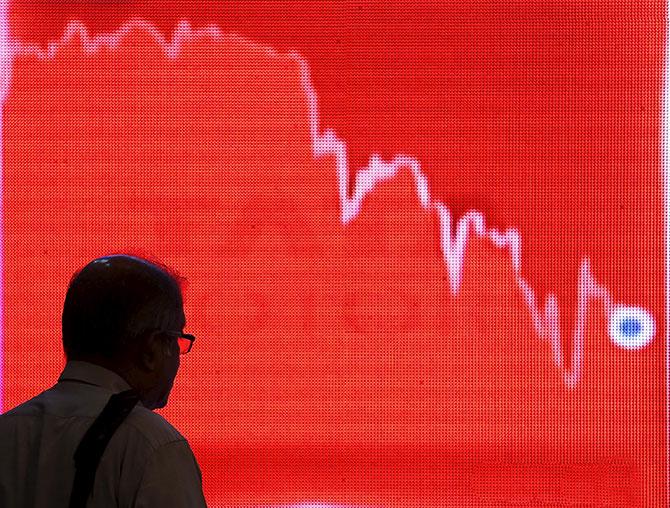 The retrospective tax decision reversing the January 2012 Supreme Court verdict in the Vodafone case has often been cited as the reason for foreign investors losing confidence in India as an investment destination.
Cheaper, faster way to Make in India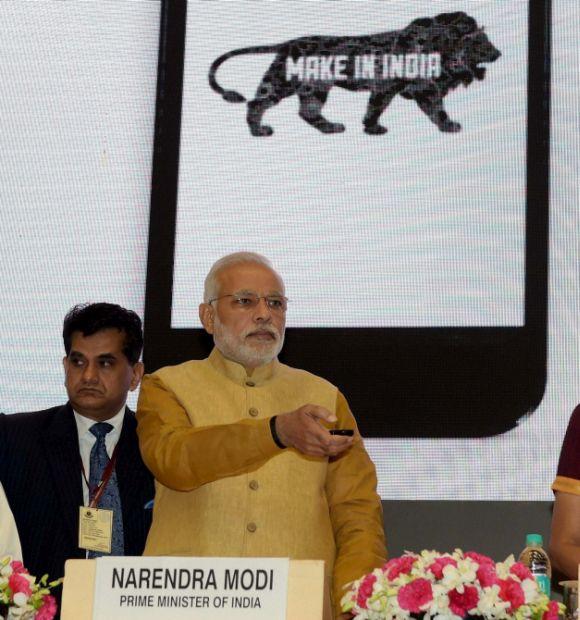 At present, less than one per cent of manufacturing GDP comes from automation in India.
February 22, 2016
A garment shop that rings a bell called Freedom 251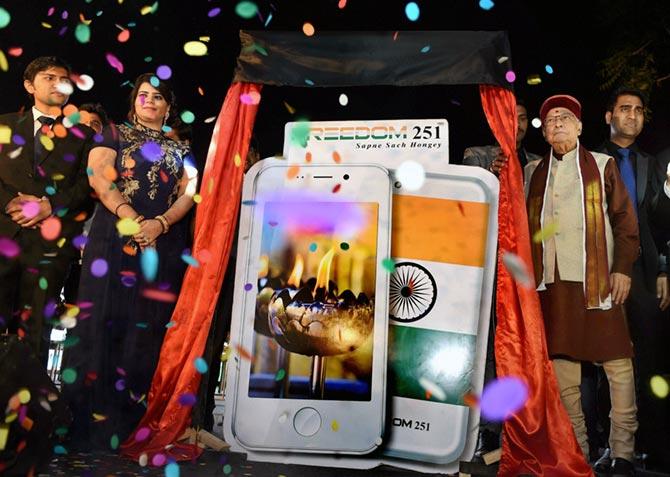 The share capital of the company is Rs 1 crore (Rs 10 million).
February 19, 2016
Make In India: Expect Rs 12,92,000 cr in actual investment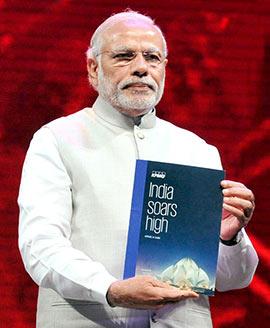 It rained investments on India as the Make In India programme, envisioned by Prime Minister Narendra Modi with a focus on the manufacturing sector, raked in Rs 15,20,000 crore in committed investments.
February 16, 2016
What 'Make In India' means to these Indians!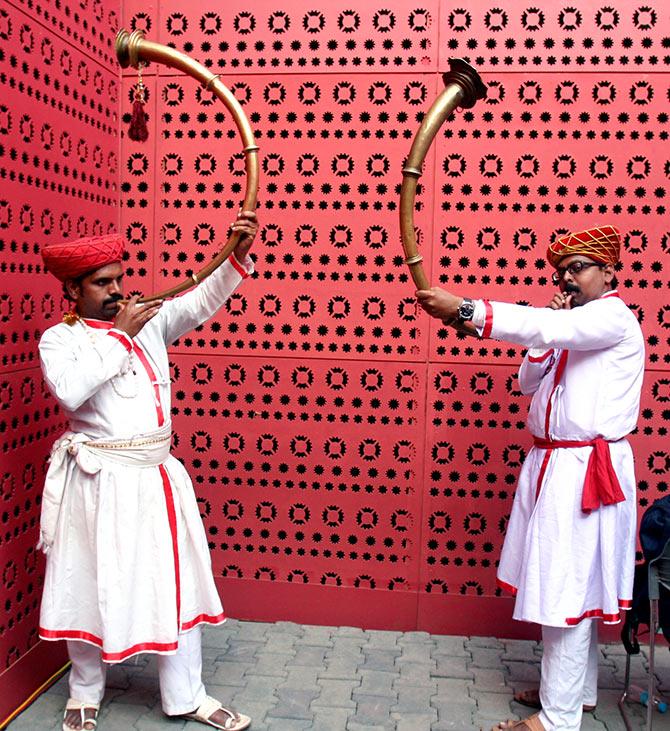 Amid all the multi-billion dollar investment announcements and flurry of MoUs at the Make In India event four artists give you a fleeting glimpse into their lives.
BEWARE! 1 in 7 Indian medicines revealed as substandard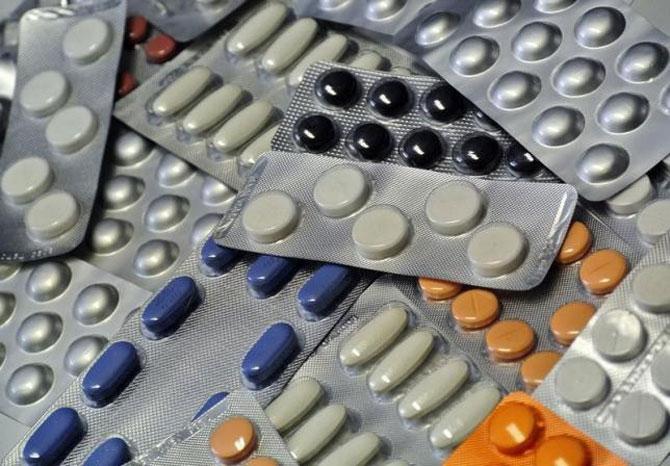 More lucrative routinely prescribed drugs are at higher risk of failing quality standards
Inside 'Magnetic Maharashtra'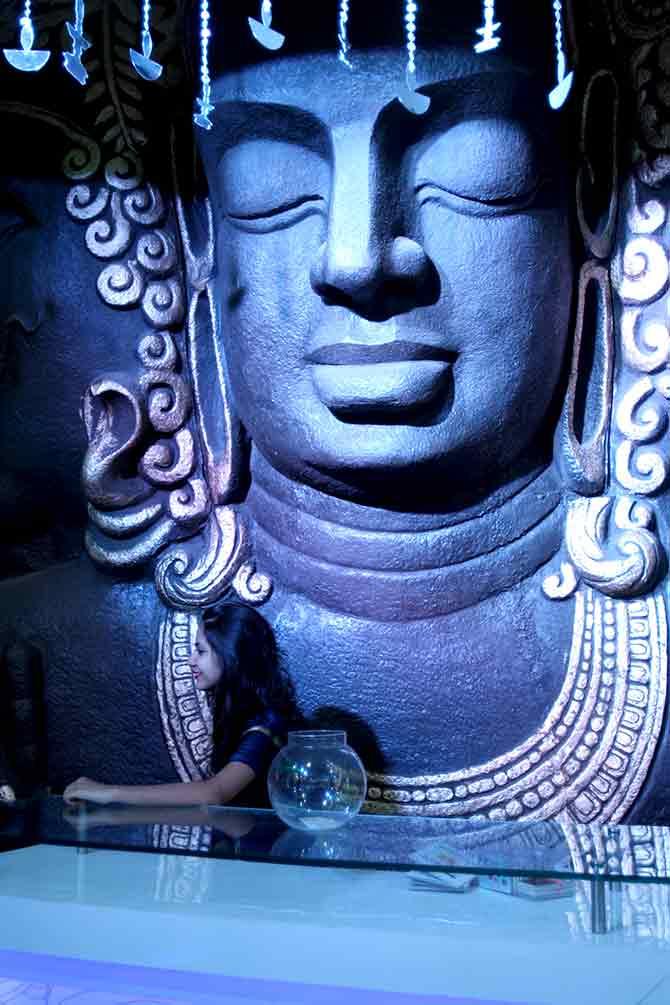 What does Maharashtra have that others don't?
February 15, 2016
'Our choices will shape the markets'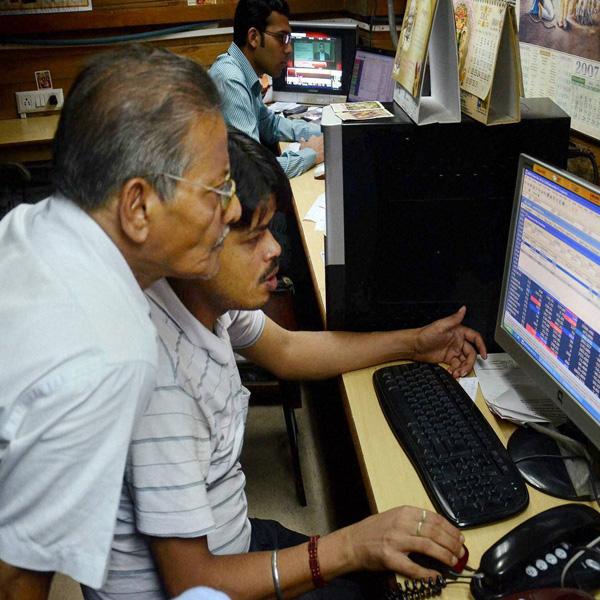 The Budget has to provide for capex on roads, railways, defence and other infrastructure sectors.
The united colours of Make In India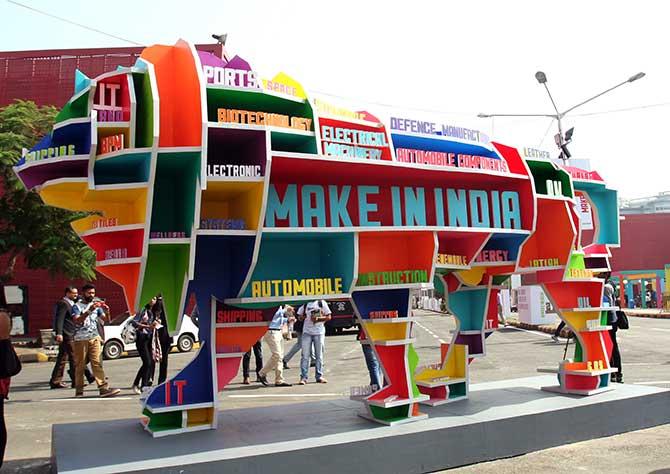 From home-made Dhanush howitzers to mine-protected vehicle to rock bands to folk dances to foreigners posing with Indian artistes to gigantic dumping trucks to families having a gala time, Rediff.com brings you all the action on Day Two of the Make In India Week.
February 14, 2016
Modi@Make In India: No time for incremental change. We want a quantum jump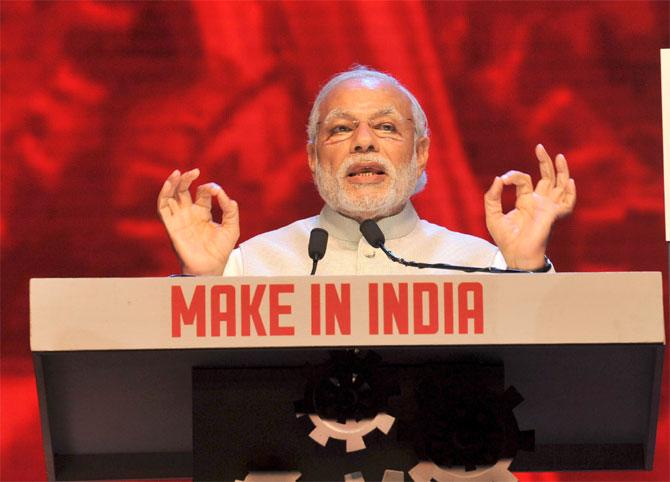 Indian Prime Minister Narendra Modi who envisioned Make In India last September was at his eloquent best as he made a fervent plea to global businesses to come Make In India.
February 11, 2016
How PM Modi can ensure the success of 'Make in India'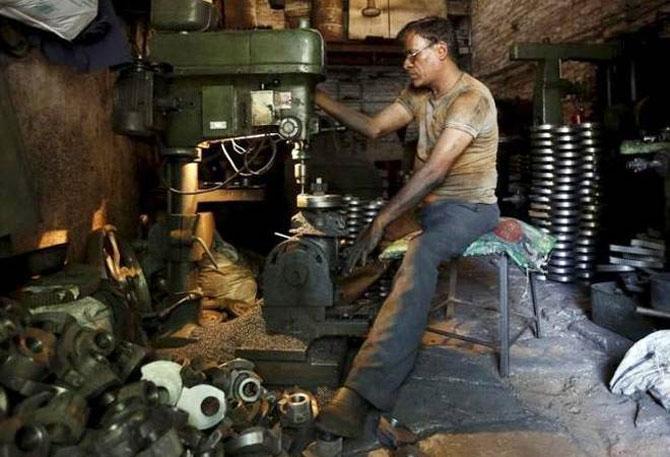 It has been clear for a while that India needs manufacturing - and it may be true that global manufacturing needs India as well. Time to strike while the iron is hot, say Rajat Dhawan, Anu Madgavkar and Sree Ramaswamy.
February 10, 2016
Now, Patanjali is giving toothache to Colgate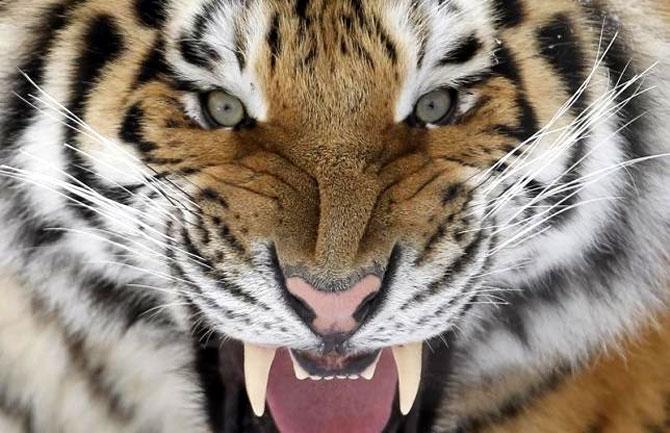 Both competitive intensity and environmental factors are contributing to the leading oral care brand's pain points
Half full, half empty: 10 years of UPA's rural job scheme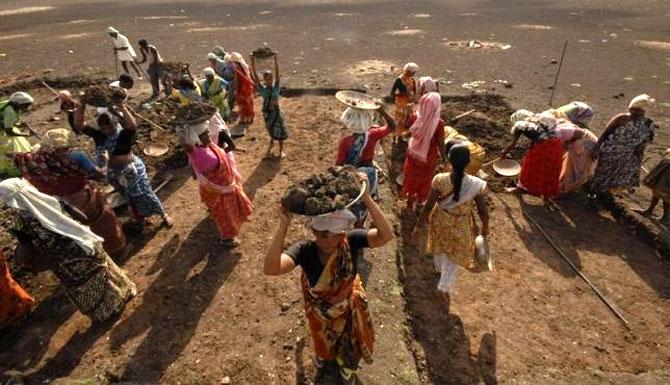 At its peak five years ago, it was a lifeline for 5.5 crore, or one in every three rural homes
February 08, 2016
PHOTOS: Welcome to India's biggest junkyard mela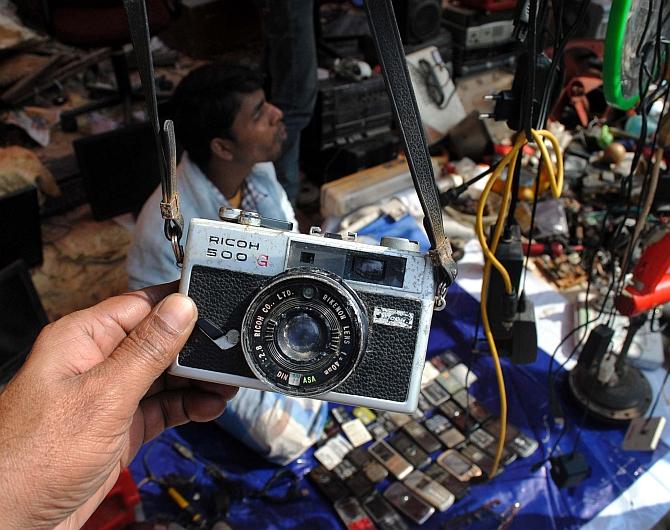 Images from the Bhanga Mela, India's only e-waste market.
February 02, 2016
Story of a Bengaluru-based company's long road to 'Make in India'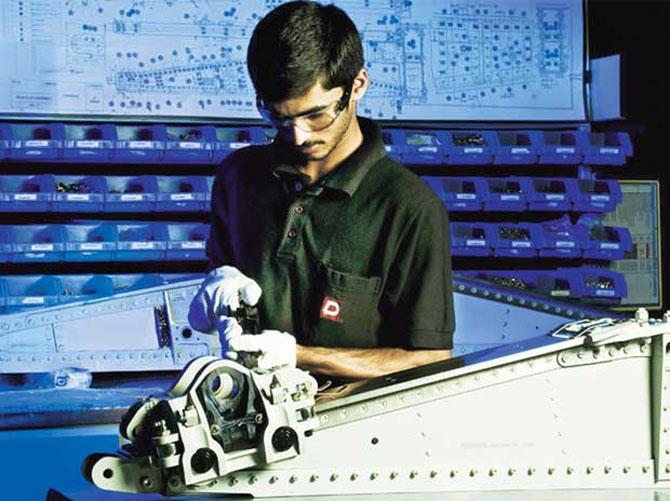 Starting as a maker of hydraulic pumps, the Bengaluru-based company graduated to components for automakers like BMW and Audi, and then Airbus and Boeing
February 01, 2016
Sahara uses small savers to keep hill resort afloat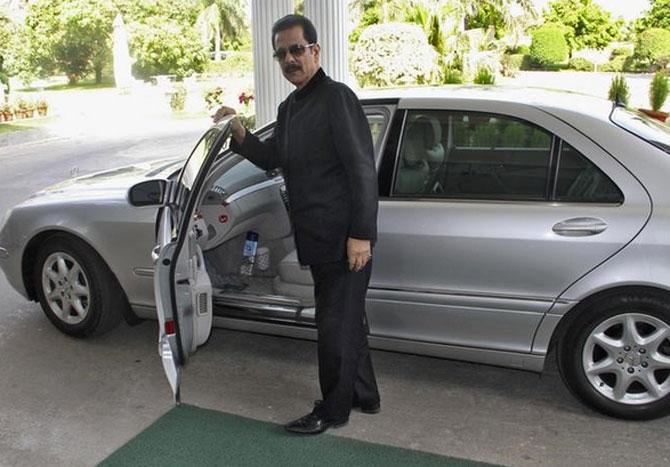 Sahara has ploughed at least Rs 1,500 crore from two of its credit cooperatives into the Aamby Valley resort project
January 30, 2016
Nandan Nilekani: GSTN, the solution to India's tax problems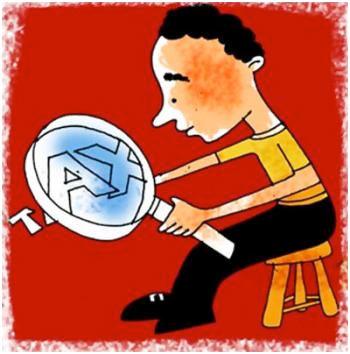 'Through the use of technology, the GSTN will tip the balance in favour of compliance rather than tax evasion, lowering the barriers for entry into the tax payment system while making it much harder to cheat on payments,' says Nandan Nilekani.
January 29, 2016
China's richest man owns 125 shopping plazas and 68 five-star hotels!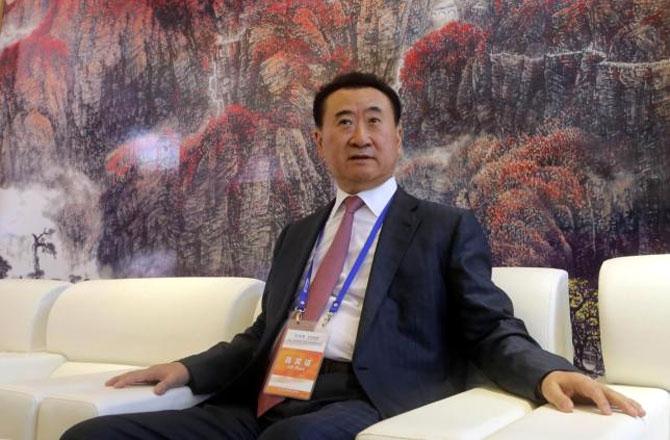 He is widely admired for maintaining an almost military like discipline and is not known to smoke or drink
January 25, 2016
Beyond the start-up hype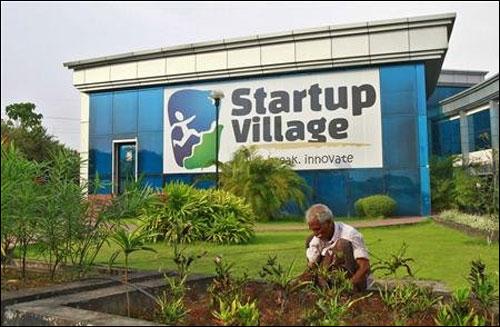 Budget 2016 may hold some answers to start-up cooncerns.
January 19, 2016
Falling oil prices may lead to regime change in Saudi, Russia
'As matters stand, Russia and Saudi Arabia, two of the world's biggest oil producers, are set for a hard landing as they didn't diversify their economies as much as they should have when the oil prices were booming.'
January 18, 2016
REVEALED! 62 people in the world have same wealth as 3.5 billion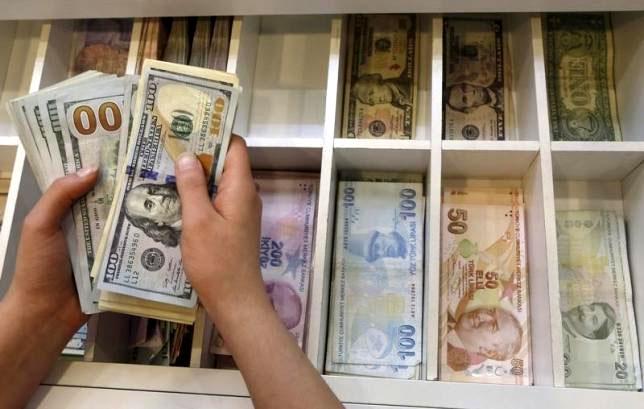 Wealth of the richest 62 people has risen 44% in the five years since 2010, while that of the bottom half fell by 41%
January 15, 2016
Disaster risks grow, as India's cities flounder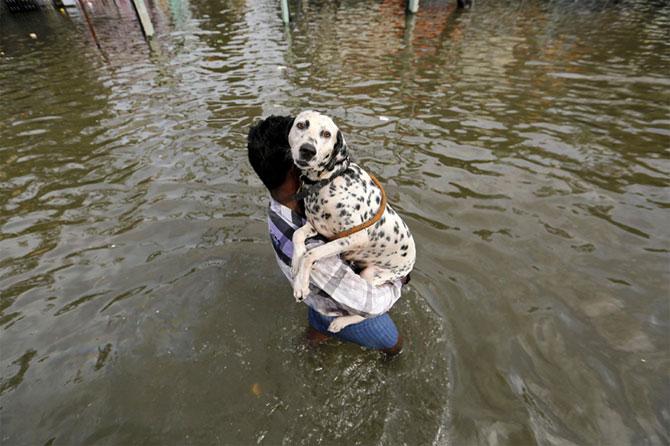 Poor land-use planning, indiscriminate approvals of building plans and the absence of disaster-risk assessment in urban design have resulted in what experts term concentrated concretization, predisposing cities to disaster risks
What the odd-even scheme achieved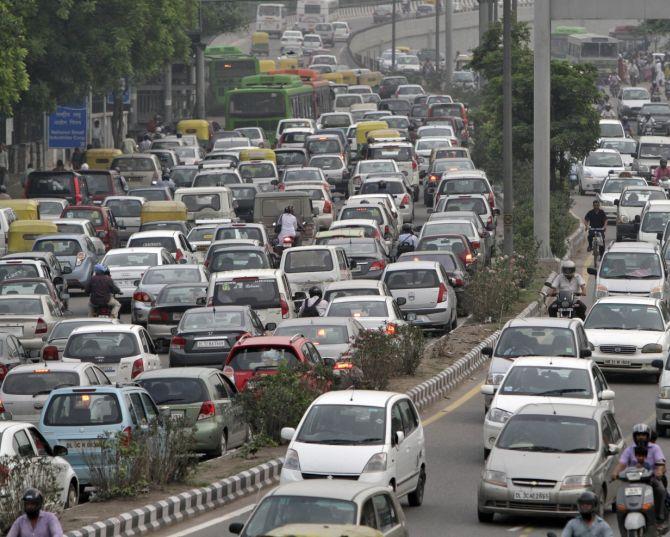 Load of particulates and nitrous oxides from cars reduced by about 40%.
How cities find new ways to travel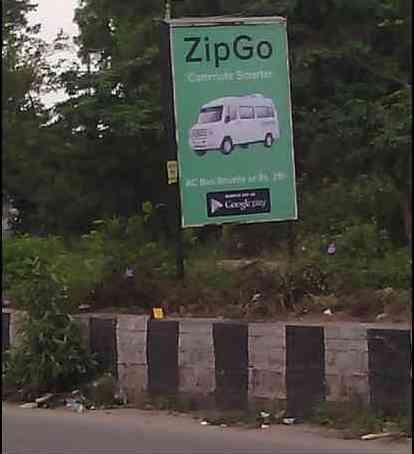 The newest concept is motorcycle taxis.
January 12, 2016
Patent delays threaten Modi's 'Make in India' dream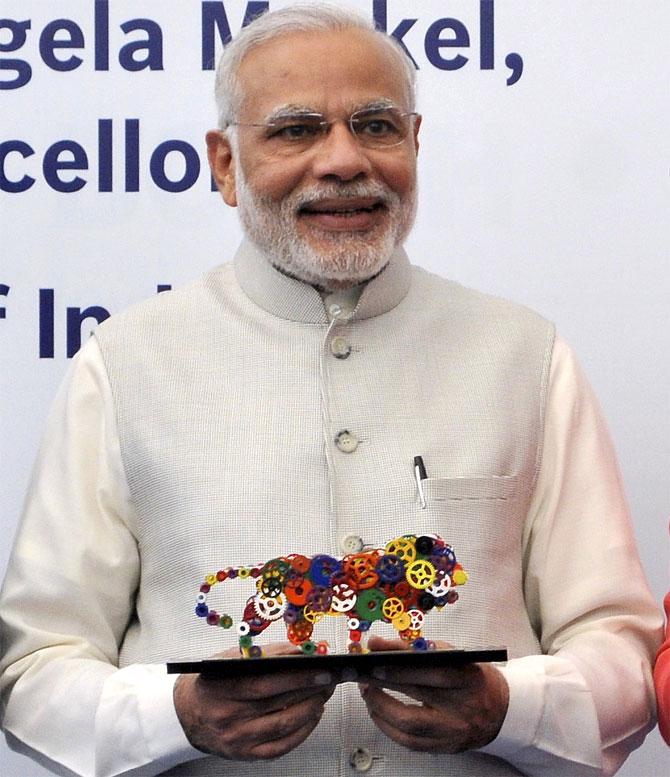 Indian companies need not just make in India, but invent in India too
January 11, 2016
Will Netflix shake up global digital content markets?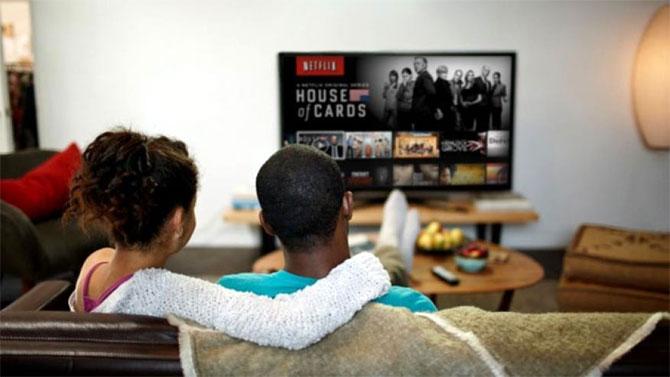 Netflix is offering a freebie of one month's free service.
January 08, 2016
4 things that could change India in 2016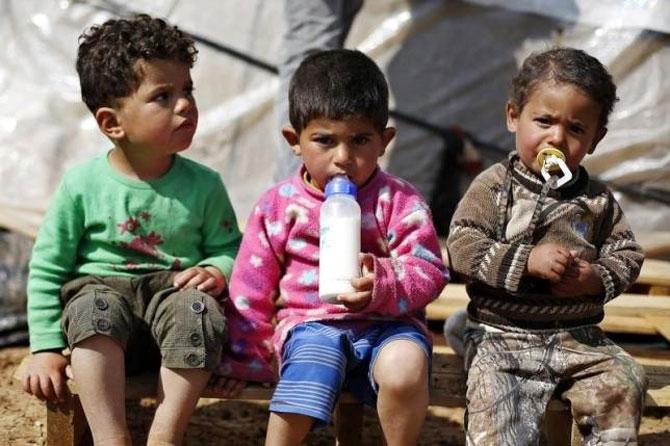 More people will be literate, on the Internet, linked to the national identification scheme and likely to receive electricity, especially from alternative-energy sources.
January 06, 2016
The corporate story of 2015: When minnows humbled the giants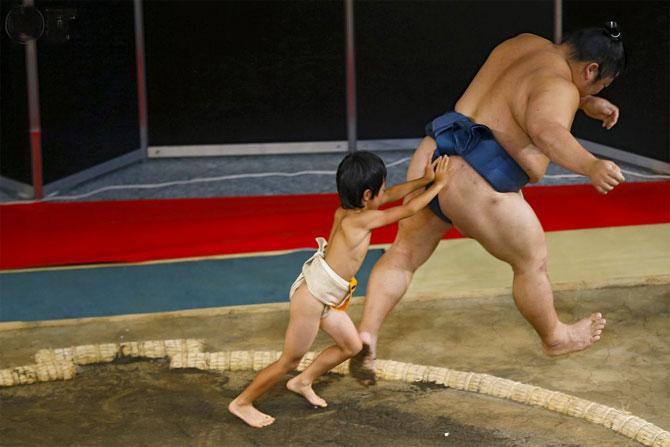 T N Ninan lists a few David-Goliath encounters in the Indian markets, all of which make life interesting, though difficult if you are an investor looking for the next multi-bagger.
January 04, 2016
What lies in store for start-ups in 2016?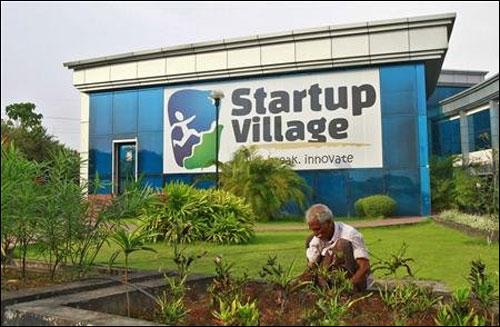 Every start-up's dream is to become a unicorn.
January 02, 2016
Intriguing tale of Pak PM Nawaz Sharif's business empire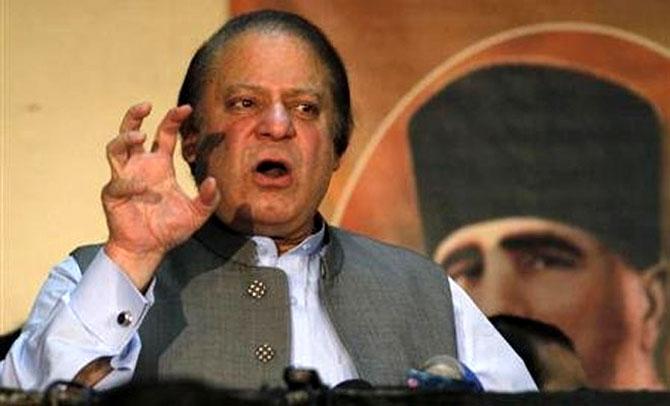 The Sharif group's website claims they are worth $300 million in business and $100 million in real estate holdings
Archives
April 2013 - December 2015
|
January - March 2013
|
September - December 2012
|
May - August 2012
|
January - April 2012
|
August - December 2011
|
January - July 2011
|
August - December 2010
|
April - July 2010
|
February -March 2010