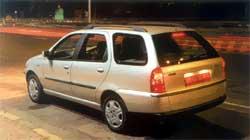 I am the sort of guy who likes to dream a lot. I am not claiming to be a visionary, what I mean is I love to fantasise. My all-time favourite fantasy involves me engaged in a dogfight. You know, the sort of stuff that Tom Cruise did in the last fifteen minutes of Top Gun.
Except that I would trade in the Tomcat for a Su27, thank you. Apart from that, winning the Isle of Man, the MotoGP and Formula 1 also make it to my list.
But at times the management bug in me starts to wiggle around a bit and that's when I see myself bringing an automobile company back from the brink. Doing a Carlos Ghosn of sorts.
Now, a turnaround is something even Fiat would love to have and while I do have a master plan for them, revealing it would not be in keeping with my values of, ahem, a responsible journalist.
Anyway, Fiat have now started to get their act back together. The General has been asked to go, Maserati now has a defined place in the stable, and with cars like the new Idea out, the Italian major seems to be getting back in the game.
And they haven't just stopped there, because things are moving in our country as well. Okay, so they aren't bringing Alfa Romeo and Maserati to our shores just yet, but they do have a new MD and a new car. Well almost.
Presenting the 'new' Adventure. It still looks good; its semi-SUVish, Audi Quattro proportions give it the sort of attitude that's not even on the options list of any car in that price range. Then, it's got the bits to spruce things up.
Matt black cladding, that bull bar with two additional Hellas, diamond plate running boards, studded Pirellis, the stuff that befits its name. You come up to the Adventure half expecting a mountain bike or a surfboard in the back.
If you're the sort of guy who wears a photographers' jacket, a pair of Oakleys on your nose and a goatee on your chin, the Adventure will fit you like a pair of Levis.
The only change on the inside is the flashy maroon trim for the seats. Apart from that, everything is still there where it used to be -- including the highly inaccurate AC switches and the aluminium pedals.
Oh, and I almost forgot, a Sport tag on the boot -- courtesy the 1596cc 100 bhp petrol engine. Yup! Instead of the tired 1.9 diesel, the same dynamite of a powerplant that powered the 1.6 Palio can now be found under the bonnet.
And if you think that's great news, listen to this. Fiat have started making the GTX again, so if you missed it the first time, here's your chance.
Now, if you are expecting the same kind of performance from the Adventure as you did from the GTX, you are going to be disappointed. But if you'd driven the earlier diesel-powered Adventure, then boy, are you in for a surprise.
The 1.6 comes as a shot in the arm, and though it's not manna from heaven for petrolheads, a 100 bhp puddle is adequate for them to play around in.
The catch is that most of it comes in at around 3500 rpm. So while it has a massive mid-range, life in the Adventure is an endless struggle between maintaining the momentum in third and pulling overtaking manoeuvres in second.
Part of the problem is also the gearing, and I really wish the ratios were stacked up closer to each other. A fact that shows up at the fuel pump as well. On a highway run, with a bunch of enthusiastic motoring journalists at the wheel, the Adventure returned a not-so-decent 10 kpl.
Once you do know how to use that mid range, that is when the Adventure can become a lot of fun. While second gear is good for 103 kph, sticking it in third will see you banging on the door of 150.
Shift to fourth, and that's where it loses all its gusto, finally topping out at 165 kph -- at which point it feels rock steady, but the wind noise that leaks into the cabin is too obtrusive.
On a straight stretch of road, the Adventure will lap up kilometres at a brisk pace without you knowing it, but what it really excels in is tackling long, fast sweepers. Something that you can enter at 140 kph, maintain a chosen line all through, come out doing 150 Ks -- and then thinking you could have gone at least 10 kph faster.
It's only when the road starts to flow like a river that the Adventure's Achilles' heel really shows up. The tyres are extremely uncomfortable in corners and they squeal like a cat that's had its foot stuck in the door without the slightest of provocation.
Body roll too is an issue with the Adventure. Maybe a different tread will improve things a bit. While they may not work that well around corners, the 80-section Pirellis certainly know a thing or two about resurfacing broken stretches.
Ride quality, which was always in C-Class territory in all of these Fiats, has just got better in the Adventure. It ignores badly paved roads as if a destroyer were crushing a sailboat's wake. You could drive this thing as if you hated it on the worst stretches of tarmac and it would survive just fine.
Also, somebody at Fiat understands that people who buy estates aren't always moving houses, and the suspension works just as well even when it's just you in the car. If you're looking for a good enough reason to buy this car, this is it.
Not convinced yet? Maybe this will help. The Adventure now wears a sticker that reads Rs 558,000 (ex-showroom Mumbai), and that's a good enough reason to take the car seriously.
Despite that, I wouldn't buy one, but then I don't even have a photographers' jacket. So would I recommend one?
You see, the thing is, I'm not so sure that the Adventure is the right kind of car that will bring Fiat out of the red. Fiat needs a bit of variation in their model range. I mean, they have three cars in their line-up and all of them have the same front ends.
Also, there are a couple of things that we, as a country, have yet to develop a taste for. One is a big powerful petrol that isn't biased towards fuel consumption, and two, an estate. Unfortunately, the new Adventure has both.