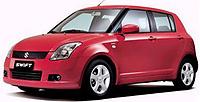 It's raining cars. Just three months after it launched Swift, Maruti Udyog Limited has already sold over 8,000 units of the car and hopes to add another 5,000 this month.
There's a four-month waiting period for the 1,298-cc hatchback -- the company claims more than 9,000 bookings before the car was launched. And that's even while competitors -- Corsa Sail, Hyundai Getz and Fiat Palio -- are available off the shelf.
Not surprisingly, MUL now has a lot riding on the car: there's over Rs 440 crore (Rs 4.40 billion) invested in the project (Rs 250 crore-odd is MUL's share). Not only is the company hoping that the Swift will help expand the market for the B-plus segment (premium hatchbacks), it's also counting on Swift to make a style statement -- that Suzuki can deliver good-looking cars on Indian roads.
For a company that has been known more for its value-for-money proposition -- from the 800 to the Esteem -- that's important. "It's not as if our cars weren't style statements. It's just that with Swift, we have made a break from the past," reveals a company official.
So, what went right? Swift's success is really due to a combination of carefully thought-out elements in its creation: the product design, marketing strategy and -- given the sensitivity of Indian buyers -- price.
When Japan's Suzuki Motor Corporation decided on a car like Swift, a team of around 50 designers and engineers spent more than six months in Europe, a booming market for the small car segment. Importantly, for the first time, 25 members of the team were Indian engineers from MUL.
The result was the Swift, which was first showcased as a concept car at the 2002 Paris Motor Show and the 2004 Auto Expo in India. Given that a concept car is a prototype made to showcase a new vehicle's styling and technology, to gauge customer reaction to new and radical ideas, the car was brought into commercial production pretty quickly.
What is special about Swift? The unconventional looks, for one. "It is a melting pot of Italian flair and French quirkiness," enthuses an auto analyst. And although the car was designed for the European markets, MUL realised that it would need to adapt it to Indian conditions.
Suitable modifications were made to the original design: the aesthetics were essentially untouched (the raised bonnet line that matches the new European pedestrian safety norms, for instance, stays), but changes were made where they were felt most critical.
The suspensions were strengthened, a suitable spruced-up Esteem engine and gearbox was brought in, tyres with extra traction were used and even the paint quality changed, keeping harsher Indian conditions in mind.
The buzz around Swift began in December 2004 -- five months before its launch. All new WagonRs and Maruti Omnis came with stickers and sunshields that proclaimed "My next car is a Swift."
Unlike most car launches, where the look of the vehicle is kept under wraps until the last possible moment, photos and specs were made available at showrooms several months earlier. Models of the car were placed on high platforms at busy intersections in Delhi; while cars were on display in malls.
"It works well for those who don't have the inclination to really go to a dealer and check out the car," says a company official.
The launch was staggered over three to four days in 15 cities across the country, coinciding with the worldwide launch of the car. MUL also made good use of its Rs 20 crore (Rs 200 million) marketing budget.
For the first time, it opted for an in-film placement -- Swift appeared in the Bollywood hit Bunty Aur Babli, which was released on the same day as the car launch, May 27. And it trained 1,000 salespeople -- called "energisers" -- to exclusively sell the Swift.
Placed at the company's 328 dealers across the country, the energisers will also be "responsible for customer relationship and after sales service," says a company spokesperson.
Perhaps the Swift's biggest plus is its price. Introduced at Rs 387,000 for the base model, it was close to about Rs 50,000 less than its competitors. Even the top-end version was Rs 70,000 cheaper than the Hyundai Getz GLS.
MUL does not want to give this pricing advantage away. Although it hiked prices by Rs 10,000 in early June, advance bookings were honoured at the introductory price. And since the car is priced at just under Rs 400,000, Delhi residents pay only 2 per cent road tax, compared to 4 per cent for a car that costs more than Rs 400,000.
But you can have too much of a good thing. MUL is now struggling with delivery problems -- the wait list sounds good on paper, but it also means that many disgruntled buyers.
As a Hyundai official put it, "Those who opt for small cars are typically first-time buyers. Do you really think they will want to wait for a quarter of a year?"
Executives claim MUL is trying to increase production from its current 5,000 cars a month. But that could almost be a little too late. Analysts say the hype could have waited until the company had produced 20,000 cars.
Swift is now keeping a low profile. It's gone slow on the buzz and has not taken out a TV campaign -- a hygiene factor in most car launches.
As the magic wears off, consumers are also listing their complaints about the car. Tacky interiors, cramped backseat and gas guzzling top the list. Maruti buyers take fuel efficiency for granted; it's a rude shock to them that the Swift's mileage is close to the Getz (BS Motoring test drives show that both cars show a 12-13 km a litre in city traffic and 14 km a litre on highway).
"With such a radical design and makeover, the consumer expects a far better everything, including fuel consumption," says auto expert Murad Ali Baig.
Analysts also feel that Swift must introduce a diesel variant, but that may be some way off since MUL has primarily sold petrol cars. That will be solved when the proposed diesel plant at Manesar comes up.
That has a planned capacity of 300,000 cars and Swift will need at least 50,000-60,000. Till then, Swift will need to live up to its name in delivering petrol cars.
No white Swift?
Studies reveal that a white car sells more than other colours. "You can never go wrong with white," says auto analyst Tutu Dhawan. At the same time, the white model of a car is usually the cheapest since white paint is the cheapest among all colours (it has no pigment).
So why did Maruti decide not to have a white Swift? "The design was so radical, we did not feel a conventional colour like white will do justice to it," explains a company spokesperson. Auto analysts agree there are certain designs that just don't accept white.
"I can't imagine the Swift with its squat, squarish lines, available in white either," says Dhawan. Instead, the car is available in two kinds of colours. Elegance colours -- gold, silver, black and azure grey; and energy colours -- orange, red, blue, green.
It could just be another first. Can you think of any other car on Indian roads that was/ is not available in white?