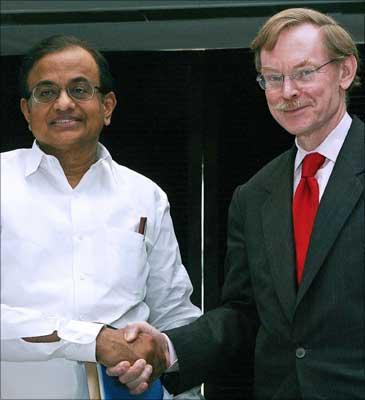 The World Bank on Friday agreed to sanction a loan of $944 million to India for strengthening rural finance system, vocational training programmes and community-based water management projects.

According to an agreement signed here, the multi-lateral agency would give 600 million dollars toward boosting rural cooperative credit projects, $280 million for supporting 400 ITIs over four years and 64 million dollars for Karnataka-based water tank management projects.

"The three projects, signed today, reflect government of India's priority in rejuvenating the rural economy," Finance Minister P Chidambaram said on the occasion.

The agreement was inked by Finance Ministry Joint Secretary Madhusudan Prasad and World Bank Country Director Isabel Guerrero. World Bank President Robert B Zoellick, who is on a three-day visit to India, was also present on the occasion. (PTI)
World Bank President Robert B Zoellick (right) shakes hands with Indian Finance Minister P Chidambaram, after the signing of agreements in New Delhi on Friday.
Photograph: Tauseef Mustafa/AFP/Getty Images