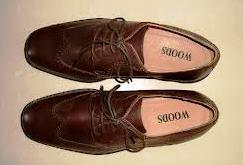 Though shoes would comprise 80 per cent of Woods' earnings, a complete apparel range would be brought in next season for urban markets.
Woodland, Aero Group's brand of shoes and now, adventure gear, is stepping up its efforts to target women as its audience.

While Woodland has shoes for both men and women, it is planning to put its eight-year old brand, Woods, to work in capturing a larger share of the women's fashion market.

Woods would be re-positioned as a luxury shoe brand, mainly for women. "The luxury market has matured in India and women are spending more money," explains Managing Director Harkirat Singh.

Woodland has started with exclusive stores for Woods, three of which have opened in Delhi and one each in Mumbai and Pune.

"The plan is to add 12 Woods stores next fiscal.

"It would cost over a crore to put up each shop," says Singh, adding that the slowdown has taken a toll on the expansion plans.

Woods was initially unveiled as a premium shoe brand with a British lineage for both men and women.

However, it performed below expectation. It contributes around 20 per cent to the topline.

As women start buying more shoes for themselves than men, a trend that was common in internationational markets but hitherto absent in India, Woods is being repositioned to ride the change.

The branded footwear market in India is over Rs 30,000 crore and even though the luxury segment has less than 5 per cent share, the growth is high.

"This would be 10 per cent of the total branded footwear market in a couple of years," says Singh.

According to him, Woods would be contributing about 30 per cent to the net sales of the company by then.

To make the most of the existing network, shop in shops have been created inside Woodland stores. There are about 420 Woodland stores in the country.

While Woodland shoes are in the range of Rs 2,500-3,000, Woods would range from Rs 5,000 to 12,000.

It would compete, in terms of price, with Bata's Hush Puppies.

Singh says that a complete apparel range would be brought in next season, though shoes would still drive 80 per cent of the brand's earnings.

Woodland gets 65 per cent of its revenue from Tier-I cities, while tier-II and -III cities bring in about 35 per cent.