Women have finally managed to break the glass ceiling at workplaces.
Women have come a long way in taking their place on an equal footing with men at their office.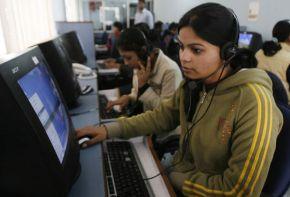 And, it will be no exaggeration to say that today gender disparity is on a decline in most offices.
Be it a corporate house or a public sector company, human resource heads are keen to hire more women not only at fresher level but also in managerial roles.
So, what qualities of a woman impresses the recruiter.
Atul Sharma, chief people's officer at Adfactors PR says, "Be it mentoring juniors, ironing out differences between colleagues or even clinching a deal with clients, women can do it far better than men because of their inherent quality of being emphatic toward multiple situations."
This is the reason, over 50 per cent of his total workforce of 450 employees are women and the number is rising sharply.
Most companies believe, women never compromise on quality and are also strong decision-makers. There are quite a few advantages of hiring women employees, says Lona Nayak, chief executive officer at Vedanta Foundation.
She lists out few characteristics that have over the years prompted her to hire women in organisations she has earlier worked for.
*Women are team players who listen carefully and are patient enough to understand most difficult state of affairs. This enables them to come out with most suitable solutions.
*Their inborn quality of caring for others lends a balanced approach to the overall working environment in an office.
* They can be trusted for efficiently working on simultaneous projects.
Professionals from job portals say, times have changed. Sectors like banking and finance and IT are on the prowl to hire women for leadership roles.
Their discussion with clients suggests that companies are confident about multi-tasking capabilities of women.
Hansa Sachdeva, chief marketing officer at HeadHonchos.com says that women are certainly taking up senior roles in companies. "Today, more women are hired in managerial roles as it makes business sense for companies to hire them."
A senior human resource consultant who did not wished to be named said that the day is not far when companies will make it mandatory for HR professionals to hire 50 per cent women in their workforce.
To Send Your Women's Day Postcard, Click Here!