Following Sunday's verdict in favour of BJP, the markets soared, and this has brought a smile on many faces.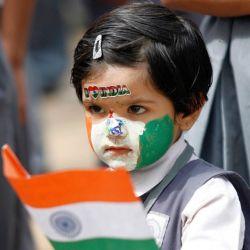 Member of Parliament Rajeev Chandrasekhar feels that the economy today is bankrupt due to big spending towards social welfare programmes such as NREGA etc.

Chandrasekhar tells Rediff.com that free spending by governments is not sustainable and the future governments will have to be more fiscally responsible.

The poll results on Sunday are a part of the euphoria, which is a fact that will bring about a slow but determined transformation in the country.

The current economic model is flawed, as it focuses on big funding and soaps with little or no focus on outcome or objectives.

The fundamental structure of spending needs a change. Government cannot afford to feed money into leaky systems and the fundamental structure of the spending has to change.

In the year 2014, there is a need for a radical change. "Looking
at the manner in which things are now, I would say that the need of the hour is for a big change. The model of big spending especially needs to undergo a radical change. For this there is a need to review the Budget Management Act of 2000 as well," said Chandrasekhar.
In the year 2014, we will get to see many changes. There will be plenty of legislative actions as well, which is a good sign. The current election results will also set in a sense of fiscal responsibility.
There has been a flawed economic vision and it is disturbing to see that there has not been any real policy innovation.
The over dependence foreign investors in stock markets has turned our economy into a massive betting parlour, and there have been no structural reforms. Due to this, the rupee dell and economy slowed.
The need of the hour is to restore credibility of the government institutions, which can be done with a new architecture and prudent economic vision.
Firstly we need to reaffirm the commitment to fiscal accountability and this can be done by reinstating the intent of Fiscal Responsibility and Budget Management (FRBM) initiative of 2003.