Jobs and job creation are going to be the US' priority over the next year, not protectionism against outsourcing, says Bob Mcdonnell, Governor of the state of Virginia.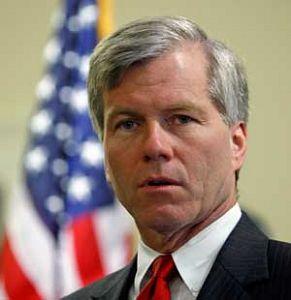 Visiting India, China and Israel with a business delegation to lure investments to the American state, he said his priority was to create more job opportunities.

The US is undergoing huge turmoil, with rising debt and high unemployment. How will this visit help you to address some of these?

My top priority as the governor of Virginia is to strengthen our economy and create more jobs. Like many other states, we also have a lot of unemployed people. I want to create a climate in Virginia where the private sector can grow and thrive.

This can happen if we manage to attract more businesses. Last year, I asked our legislatures to give me money to open up trade offices in the United Kingdom, China and India.

We are very excited that leaders are on the ground to attract foreign direct investment (FDI) into Virginia and also to expand the market for Virginian companies in India.

What businesses would you like to invite from India?

Any businesses that can bring jobs into Virginia. Our focus is more on technology, life sciences, manufacturing and communication.

We have the second highest number of technology workers, next only to California. We are strong in fields such as communication, high tech and information technology (IT), and our visit to Bangalore is to attract businesses from these sectors.

We are talking to companies such as QuEST, Essar, Infosys, Wipro and Mahindra, who already have some kinds of operations in Virginia.

Indian IT services companies are dubbed job killers in the US. Won't your effort to lure more companies face roadblocks at home?

Some of the problems were due to America's own fault. Our corporate taxes are too high. We had some economic policies that don't help American businesses to stay in America, especially in the service industry.

All these are forcing our companies to go off-shore and that is what many have done over the past 15
years or so.
Then, there is a wage difference between India and the US, and there is an exchange rate difference. 
When you invite Indian IT services companies to Virginia, there is a possibility of more works to be outsourced?


One of the few things we understand from our meetings with Indian firms is they are more interested in opening local delivery centres in America.
Most of them want a balance between having a local presence in the US and having a global delivery model back in India.
When they open more centres in the US, this would help create more jobs in the country.
Do you have any law prohibiting outsourcing or is there anything on the anvil?


Outsourcing had always been controversial. We don't have a law which encourages or prohibits outsourcing.
Private sector companies decide whether they want to go offshore or not. I believe in free and fare trade.
We are not promoting any particular protectionist policy. We have 25 million Americans who don't have a job. There is a general consensus that Americans would like to do as much as they can to create jobs.
You visited China before coming to India. What is your opinion about the opportunities in these markets?


Both are emerging nations with credibly bright industries. People are very good in technology areas.
China has issues like currency, human rights and intellectual property protection. While, India being a democracy, I believe things can be done here in a much quicker way. However, both China and India offer immense opportunity for the US.
Do you think there will be any trade regulation from the US on outsourcing?


I don't think anything is going to happen in the next year. We are concerned about the debt, deficit and jobs.
All the legislation going to get introduced in the next one year are going to focus on improving American jobs, dealing with spending, entitlements and debt.
Image: Bob Mcdonnell, Governor of the state of Virginia