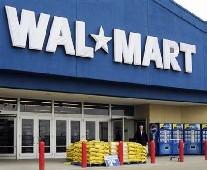 Hours before the afternoon round-table with top international and domestic retailers to clarify policy guidelines, commerce and industry minister Anand Sharma had a one-on-one with Scott Price, Walmart Asia chief executive, who's in news for announcing leadership changes in the company.

Price called a hurried meeting on Wednesday to name Ramnik Narsey as the new Walmart India head, replacing Raj Jain, who was with the company for seven years.

Price is learnt to have conveyed to Sharma that Walmart remained committed to the India market.

"It's a part of the fire-fighting exercise that Walmart has undertaken," a source said, explaining the reason for the meeting.

The company is taking all steps to tell the government that it is pro-actively acting against the allegations of corruption and wrong-doing, it is believed.

Price, who returned to the Gurgaon office of Walmart after meeting Sharma, had said in a statement on Wednesday: "We are optimistic about our business in India. . ."

At the afternoon round-table, the new
India head Narsey represented Walmart.
Even as the Bentonville-based Walmart has not made an India proposal yet, it is expected to be among the first to apply.
For the largest retailer of the world, the India market holds much promise that it cannot ignore, especially in the backdrop of the western economies facing a downturn, an industry expert said.
For the past several years, Walmart has been waiting to enter India, but the curb on foreign investment in the multi-brand sector did not permit it to set up shops in the country. In its disclosures to the US Senate, the company said it had been lobbying for gaining wider access to select markets, including India.
This disclosure resulted in the opposition parties in India demanding an inquiry into the lobbying activities of Walmart, following which a one-man committee headed by retired justice Mukul Mudgal was set up.
The panel has now submitted its report, but the findings are not known yet.
Government sources indicated Walmart may find it tough to enter the India market with its retail stores before it clears its name, now stuck in several messy probes.
Price's meeting with Sharma on Thursday may well have been a step towards that.