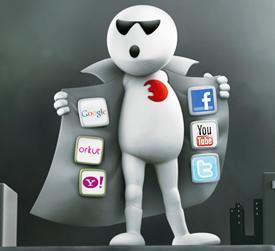 With Vodafone's Mobile Internet, you can stay connected anywhere on the go, with an array of Vodafone 2G and 3G mobile internet plans.
"Watch India play at Worli Sea Face" or "Leave the rat race and start a bike race"- are some of the catchy one-liners that are part of Vodafone's innovative multi-media Mobile Internet campaign which is set to capture every nook and corner of Mumbai this month.

The high intensity campaign will showcase a range of mobile applications that are stimulating and interesting, enabling the user to do much more with his smartphone and have unlimited Fun with Vodafone Mobile Internet.
With the choicest offers available at a wide price range, Vodafone's plans are affordable and offer high speed 2G and 3G data solutions to suit user requirements.

Going by current mobile usage patterns, the average mobile user primarily uses mobile internet to browse functional websites, surf social networking sites and check emails. Vodafone's latest campaign shifts gear from traditional internet usage and is focused at making the internet a source of fun and convenience.
The campaign relates near to life situations with popular mobile applications ranging from videos, music, social networking, games, to health, jobs, news, and finance and showcases how these user-friendly apps can make life easy and comfortable for the user at just one click.