Vodafone India in association with BIG Cinemas has launched a unique initiative to make its customers feel special. From August 12 to August 26, 2012, any Vodafone customer, who goes to see a movie in BIG Cinemas at Ahmedabad, Rajkot, Jamnagar, Palanpur , Patan and Vapi, will get a Birthday surprise that will be a true delight!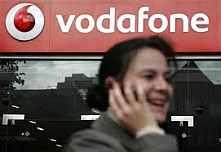 As part of this initiative, Vodafone customers visiting BIG Cinemas screens on his/ her birthday, will get a free ticket to watch the movie and a greeting card by Vodafone!

That's not all, as soon as the movie breaks into intermission, Vodafone will put up a slide on the screen with the Vodafone customer's name, while playing the birthday jingle in the background.

Additionally, select BIG Cinemas in Ahmedabad will present the Vodafone birthday
customer with a birthday cake. The Vodafone BIG 'Birthday Surprise' initiative is a part of the ongoing 'Vodafone Delights' programme that seeks to bring multiple simple, meaningful joys to the life of every customer, throughout the year.
This campaign will be implemented across 41 cities, 55 multiplexes and 162 screens. The Vodafone BIG Birthday Surprise is expected to reach approximately 60,000 cinema viewers each day.
Brajesh Bajpai, business head, Vodafone Gujarat said, "At Vodafone making every customer feel special is second nature. It is one of the key factors driving every thing we do. Birthdays are special to all and we wanted to contribute to the celebratory moments with a generous dose of 'feel special' elements, without being intrusive. We are happy that BIG Cinemas has partnered with us to make birthdays extra beautiful for Vodafone customers."