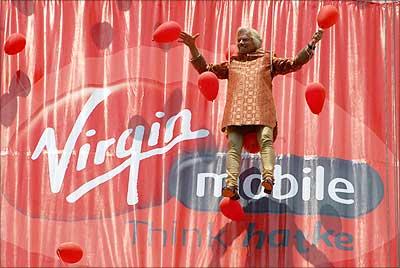 The UK-based Virgin Group, owned by British billionaire Richard Branson, has launched its telecom brand -- Virgin Mobile -- in India under a franchisee agreement with CDMA major Tata Teleservices.
The company is also bringing in a regime of 'getting paid for receiving calls,' while offering local calls at 50 paise per minute.
Virgin Mobile is targeting the youth, aged between 15 and 30 years, estimated to be around 400 million, which is almost six times the size of that in the US. The usage of this sector is also high with urban youths' mobile usage standing at around 360 million minutes compared with the industry average of 160 million minutes, while their SMS usage is four times more than the industry average," Branson told reporters in Mumbai.
The company plans to rope in over 5 million customers in three years and is hopeful of a breakeven during the period, Branson said.
TTSL will sell the Virgin Mobile brand and its services in the country and will pay a royalty for every customer it gets. The CDMA major will launch the services initially across 50 cities (in 17 circles) and will cover over 1,000 cities by the end of the year.
This is Virgin Group's seventh launch after Australia, Canada, France, the UK, the US and South Africa, and the investment would be the largest in the country. Branson, however, did not divulge the financial details of the partnership with TTSL.
The launch has already created 250 jobs that would increase depending on the growth of the company in India.
Branson also performed a sky-walk stunt, on an elevator that plunged down 20 floors along the façade of The Hilton in South Mumbai.
Virgin Mobile India Deputy CEO Jamie Heywood said that the company was introducing many new features. The company is launching outgoing calls to any network at 50 paise a minute and users will get a credit of 10 paise for every incoming call that's more than a minute long.
The company has launched six handsets, including dual screen phones and bolt-on schemes at competitive rates.
For Virgin Group, this is the third venture in the country. The group holds a minority stake in FM radio operator Fever and a partnership deal for its publishing venture Virgin Comics.
Commenting on reports that Virgin and TTSL are planning to launch mobile virtual network operator services, TTSL Managing Director Anil Sardana said these were 'unfounded'.
"The present law does not permit launching of MVNO services in India, but we would look at this in future, in case the law permits it," he said.

Sir Richard Branson, chairman and founder of the Virgin Group, is hoisted above a banner during the launch of the Virgin mobile services in Mumbai March 2, 2008
Photograph: Sajjad Hussain/AFP/Getty Images
Powered by