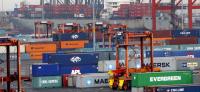 The United States has agreed to negotiate a deal with India to allow import of consignments with little or no inspection from mutually authorised traders.
Although bilateral trade with the US is less than eight per cent of India's total trade basket, a pact with the world's largest economy may help India enter into similar deals with other countries, facilitating hassle-free global movement of goods by our traders.
The Mutual Recognition Agreement with the US is expected to be signed in the next 18-24 months.
The issue is understood to have come up in discussions during the recent visits of US secretary of homeland security, Janet Napolitano, and secretary of state Hillary Clinton.
Finance ministry officials told Business Standard some other countries such as Japan and South Korea had also shown interest in an MRA with India. Japan and South Korea account for 2.2 per cent and 2.6 per cent of India's total trade, respectively.
At present, every cargo of Indian firms is fully scanned by the US for security clearance.
This often leads to delay in delivery.
Under the MRA, the US will trust India's Authorised Economic Operators and clear their consignments without any inspection. For operators, it may lower transportation cost.
"The US will recognise our security standards. It will give preferential treatment to our goods. In most cases, cargo will be cleared with no questions asked," said the official.
To facilitate MRA, the finance ministry has announced an AEO scheme. It is planning to start with three exporters next month and the scheme is likely to be operational from April 2012.
Businesses meeting international security and safety standards will be given AEO status.
To be eligible, one would require a sound record and a good accounting system, be financially solvent and must have completely secure business activities.
The trader must ensure the information provided about the contents of containers is fully accurate.
The US is already running an AEO programme under the name of Customs-Trade Partnership against Terrorism.
It has signed MRAs with Japan, New Zealand, Canada and Jordan.