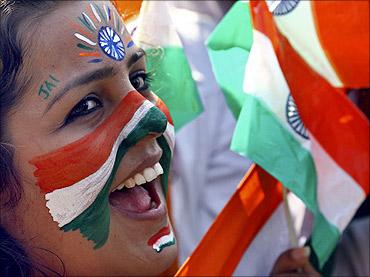 The Indian government headed by Prime Minister Manmohan Singh, who is known as the architect of the country's liberalisation and economic reforms, is inching towards a "protectionist" regime, top American experts have told US lawmakers.
With India heading for a general election in less than a year, these experts representing various industry and advocacy groups, also told the top American lawmakers that they should not expect any reversal of trend in India till the formation of the new government after the elections.
"What we're seeing in India today is a reversal of course," Linda Dempsey, from the National Association of Manufacturers, told lawmakers during a Congressional hearing last week.
"From the liberalisation, they were inching along and it is a broad policy across a bunch of different sectors, intellectual property as the key piece of it, localisation is another piece. But it is a move to shut their economy, to try to grow their economy at the expense of ours in the United States and other foreign countries," Dempsey said.
Echoing Dempsey, Mark Elliot, executive vice president of the Global Intellectual Property Center, US Chamber of Commerce, said the real world seems to suggest that India is heading in the wrong direction.
"You can't escape the political dynamic that's currently going on in India. You have a country that is within one year of elections at the national level, and elections that are considered to be very tight," said John Smirnow, vice president in the Trade, Competitiveness in the Solar Energy Industry Association.
"The trend is more in the direction of protectionism while there is certainly a bit of a discussion of sorts that's going on internally with the Indian government," he said.
"I think what raises the level of concern is that currently, heading the government was the architect of the opening of the government of India. The Prime Minister was saying when he ran the finance ministry in 1991, essentially, opened the doors not just for the overall economy but for the IT industry," Smirnow said.
"So when you have someone of that stature who has a free market background while yet various departments and agencies are pursuing protectionist measures that gives a lot of us here a pause for concern," he added.
Roy Waldron, Chief Intellectual Property Officer with Pfizer, said for the pharmaceutical sector the trend is most definitely towards a protectionist regime. "In fact, when the Patent Law was implemented in 2005, there were explicit statements about protecting and designing the law to protect local interests and the ability for those companies to maintain their export market. So there definitely is a conservative policy and even looking at the Supreme Court decision on the Glivec decision that's clearly within there that the protection of export markets is intended," he said.