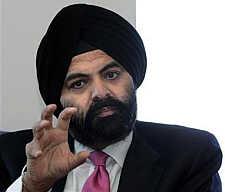 A top executive of a US-India trade body has urged President Barack Obama to address America Inc's increasing worries over trade and investment in India.

Ajay Banga, Chairman of US-India Business Council and President and CEO of MasterCard Worldwide, has written to Obama, with a copy of the letter to US Secretary of State John Kerry, urging them to raise the issue with Indian Prime Minister Dr Manmohan Singh when they meet him next month.

In his letter, provided exclusively to rediff.com, Banga has written to Obama: "We hope that in the upcoming meetings with your Indian counterparts you and your administration will drive home the importance of addressing the key Indian practices at issue and assure them that this country is prepared to be India's full partner provided that India does its share. We know that addressing such a demanding agenda will be tough," he said, adding, "We ask for attention to these issues because they are timely and important to India's pursuit of growth and to US interests."

Deputy Secretary of State William Burns, who visited New Delhi in advance of the US-India Strategic Dialogue scheduled for next month in the Indian capital, had delivered a letter from Obama to Dr Singh inviting him to visit Washington next month. The New Delhi meeting will be co-chaired by Kerry and India's External Affairs Minister Salman Khursheed.

"In June, the prime minister of India and senior figures in his foreign affairs and national security teams will meet you and your administration in this country and in India. We, the 350 corporations that comprise the US-India Business Council, welcome these meetings and believe they offer a timely and excellent opportunity to reinforce the US-India relationship, a cause to which you and your predecessors have devoted so much effort and which represents a strategic achievement of the first order for the United States.

"Your meetings come at a time when US business is facing a series of significant challenges in its ability to enter and compete in Indian markets," he wrote, and added, "The sessions, which will take place with India's leadership, come at an important time in the political calendar," Banga said.

"India will proceed to general elections in the next year. Much needs to be done before that date to strengthen the relationship, especially the economic and commercial aspects of it. Similarly, much has to occur for India and the United States to be ready to deal with South Asia's many challenges, especially those which will follow in the wake of America's draw-down in Afghanistan," he said, adding that as much as "cooperation in the struggle with terror, events in Pakistan and the evolution of India's and our relations with Myanmar and China require close attention."

Banga acknowledged that "economic ties between the US and India have come a long way over the past two decades. Two-way trade in goods and services has boomed, reaching $100 billion a year; defence trade alone in just this last decade now exceeds $10 billion, with much more to follow; investment by American companies in India and Indian corporations in America now exceeds $50 billion.

"Conservatively, we at USIBC estimate a half million American jobs depend on our new levels of trade and investment with India, and these developments are only curtain raisers. While Indian progress has slowed over the past two years, the prospects for renewed growth in the years ahead are extremely positive. An Indian middle-class, now surpassing 300 million with a purchasing power of greater than $30,000/year per person, represents a huge market opportunity for American exporters and investors," Banga said.

Warning shot

But he warned: "We will not achieve this promise unless India resumes its growth, restores momentum to its economic reform programmes and corrects serious flaws in regulation and policy which damage the prospects of India and foreign corporations alike."

Thus, Banga urged Obama, that he and his "representatives lay before our Indian friends an agenda of key changes in Indian policy which, if undertaken, will go a long way towards improving the business climate and restoring confidence in the Indian economy.

"This agenda should include a hard look at Indian tax policy, aspects of which haunt investors. It should also address intellectual property policy, especially as it affects the pharmaceutical industry. It must treat the serious challenge to American electronics and IT service firms and manufacturers from India's new preferential market access policy which, bluntly stated, discriminates against foreign competition," he said.

"Finally, the agenda ought to include India's passage of critically needed legislation which will attract capital to India by opening sectors like insurance to greater foreign investment. India's archaic laws in the field of land acquisition require legislative redress," added Banga.

Fresh interest

He predicted that "resolving issues relating to the retail opening will inspire fresh interest in India and spur investment in India's rural agricultural sector."

Banga said: "India's government has still to create conditions which will permit US investors in the nuclear industry to enter India's market. Finally, no businessperson, Indian or American, would question India's need for massive investments in its infrastructure. On our side, we should recognize that Indian investment in the US, now at $11 billion and growing, is a force for the good, creating thousands of American jobs and facilitating technology transfer.

"As our economy returns to full strength, it will be spurred by innovative applications of information technology, he said, and explained, "The United States will not be able to meet demand for information technology and software solutions without support from temporary additions to our skilled work force."

Significant exporter

Banga pointed out that "India is a significant exporter of this talent. As immigration reform is pursued, it is in our interests to not only open doors to larger numbers of skilled personnel, but to be certain immigration reform does not discriminate against our friends in India and limit American companies' choice as to where they source the support needed by them in the field of IT. It would be wrong to impose conditions on the recruitment and deployment of such tech-savvy workers which current drafts of legislation foresee."

"The United States must stand for principles of free trade - including the free movement of technical professionals - if we are to compete internationally, including in India," and warned, "Erecting new barriers to the flow of ideas and people and goods is bad for the US. While acting on this principle ourselves, it is important to underscore with our Indian friends the advantages which accrue to India from the expansion of world markets through trade liberalisation in all fields, especially in services and agriculture. The US and India have accomplished much in recent years, but we need a strong push to restore confidence that India is investment- and trade-friendly and open to a collaborative economic relationship with the United States," he said.

"It goes without saying our US-India Business Council stands ready to work with you and your administration to round-out the much needed economic agenda and prepare our representatives for their talks with India's authorities," Banga wrote in conclusion while expressing gratitude to Obama for his leadership.