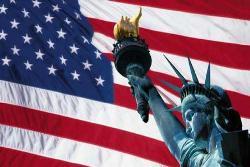 Overall economic activity in the US improved in recent months but certain districts witnessed slowdown, according to the Federal Reserve.
The apex bank also noted that manufacturing activities slowed down in certain parts of the country.
These comments are part of the Federal Reserve's latest Beige Book, which provides a snapshot of economic activities in 12 states, for which data was collected on or before July 19.
Noting that economic conditions continued to improve in recent months, the central bank said that two districts Atlanta and Chicago saw slowdown in economic activity.
"Manufacturing activity continued to expand in most districts, although several districts reported activity had slowed or levelled off during the reporting period," it added.
Even though the American economy is growing at a healthy pace in last few quarters, high unemployment levels remain a major concern.
The jobless rate stood at 9.5 per cent in June.
According to the Beige Book, labour market situation has seen gradual improvement in several districts, especially higher demand for temporary hiring.
"Commercial and industrial real estate markets continued to struggle in all twelve districts. . .The outlook for commercial and industrial real estate across the districts ranged from further declines in activity to slow growth," the Beige Book noted.