The unprecedented move of US being stripped off its top-notch credit rating has opened a pandora's box with questions being raised over the 'credibility and integrity' of rating agencies.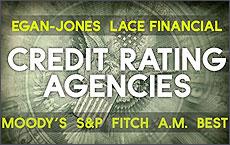 While India had expressed doubts more than two years ago over the rationale adopted by rating agencies in downgrade actions, the dissenting voices have become louder now, including from the US and several European countries.

Stung by its first ever rating downgrade, the US has unleashed a no-holds-barred attack on Standard and Poor's, while legendary investor Warren Buffett has went on to say that the downgrade did not make any sense at all.

Incidentally, Buffett is a major shareholder in S&P's rival rating agency Moody's, which continues to maintain a 'AAA' rating on the US.

Reacting to Standard and Poor's decision to downgrade the long-term sovereign credit rating from the top-notch 'AAA' level, to a notch lower at 'AA+', the US administration went on to question the credibility and integrity of S&P.

The rating agency, however, justified its action and has said that the angry reaction from the US was on expected lines from any country or company being downgraded.

Terming the S&P's analysis as flawed, the US has also accused S&P
of first arriving at a conclusion and then fitting in the required logic to support its downgrade action.
Rallying behind the US, France has also said that the rating agency should be asked why it took a decision based on non-consensual figures.
Earlier in May, Italy had dismissed S&P's downgrade of the country's credit rating outlook to negative on concerns related to political impasse over efforts to lower debts.
The European Union also questioned the S&P decision to downgrade Greece's rating in March and its top officials said that they did not agree with the rating agency's views.
The EU officials had also expressed concerns over the way credit rating agencies functioned.
Here in India, the Finance Ministry and Prime Minister's Economic Advisory Council (PMEAC) had raised questions way back in early 2009 over S&P's move to downgrade outlook of India's long-term credit rating due to rising fiscal deficit.
The PMEAC had said at that time that the rating agency's action was not warranted at a time when Indian economy was growing despite many other economies going into recession.
Prior to that, the Finance ministry had also asked S&P to explain the rationale behind downgrading the outlook, while pointing out that outlook for other nations with rising fiscal deficit were left unchanged.