The United States on Thursday expressed serious concerns over Chinese trade policies, including the country's implementation of its World Trade Organisation commitments, measures that limit market access, and steps that favour its domestic companies over others.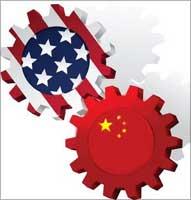 "It has been nearly a decade since China joined the WTO, and is high time for China to follow through on past commitments as well as provide market access in key sectors.
Failing to do so imperils not just bilateral ties, but also the success of multilateral trade talks," said Deputy United States Trade Representative Demetrios Marantis.
The US has serious concerns over Chinese policies that limit market access or -- otherwise -- skew the United States' trading relationship with the country, he said in a speech.
"Trade-distorting measures, including export quotas and value-added tax rebates, impede market forces. Chinese subsidies across a wide range of favoured sectors harm US manufacturers and workers, and through their effects impede or displace US exports to China and third country markets," he said.
"Proliferating industrial policies set unique technology standards to favour Chinese producers, 'buy China' policies cut off access to procurement markets and arbitrary measures restrict investment flows," Marantis said.
China severely limits opportunities for US companies in its telecommunications sector, hampers access for insurance and private pension suppliers, and its new 'postal law' excludes foreign express delivery companies from a key segment of China's domestic market, he added.
"In agriculture, a series of non-science-based measures still impedes our poultry, pork, dairy, and beef exports. And China's use of import permits, tariff rate quotas, and value-added taxes conspire to restrain agricultural trade," he said.
"And one of our greatest challenges with China today flows from a set of industrial policies promoting indigenous innovation," he said, adding that the route China is taking to achieve this goal is very troubling.
"As drafted, China's indigenous innovation policies threaten global intellectual property protections, fair government procurement policies, market competition, and innovators' freedom to decide how and when they transfer technology," Marantis said.
"Getting these and other individual policy issues right is also key to the broader goal of rebalancing global economic growth," he said.
"No longer can a new president delay or postpone the question of China for a term, a year, or a week," Marantis stated, adding that the US president and his administration must address US-China relations as an imperative of the country's foreign, security and economic policies "today and every day".
The official said that the US had gone into the dialogue with a concrete focus on concerns over China's so-called indigenous innovation policies, and received results.
China had stated that its innovation policies would be on the lines of nondiscrimination, intellectual property rights enforcement and market competition, besides open trade and investment, he said.
"This is progress, but indigenous innovation is a tremendous challenge. We have much more work to do to address it, both on winning Chinese support for non-discriminatory innovation policies overall and our short-term concerns with pending measures," he said.
Also, Marantis said that China has committed to produce a robust revised offer to join the WTO Government Procurement Agreement.
Fulfilling that commitment would be a solid step toward ensuring that China's huge government procurement market is open to US companies, he noted.
"China submitted its revised offer last week. We are still analysing it, but we recognise that it includes significant improvements over its initial offer, which was submitted at the end of 2007," Marantis said.
"After we complete our analysis, including consulting with domestic stakeholders, we will work with China and other GPA members to ensure that China's terms of accession are comprehensive and comparable to those of other GPA parties," Marantis said.