The Indian corporate world is engaged in an intense discussion on the US federal legislation known as the Foreign Corrupt Practices Act, which clamps on bribery of foreign officials. It saw the largest number of enforcements in business deals in India in 2007.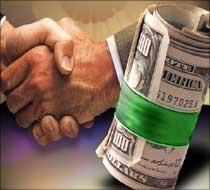 In a letter in May 2009, Indian ambassador in Washington, Meera Shankar, said Indian government servants were being bribed by US companies to secure contracts. The government referred the matter to the Central Vigilance Commission and the Central Bureau of Investigation.
The FCPA prohibits making, and offering to make, payments to foreign public officials, including members of political parties, to further business interests, and it requires that accurate books and records be kept for all transactions. Even small infractions can result in big penalties.
"As a prerequisite for early detection and prevention, multinational companies may want to make sure they fully understand the FCPA and its ramifications before expanding into India. It can be crucial to determine the pre-existence of any FCPA violations, since parent entities can be held responsible for the actions of their subsidiaries - even if the subsidiary has gone to great lengths to conceal the illegal activity and the parent company is unaware of the activity, or the behavior occurred prior to a partnership or merger," says Kerry Francis, partner and chairman of the board at Deloitte Financial Advisory Services LLP.
Over five years, India has reportedly been named in over 70 enforcements; and of those in 2007, more than half arose in the context of M&A (merger and acquisition) activity, a conference organised by the American Chambers of Commerce in 2008 noted.
The FCPA (which came about after the US Securities and Exchange Commission investigations in the 1970s found over 400 American companies involved in illegal payments to foreign government officials, politicians and political parties) stands out for hardline enforcement, examinations, and fines. These have cost companies involved nearly $175 million in penalties alone.
The FCPA has two parts. The first, generally enforced by the Department of Justice, prohibits US citizens and firms, or those listed on a US stock exchange, from making and offering to make payments to foreign government officials to obtain or retain business or a business advantage. The second, enforced by the SEC, requires that companies maintain accurate books and records. Both provisions can have a civil or criminal component, the SEC's focus being on the civil side.
Parent entities can be held responsible for the actions of their subsidiaries. And, for behavior prior to an acquisition, joint-venture (or other partnership arrangement), or merger, especially if a prior payment has led to ongoing profits. This means that special care should be exercised in determining the pre-existence of any FCPA violation when considering a merger or alliance, says Francis. FCPA, Indian industry says, is going to become one of the biggest challenges in Indo-US business relations.
When US Undersecretary of State William Burns was asked at a press conference in Delhi last week if the US was going to follow up on enforcements in the FCPA, he said: "I'm not familiar, to be honest with you, with the details of the particular concern that you raised. All I would say is that the United States government is firmly committed to fairness and transparency in the conduct of commerce overseas. That's in all of our interests, because having fair and transparent practices is the best way to encourage a growth in investment. So, we will certainly pursue any concerns that are raised with us seriously, but I'm not familiar with those particular ones."