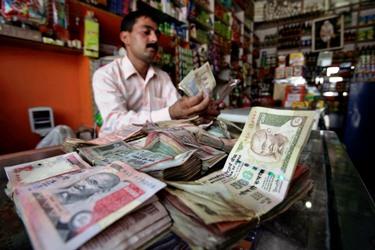 Expressing concern over the rupee reaching an all-time low, the Bharatiya Janata Party (BJP) said the currency is likely to plunge further as a share of the US financial stimulus package given to India during the sub-prime crisis in 2008-09 may be withdrawn by the Federal Reserve.
With the Rupee touching 60.15 vis-à-vis the dollar, BJP alleged the "gross mismanagement" of the economy by the UPA government was responsible for the situation. The party dismissed the government's contention that fundamentals of the Indian economy are still strong.

In a comment laced with satire, Prasad said "when UPA government was formed, the Rupee-Dollar ratio was equal to the age of Rahul Gandhi. Today, it is nearing the age of Sonia Gandhi and we seriously apprehend that it would touch the age of Manmohan Singh."
BJP charged UPA's policy of managing the economy through FDI and investments from FIIs is the reason behind this "poor" state of affairs as foreign investment is "fragile".
The main opposition said that during the sub-prime crisis in the US in 2008-09, about $ 85 billion stimulus package was announced by the US government.
"Naturally, a part of this also came to India. Now, we are informed that the US Federal Reserve has announced the decision to withdraw this stimulus. As a consequence, a lot of this money is going out of India creating its own consequences and resultant fall in the rupee further," Deputy Leader of the BJP in Rajya Sabha Ravi Shankar Prasad said.