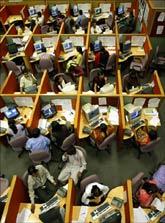 West Bengal is a cauldron of trade unionism, save for brief intervals. There is, however, one exception. Unionisation in the information technology sector in the state has hit a firewall.

Even the CPM-controlled Centre of Indian Trade Unions, which sent many companies packing in the past, has given up on the sector.

The West Bengal IT Services Union (Webitsa), affiliated to Citu, was formed in November 2006. But the initiative never quite took off and Citu is candid about its failure.

"In the first year of our formation, about 1,000 IT workers became registered members. Problems, however cropped up, and we had to stop formal registration. Today, we do not have registered members any more," said Somenath Bhattacharjee, president, Webitsa.
The concept of a union for IT workers, in itself, does not seem to be problematic. A movement seen as the backbone of Bengal's political systems, though failed in Kolkata, is popular in its more industrious counterparts.
Unites Professionals, affiliated to the Indian National Trade Union Congress, has about 22,000 members, most of whom are white-collared workers. "Perceptions about IT being free of exploitation are incorrect. One of the best known cases where employees were in need of protection was Satyam, when it was solely due to the presence of the union that workers received their due," said Karthik Shekhar, its general secretary.
Unites has an office and counsels bodies in Bangalore, Cochin, Hyderabad, New Delhi and Mumbai. In Kolkata, however, its presence is largely perfunctory. Unites' alleges that the National Registry maintained by the National Association of Software and Services Companies is used to identify and discriminate against IT workers registered with a union. Nasscom, however, has no official position on the issue.
"One of the primary causes for the situation is a clear directive from the chief minister's (Buddhadeb Bhattacharjee's) office, which has kept IT out of the union ambit. This was done primarily to ensure that the sunshine sector was kept away from disruptions," said Rahul Tiwary, head, Unites Kolkata.
If techies in the city are to be believed, the rationale for this abstinence stems from the fact that engineering institutions like Indian Institutes of Technology are not used to the 'gherao' tactics at college level.
Small wonder, then, that arm-twisting tactics characteristic of Citu have no takers.
"There are channels available for ventilation of grievances in IT companies. One needs to necessarily resort to unions. Also, IT workers are usually far removed from the culture of unionisation," a Wipro employee said.
Also, the attrition rate in Kolkata, for lack of options, is 15-20 per cent below Bangalore or Hyderabad in an average year. One does, however, anticipate change in the status quo with Mamata Banerjee's Trinamool Congress looking set to storm the Bengal legislative assembly next year.
Last week, about 150 members from the West Bengal Electronics Industry Development Corporation (Webel) quit Citu to join the TMC trade union. In September, another section of employees from Webel abandoned Citu to join the TMC-affiliated Indian National Trinamool Trade Union Congress.
"TMC thinks there is a need for a grievance cell in IT, given the nature of the sector, especially because exploitation is rampant. There should also be the creation of a biodata bank and aid from the government for the establishment of better working conditions and infrastructure at Sector V," said Partha Chatterjee, its leader in the state legislative assembly.
Whether it signals the winds of change in the political scenario in Bengal will disturb the status quo in the IT sector, time will tell.