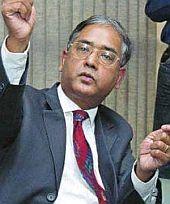 Securities and Exchange Board of India chief U K Sinha has been elected as the chairman of the Asia-Pacific committee of the International Organisation of Securities Commissions.

Sinha replaces former Sebi chairman C B Bhave who served as the head of the Asia-Pacific regional committee of IOSCO from June 2009 till February this year.

"U K Sinha, chairman, Sebi has been elected chairman of the Asia-Pacific Regional Committee of the IOSCO at the 36th Annual Conference of IOSCO held at Cape Town, South Africa from April 17 to 21," the market regulator said.

The IOSCO is an association of organisations that regulates the world's securities and futures markets.

It covers more than hundred jurisdictions and regulates more than 90
per cent of the world's securities markets, it said.
The members of the Asia-Pacific regional committee are Australia, Bangladesh, Brunei, China, Hong Kong, India, Indonesia, Japan, Korea, Kyrgyzstan, Malaysia, The Maldives, Mongolia, New Zealand, Pakistan, Papua New Guinea, The Philippines, Singapore, Sri Lanka, Taiwan, Thailand and Vietnam.