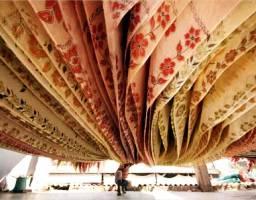 The impact of the ongoing turmoil over Telangana has spilled over to Gujarat, as the textile industry in Surat is making heavy losses every day following the violent protests in coastal Andhra Pradesh.

With every passing day of strikes and violent protests in the region, Surat's textile industry is losing Rs 20-25 crore (Rs 200-250 million) each day.

Known as a hub for synthetic textiles, the Surat-based industry gets 20 per cent of its total annual business of Rs 40,000 crore (Rs 400 billion) from Andhra Pradesh alone.

According to sources, business has been affected for over a month, thereby causing a loss to the tune of Rs 600 crore (Rs 6 billion) just before the beginning of festivities.

"Since the festive season is approaching, it is a peak time for business.

"Trade with Andhra Pradesh is almost stalled.

"The disturbance is also affecting consignments destined for Tamil Nadu, as Vijayawada is the major centre for warehousing and transit of goods," said Arun Jariwala, an industry expert and trader in Surat.

Surat industries supply synthetic fabric including dress materials, saris and home textiles to the customers in Andhra Pradesh as well as some other parts of South India.

Further, the textile players have also expressed uncertainty over the new taxes and laws that the new state will implement.

"In the long run, policies of the newly created state will play a crucial role.

"Every state wants to develop its textile industry.

"And Telangana, being the heart of the cotton producing region in Andhra Pradesh, has an advantage to develop its own textile industry.

"This might pose a challenge for suppliers in Gujarat," said Ajoy Bhattacharya, past president, South Gujarat Chamber of Commerce and Industry.

According to Bhattacharya, the textiles industry being labour intensive would be politically more sensitive than other sectors.

Traders are cautious about making business strategies as uncertainty continues to linger over the prospects of trade with Telangana and Seemandhra.

"The new state's taxes and policies will be crucial. No doubt that in some time, there will be a uniform taxation in the form of Goods and Services Tax, but the local policies will matter," said Pramod Chaudhary, a leading textiles player in Surat.
The photograph is used for representational purpose only